A Recap of Beosin x SUSS NiFT Web3 Security Workshop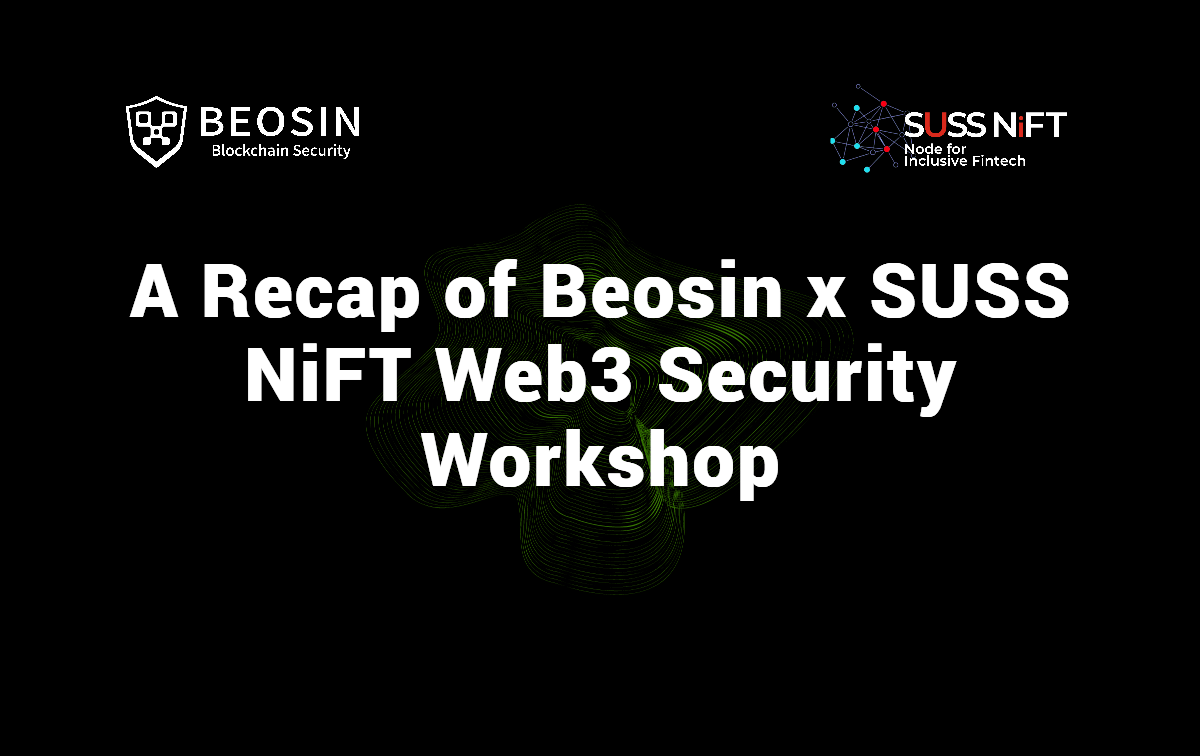 During January 17-18,Beosin successfully held "Security in Web3" offline workshop, coorganized with SUSS NiFT and The Blockchain Association Singapore, on the campus of Singapore University of Social Sciences.
Jasper Kanetake, a senior blockchain security engineer with Beosin, spent two days explaining various kinds of Web3 security issues, including the risks triggered by smart contract features, the deployment of a smart contract on Ethereum, the basic principle and implementation of cross-chain bridge and coin mixer, and the security detection and verification technology of smart contract, which helped Web3 builders strengthen their knowledge of security.
Smart contracts are essential for Web3 ecosystem, and their security is self-evident. According to Beosin's 2022 Global Web3 Security Report, the total loss of all types of attacks was surprisingly $3.6384 billion in 2022, which is an increase of 47.4 percent over that in 2021. The global blockchain security situation is very grim, which pushes the blockchain security industry to meet more urgent needs of security in 2023. It requires us to attach importance to the problems of how to deal with the rampant hacking attacks, how to speed up the establishment of a global regulatory system, how to make a technological breakthrough to solve the existing shortcomings of the blockchain security industry.
That is why Beosin, a member of Blockchain Security Alliance, worked with SUSS NiFT and The Blockchain Association Singapore to launch this workshop.
"Thanks Beosin and SUSS NIFT for organizing the blockchain security Workshop. During January 17-18 in SUSS, it is amazing for me to learn from smart contracts and Solidity to blockchain security vulnerabilities and prevention guides for free! We can see that many grandparents are studying very hard. Life-long learning is not necessary for the future. It is something that everyone should attach importance to right now." A participant shared on his social media.
Professor Lee with SUSS spoke highly of this workshop, "Special appreciation to Beosin for arranging Jasper Kanetake to come to Singapore University of Social Sciences (SUSS) from Japan. This is part of the SUSS Blockchain Security Alliance's ongoing programmes in Web3 security education.
Jasper is a blockchain security engineer at Beosin with a focus on research and exploit development using Rust, Move and Solidity. He graduated from University of British Columbia in 2019. Since Jasper has a strong background in cyber security and has participated in various CTFs and bug bounty programs, his experience is very precious to Web3 DeFi practitioners."
The SUSS Node for Inclusive Fintech (NiFT) is the "Centre of Excellence" spearheading all Fintech initiatives at the university. It is a multi-disciplinary centre drawing on expertise from faculty members across SUSS' five schools, their collective publications and programmes. Established in 2021, SUSS NiFT is essentially a re-launch of SUSS' endeavor in the Fintech and blockchain domain since 2016. NiFT serves to deliver high-quality research, public education, and policy advocacy for inclusivity in the Financial Technology sector for the benefit of society. Since 2016, SUSS NiFT has organized multiple workshops, seminars and info-sharing sessions. Summits and conferences were held annually, hosting speakers and audiences from Singapore and overseas.
In the future, Beosin, a member of Blockchain Ecosystem Alliance, will join forces with universities and research institutes around the world to launch an international, blockchain education-focused Web3 security series, promote the security development of the application of blockchain technology together, and resist risks together with blockchain practitioners.
Related Project
Related Project Secure Score
Guess you like
Learn More
Beosin and CoinW Entered Into A Strategic Partnership

February 01, 2023

A Great Hit of Damus! Where will it lead Web3?

February 03, 2023

Beosin KYT to Support South Korea in Cracking Down Money Laundering by Tracking Crypto Transactions

February 03, 2023

Beosin Has Completed Audit Service of Quota

February 09, 2023