Beosin and Aegis Announce Strategic Partnership to Enhance Blockchain Security and Compliance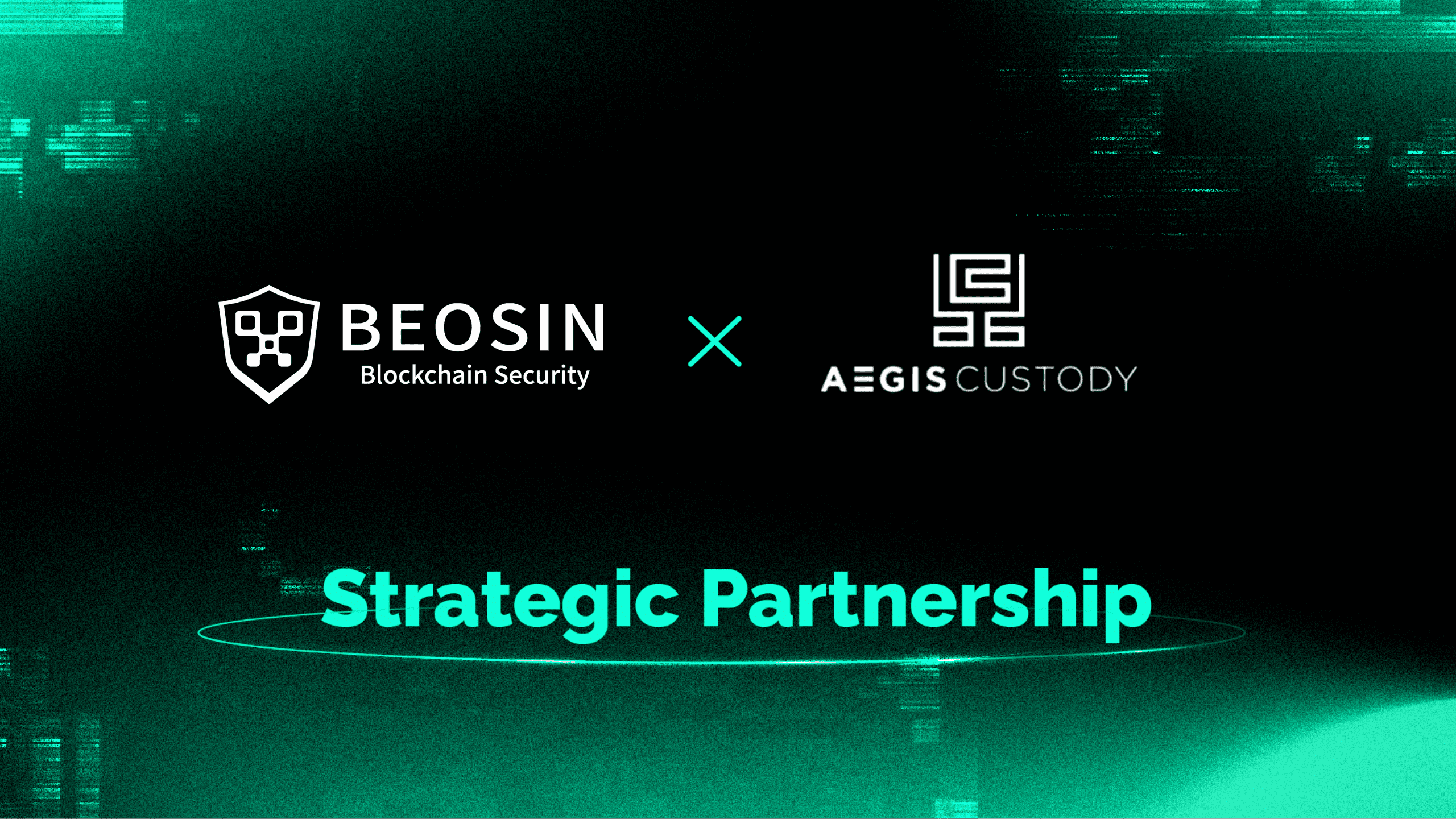 Beosin, the global leader in blockchain security, is thrilled to unveil our strategic partnership with Aegis Custody. This partnership aims to fortify blockchain security and compliance through the exceptional Beosin KYT (Know Your Transactions) system. Beosin's KYT solution stands out for its cutting-edge blockchain big data analytics and advanced artificial intelligence algorithms, all meticulously designed to establish a robust framework for virtual currency tracking and anti-money laundering. While Aegis Custody, a prominent blockchain company with a global footprint and offices in the US, Hong Kong, Singapore, and Taiwan, harnesses its TCSP license in Hong Kong and South Dakota Charter in the US to securely manage digital assets within segregated and transparent custody accounts.
"We are incredibly excited to share the news about our partnership with Beosin, a leader in blockchain security," stated Serra Wei, the Founder and CEO of Aegis Custody. "This collaboration is truly transformative as it allows us to strengthen the security and regulatory aspects of the blockchain ecosystem by utilizing Beosin's KYT solution."
Beosin's tailor-made system is equipped to serve as the ideal companion for digital asset service providers (VASPs) and will be utilized for that purpose within this partnership. The remarkable ability will allow Beosin to manage billions of address labels and a comprehensive blacklist library. Beosin KYT employs pattern recognition and AI algorithms to associate billions of addresses with real-world entity labels. This innovative approach streamlines identifying suspicious activities within digital asset transactions, enabling users to distinguish malicious addresses, fraudulent entities, and other blacklisted actors. Beosin KYT's capabilities extend to automatically identifying suspicious transactions within a 10-hop radius. Furthermore, it offers a comprehensive risk assessment for multi-asset addresses and identifies potential risks associated with on-chain address relationships that empower VASPs to meet their compliance requirements effectively.
Wendy Sun, CEO of Beosin, is enthusiastic about this partnership, stating, "This partnership between Beosin and Aegis is a significant milestone in blockchain security and compliance. We are thrilled to join forces with Aegis Custody, a trusted leader in digital asset custody, to deliver VASPs a comprehensive solution that ensures the security and integrity of the blockchain ecosystem."
This collaboration underscores the joint commitment of Beosin and Aegis to enhance blockchain security and compliance in an ever-evolving digital asset landscape.
For more information about Beosin KYT, Aegis Custody, or more about this strategic partnership, please visit https://www.aegiscustody.com/ or https://kyt.beosin.com/.
About Beosin:
Beosin is a leading global blockchain security company co-founded by professors from world-renowned universities and there are 40+ PhDs in the team. It has offices in Singapore, Hong Kong, Japan and other 10+ countries and regions. With the mission of "Securing Blockchain Ecosystem", Beosin provides "All-in-One" blockchain security solution covering Smart Contract Audit, On-chain Risk Monitoring & Alert, KYT AML, and Crypto Tracing. Beosin has already audited more than 3000 smart contracts including famous Web3 projects PancakeSwap, DODO, DeBox and Ankr and all of them are monitored by Beosin EagleEye. The KYT/AML are serving 100+ institutions including Hashkey, Cobo, OpenBlock, Aegis and Celer.
About Aegis Custody:
Aegis Custody, a qualified custodian through its affiliate Aegis Trust, is an insured custodian of assets dedicated to offering top-tier custody solutions for institutional clients worldwide. With an emphasis on security, innovation, and excellence, Aegis Custody aims to redefine the industry standards in asset custody. Operating under trust charters in the United States and Hong Kong through its subsidiaries Aegis Trust Company and Aegis Custody, they provide security and compliance.
Related Project
Related Project Secure Score
Guess you like
Learn More
Beosin Invited Once Again by the Monetary Authority of Singapore for Exchange Security Training

October 20, 2023

Will Scroll Drive the Layer 2 Wave? Exploring zkEVM Circuits and Audit Insights You Need to Know

October 27, 2023

Successful Conclusion of Beosin's Jasper's Lectures at Nanyang Technological University, Singapore

October 27, 2023

Unibot Exploited - Examining the Security Risks of Telegram Bots

October 31, 2023