Beosin and Alibaba Cloud Entered Into A Strategic Partnership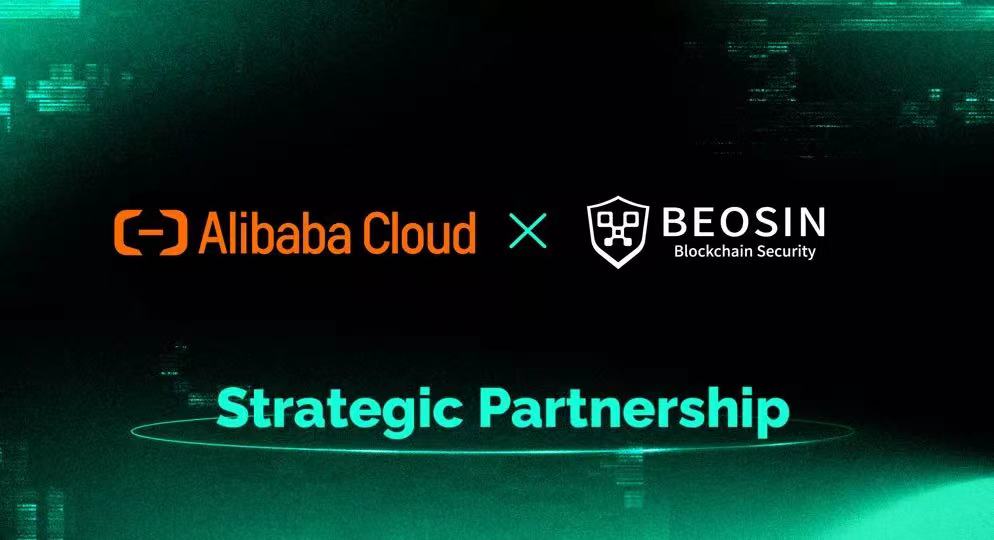 Beosin is pleased to announce that we have entered into a strategic partnership with Alibaba Cloud, providing "all in one" security and compliance solutions for Web3 customers. At the same time, Beosin's smart contract audit service, chain platform detection service, security consulting, and emergency response services have officially launched on Alibaba Cloud Marketplace.
As a world-renowned software transaction and delivery platform, the Cloud Marketplace of AliCloud is a strategic development point for AliCloud, undertaking the landing of various chain products in the cloud ecology. Beosin will take advantage of the standardized transaction process and rich customer resources of the Cloud Marketplace to save energy and focus on Web3 security products and technology innovation and further develop new business models and larger markets. Meanwhile, the two companies will strengthen cooperation in the construction of sustainable Web3 ecosystem, community security, and other aspects to jointly build a sustainable Web3 security ecosystem.
As a leading global blockchain security company, Beosin has established branches in more than 10 countries and regions around the world, covering "one-stop" services such as smart contract audit before project launch, security risk monitoring, early warning and blocking during project operation, and KYT/AML for security compliance. At present, we have provided security technology services for more than 3,000 blockchain enterprises worldwide and audited more than 3,000 smart contracts.
As a new member of the AliCloud service ecosystem, the two parties will focus on the following aspects: deepening technical collaboration, jointly exploring the application of blockchain security technology in cloud computing, combining Beosin's blockchain security technology with AliCloud's underlying technology to provide customers with more secure and reliable cloud services. To create a sustainable Web3 security ecosystem, both sides will work together to promote the development of sustainable Web3 ecosystem and provide secure and efficient support for builders and communities. To carry out blockchain eco-security cooperation, Beosin will explore blockchain eco-security cooperation opportunities with AliCloud and work to improve the overall security level of the industry and promote the secure application of blockchain technology in various fields.
In previous news, AliCloud announced at the 2 WEB3 FEST Summit in Hong Kong that they will launch a series of out-of-the-box Web3 security tools, which can be used by developers and enterprises for security scenarios such as private key management, risk assessment, transaction review, compliance, and user authentication. These tools include multi-party secure computing (MPC), identity verification (KYC), and anti-money laundering (AML) services, which help Web3 developers protect data, save labor costs and improve operational efficiency.
In the meantime, as a blockchain security ecosystem solution provider with years of technical capabilities in serving top global brands, Beosin will offer technical support for both AliCloud's Web3 AML service and security solutions for AliCloud's Web3 customers in terms of security auditing and security monitoring.
Beosin KYT, an effective intelligent analysis engine, relying on machine learning and deep learning technologies, has combined with Beosin Trace's database, which can check various transaction patterns and track hundreds of risk indicators. The KYT system monitors the movement of designated accounts in real-time, knows the latest transaction information of the monitored accounts at the first time, detects high-risk transactions, and notifies users at the first time. Meanwhile, we can provide an easy-to-use interface and professional API integration solutions to meet the needs of regulators and enterprises in various business scenarios.
Additionally, Beosin VaaS, an "one-click" smart contracts verification tool based on formal verification, can help AliCloud's Web3 customers improve development efficiency. Beosin VaaS can automatically find regular vulnerabilities, business logic errors, and other security issues in smart contracts and give expert advice on fixing them. It also supports hundreds of regular security vulnerabilities and business logic defects detection for smart contracts of all public chains of evm and wasm and can pinpoint the location of risky code to help developers improve the security capability of smart contracts.
Currently, Beosin, based on the company's rich smart contract security dataset, leveraging ChatGPT's basic big model, has fine-tuned and trained an intelligent model that can deeply understand smart contract logic, which further enhances the detection and verification capability of VaaS for complex business contract security issues.
These developed projects can also be incorporated into Beosin EagleEye security risk monitoring, early warning and blocking platform, which provides 7X24-hour real-time risk warning, monitors the operational status of the chain, real-time transaction behavior, automatically identifies abnormal transactions, and comprehensively assesses the security operational status of the project. It can help project parties discover risky transactions such as lightning loan attacks, arbitrage transactions, and theft of funds due to private key leakage.
Through the strategic partnership with AliCloud, Beosin will further expand its market share globally while strengthening its technical capabilities. This cooperation will provide strong support for the security and development of the blockchain industry and promote the advancement of global blockchain technology.
Related Project
Related Project Secure Score
Guess you like
Learn More
A crypto influencer is under a sweeper bot attack. How can Beosin help recover his funds?

April 23, 2023

Beosin and Btok Entered Into A Strategic Partnership

April 26, 2023

Blockchain Security Monthly Recap of April: $94.07M lost in attacks

May 04, 2023

An In-depth Analysis of zk-SNARK Input Aliasing Vulnerability

May 06, 2023