Beosin and ChainUp have entered into a strategic partnership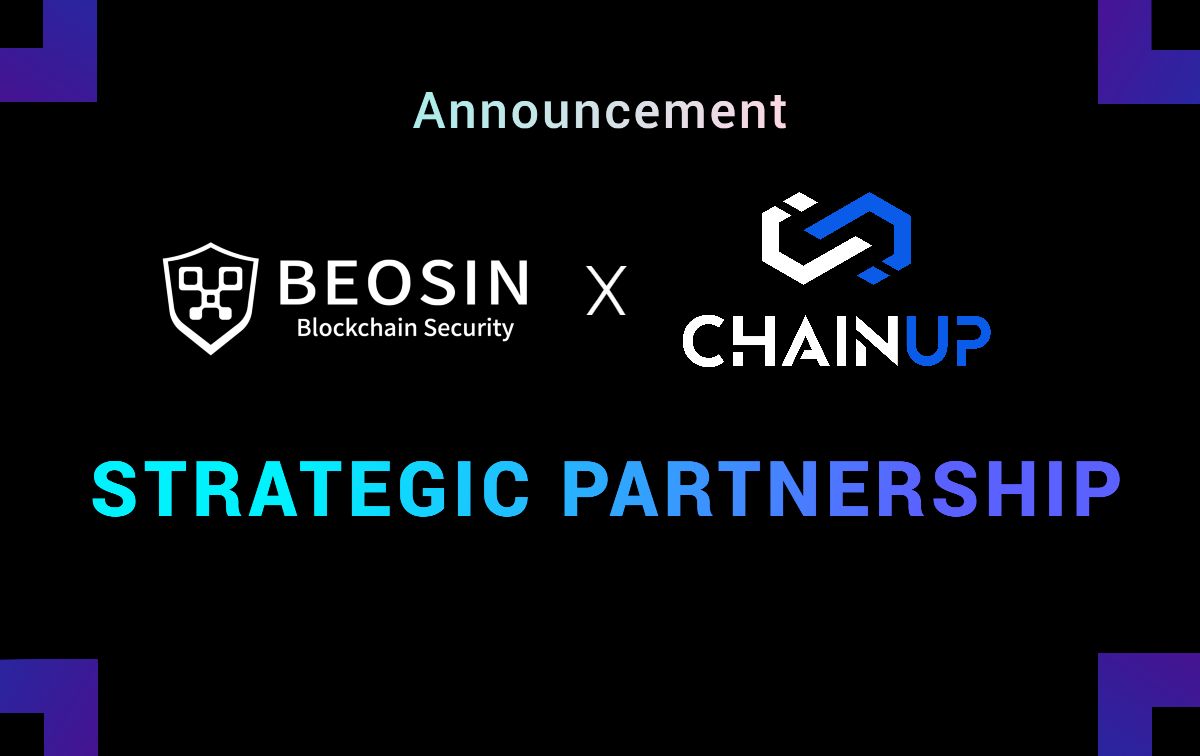 Beosin is pleased to announce that we have entered into a strategic partnership with ChainUp. Through the partnership, both companies aim to accelerate the development of risk management for digital assets and enhance the security of the blockchain ecosystem.
Built on the mission to empower businesses with blockchain technology, ChainUp Group provides businesses a complete suite of blockchain solutions, including Web3 infrastructure solutions. Its solutions are easy-to-integrate, secure, and highly customizable for businesses both in the blockchain industry and traditional industries looking to leverage blockchain in this Web3 era.
The partnership marks a significant step in collaborative efforts to revolutionise the blockchain landscape. Given the strengths and competencies of Beosin and ChainUp, both companies will be delivering an expanded range of blockchain technology solutions and blockchain security technology for global users at scale.
About Beosin
Beosin is a Singapore based leading global blockchain security company co-founded by several professors from world-renowned universities. The team consists of 100+ security experts with 40+ PhDs. With the mission of "Securing Blockchain Ecosystem", Beosin provides integrated blockchain security products and services to one million+ users in global blockchain ecosystem, including Smart Contract Audit, Blockchain Risk Monitoring & Alert, Crypto KYT&KYC, and Crypto Tracing.
About ChainUp
Founded in 2017, ChainUp is a leading end-to-end blockchain technology solutions provider covering infrastructure development and ecosystem support. Built on the mission to empower businesses through blockchain technology, ChainUp's innovative and all-around compliant solutions include digital asset exchange solutions, NFT trading platform solution, wallet solutions, liquidity solutions, assets custody solutions and more. Headquartered in Singapore and with offices around the world, the company has served more than 1,000 clients in 30 countries, reaching over 60 million end-users.
Related Project
Related Project Secure Score
Guess you like
Learn More
Blockchain Security Alliance Q3 2022 Blockchain Security Report

October 28, 2022

Beosin's Analysis of Team Finance's $13M Exploit

October 28, 2022

Beosin: Blockchain Security Weekly Recap of M10W4

October 30, 2022

Beosin Blockchain Security Monthly Recap of October: $980.04M lost in attacks

October 31, 2022