Beosin and SUSS NiFT Entered Into a Strategic Partnership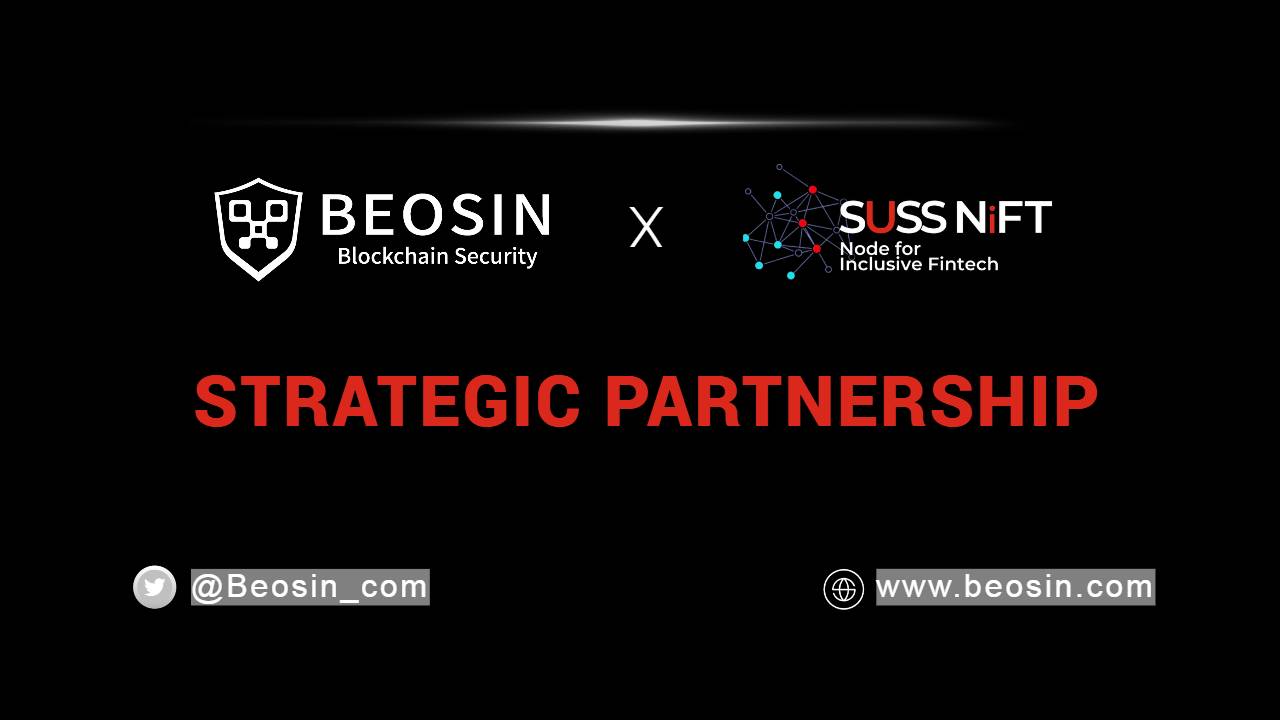 Beosin is excited to announce that we have entered into a strategic partnership with the Singapore University of Social Sciences (SUSS) Node for Inclusive FinTech (NiFT).
With this new partnership, Beosin and SUSS NiFT will cooperate closely in integrating technological innovation in the field of blockchain security, exploring and establishing a sound blockchain security ecosystem. Beosin and SUSS NiFT aim to foster collaborations between the industry, academia, and researchers in blockchain security, apply scientific and technological innovations, and create a sustainable environment for Web3 blockchain ecosystem development.


About Beosin
Beosin, founded in 2018, it is a leading global blockchain security company co-founded by several professors from world-renowned universities. The team consists of 180+ security experts with 40+ PhDs. With the mission of "Securing Web3 Blockchain Ecosystem", Beosin provides integrated blockchain security products and services to one million+ users in global blockchain ecosystem, including, Blockchain Security Auditing, Blockchain Security Monitoring & Alert, Crypto KYT/KYC Risk Monitoring & Alert, Crypto Trace. Currently, Beosin has provided security audit and defense deployment for more than 2,400 smart contracts and more than 100 blockchain platforms around the world.
About SUSS NiFT
The SUSS Node for Inclusive Fintech (NiFT) is the "Centre of Excellence" spearheading all Fintech initiatives at the university. It is a multi-disciplinary centre drawing on expertise from faculty members across SUSS' five schools, their collective publications and programmes.
Established in 2021, SUSS NiFT is a re-launch of SUSS' endeavour in the Fintech and blockchain domain since 2016. NiFT serves to deliver high-quality research, public education, and policy advocacy for inclusivity in the Financial Technology sector for the benefit of society. Since 2016, SUSS NiFT have organised multiple workshops, seminars, annual summits and conferences that host speakers and audiences from Singapore and overseas, accumulating more than 1000 hours of content delivery.
NiFT's vision is to build a more inclusive society with Fintech innovation.
Why "Node", and Not The "Centre"?
In Fintech-speak, a node is a basic data structure unit, such as a linked list or tree data structure. Nodes contain data and have linkages to other nodes. It reflects the spirit of SUSS - inclusivity, subsidiarity, solidarity and contributory – in this sphere, thus deciding to be a node of information, not the central foci.
Related Project
Related Project Secure Score
Guess you like
Learn More
Beosin Web3.0 Classroom: Cross-chain Bridge (I) — Introduction of Polkadot

September 23, 2022

How Formal Verification Secures Smart Contracts: An Example Using Beosin-VaaS

September 30, 2022

Beosin Web3.0 Classroom: Cross-chain Bridge (II) — Introduction of Nomad

September 30, 2022

Beosin, SUSS NiFT, NUS AIDF and Other Partners Launched the "Blockchain Security Alliance" in Singap

September 29, 2022