Beosin Forms Strategic Partnership with Cryptocurrency Payment Platform RedotPay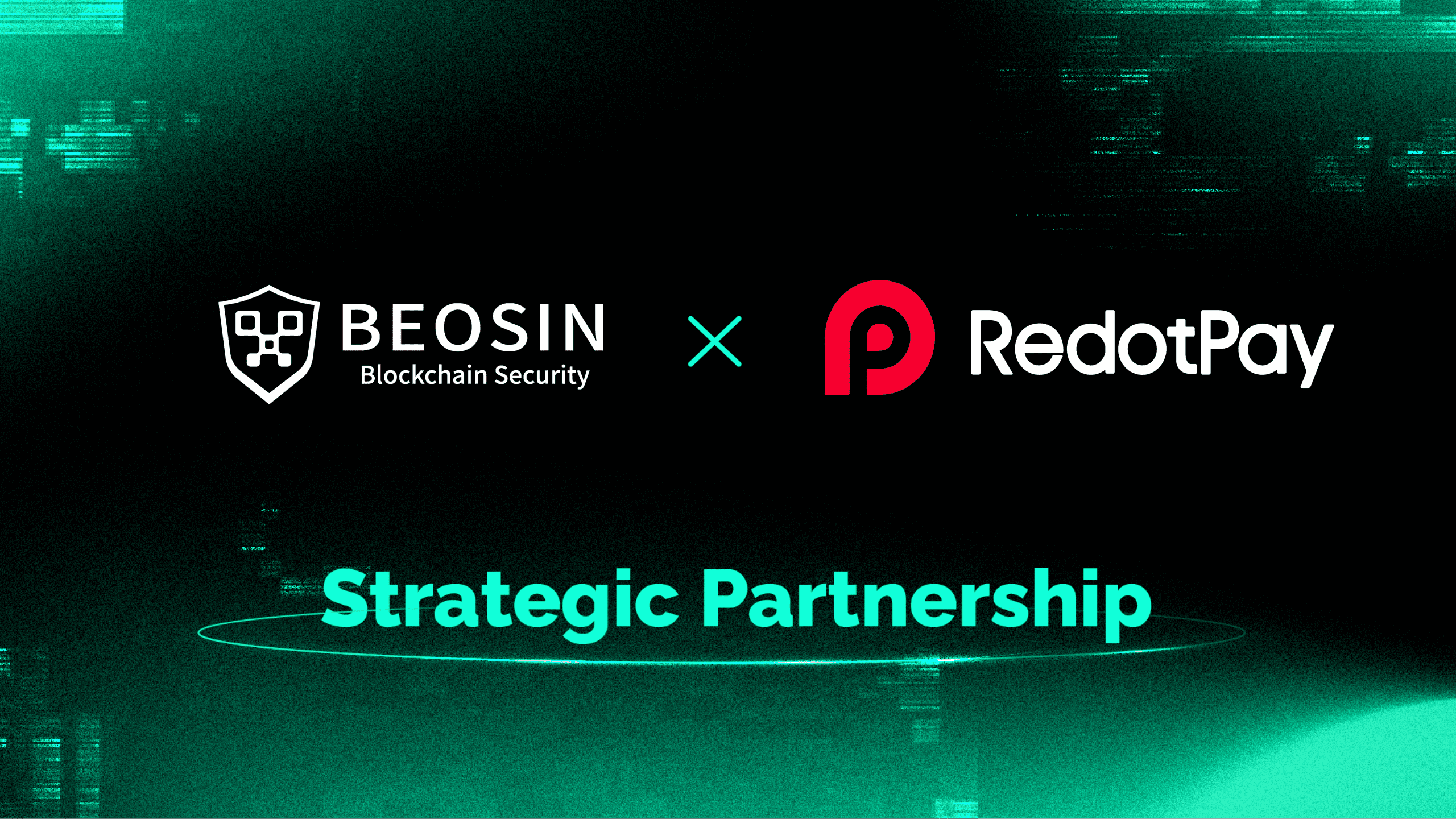 Recently, blockchain security company Beosin announced the establishment of a strategic partnership with cryptocurrency payment firm RedotPay. This initiative aims to bolster the cryptocurrency payment platform's real-time monitoring and evaluation capabilities of blockchain transactions. It signifies RedotPay's progress in identifying and mitigating risks associated with cryptocurrency payment transactions and addresses.
Through this partnership, RedotPay will receive timely alerts regarding transaction anomalies and adhere to the strict regulatory guidelines set by Virtual Asset Service Providers (VASPs). RedotPay emphasizes that its shared objective with Beosin remains to provide a seamless, secure, and compliant cryptocurrency payment experience for all users.
With the rapid evolution of blockchain technology, cryptocurrency payments are becoming a vital component of the global digital economy. Simultaneously, cryptocurrency payments face various security and compliance challenges. To ensure the safety and legality of user assets, RedotPay has chosen to establish a strategic alliance with Beosin to collectively address these challenges.
Compliance is nearly an inevitable trend in the cryptocurrency industry. Regulatory authorities require data analysis tools to monitor platform compliance, while digital financial enterprises such as exchanges and wallet companies need tools to identify fraud and illegal activities.
The purpose of KYT (Know Your Transactions) is to enable Virtual Asset Service Providers (VASPs) to gain a better understanding of their clients' real-world identities and transaction behaviors, facilitating the detection of money laundering, fraud, and other illegal activities. Currently, Beosin KYT can automatically identify suspicious transactions within 10 hops, support comprehensive risk assessment of multiple assets on addresses, and identify risks related to on-chain address relationships, among other new features, aiding VASPs in meeting compliance requirements.
RedotPay is a leading company in the cryptocurrency payment sector, dedicated to offering users a convenient, secure, and transparent cryptocurrency payment experience. Michael, CEO and Co-founder of RedotPay expressed, "We are delighted to establish a strategic partnership with Beosin. Our shared objective is to provide a seamless, secure, and compliant cryptocurrency payment experience for all users. Through collaboration with Beosin, we will further enhance our monitoring and evaluation capabilities of blockchain transactions, providing users with a safer and more reliable cryptocurrency payment service."
Tommy Deng, Managing Director at Beosin stated, "We are honored to collaborate with RedotPay, jointly committed to the security and compliance of the cryptocurrency payment sector. Beosin will leverage its technical and professional advantages, utilizing products such as KYT, EagleEye, and Trace to provide comprehensive blockchain security support to RedotPay, ensuring the full protection of users' digital assets."
This strategic partnership between RedotPay and Beosin promises new development opportunities for the cryptocurrency payment sector. Both parties will continue to strengthen their collaboration, collectively promoting the security and credibility of cryptocurrency payments, ultimately delivering a superior blockchain payment experience for users.
Contact
If you need any blockchain security services, contact us:
Related Project
Related Project Secure Score
Guess you like
Learn More
The 3rd Wave of Technological Advancements in Blockchain: Exploring Application of ZKP Technology

October 09, 2023

The Rise of TON Chain | Fueled by the Potency of Telegram

October 11, 2023

What Are the Common Characteristics of Recent Web3 Attacks, and How Can Projects Avoid These Issues?

October 16, 2023

Beosin Invited for Smart Contract Security Training by the Monetary Authority of Singapore

October 04, 2023