Beosin Has Completed Security Audit Service of Clip Protocol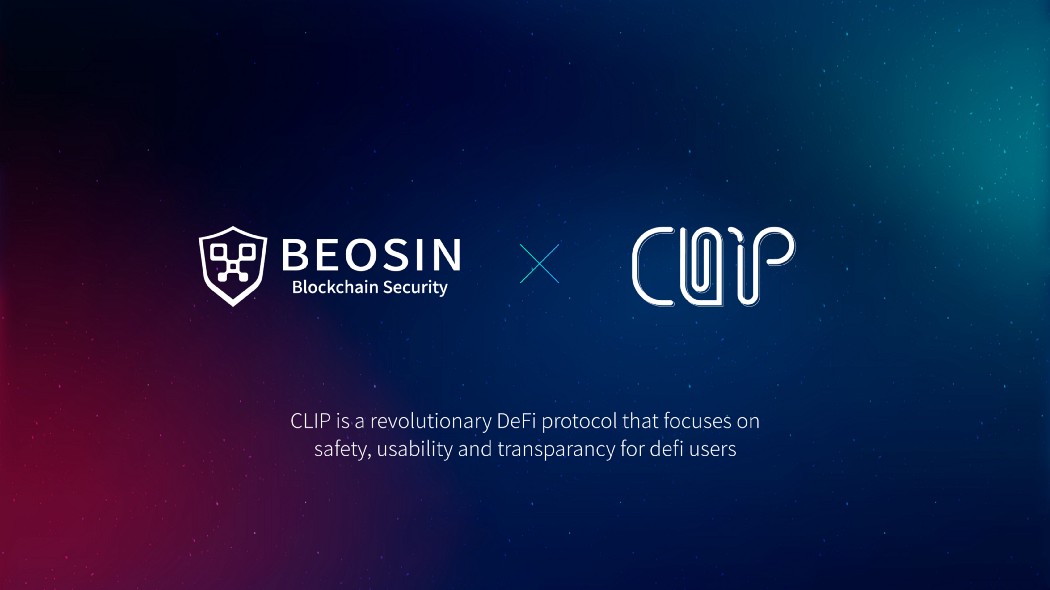 Project Overview
Audit work duration: May 9, 2022 — May 9, 2022
Audit methods: Formal Verification, Static Analysis, Typical Case Testing and Manual Review.
Audit team: Beosin Technology Co. Ltd.

About CLIP
CLIP is a revolutionary DeFi protocol that focuses on safety, usability and transparency for defi users. The protocol's API offers users the ability to access the top protocols across multiple defi chains through a single interface. Additionally, the platform provides security checks and data transparency that enables users a much better experience than other platforms. Finally, Hunters on the platform spot and promote the best investment opportunities which then allow users to achieve rapid returns and excellent profitability.
Audit results
After auditing, no risk items were identified in the CLIP project. Enter 202205101825 to view the report at https://beosin.com/#/index/service/contracts.
Process
Beosin has focused on the core security issues such as contract implementation, execution of business logic, centralized permission control, and transaction replay. The auditing workflow is mainly as follows:
Conduct preliminary source code review;
2.Use Beosin's self-developed formal verification engine to conduct an in-depth detection of the contract codes in all aspects;
3.Practical deployment and validation via sandbox simulation;
4.Manual line-by-line code review by security experts;
5.Complete the final audit report.
More
1.What is the impact on Web3 after LUNA's crash and DeFi "fled" ?
2. How to Ensure the Security of NFT Under the Web 3.0 Boom?
3. DEUS Finance Suffered its Second Flashloan Attack This Year: Beosin's Detailed Analysis
4. Beosin Has Completed Security Audit Service of Crypto LEGO ALG
5. What is the impact on Web3 after LUNA's crash and DeFi "fled" ?
6. 「RECAP」AMA About How to Keep Your Smart Contract Secure During Development With Beosin VaaS

Contact
If you have need any blockchain security services, please contact us:
Related Project
Related Project Secure Score
Guess you like
Learn More
Analysis of Attack on Feminist Metaverse

May 19, 2022

Beosin's Detailed Analysis of FEGtoken Flashloan Attack

May 16, 2022

What is the impact on Web3 after LUNA's crash and DeFi "fled" ?

May 13, 2022

Beosin's Detailed Analysis of Fortress's Oracle Manipulation Attack

May 09, 2022