Beosin Has Completed Security Audit Service of Doge Chain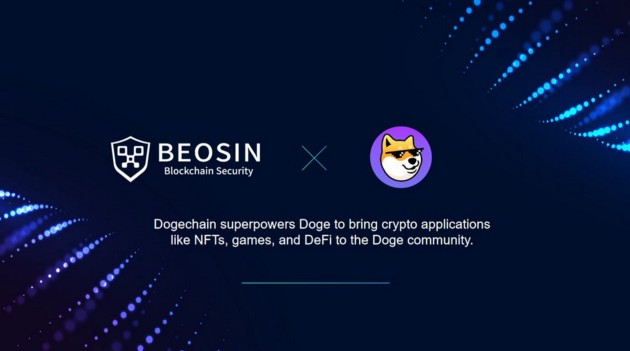 Project Overview
The project is an extensible framework for building Ethereum-compatible blockchain network, supporting Ethereum smart contracts and transactions, as well as asset conversion between multiple blockchain networks; the network implements the IBFT-PoS consensus mechanism to govern the entire project on a basis of token governance.
Audit work duration: April 21, 2022 — Jun 15, 2022
Audit methods: Formal Verification, Static Analysis, Typical Case Testing and Manual Review.
Audit team: Beosin Technology Co. Ltd.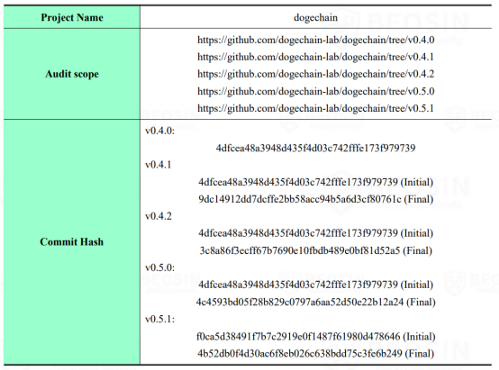 About Doge Chain
Dogechain is a new blockchain that is entirely built and designed to be completely community guided and owned. Dogechain superpowers Doge to bring crypto applications like NFTs, games, and DeFi to the Doge community.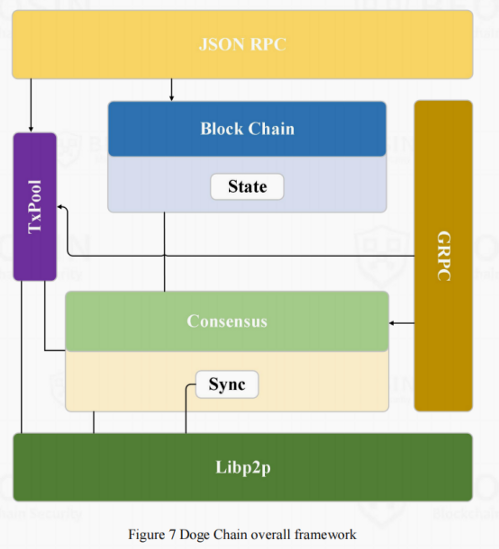 Audit Results
After auditing, 1 High risk, 3 Low risks and 2 Info items were identified in the Doge Chain project. The final audit results are available in the audit report.
View the report: https://beosin.com/audits/Doge%20Chain_202206151650.pdf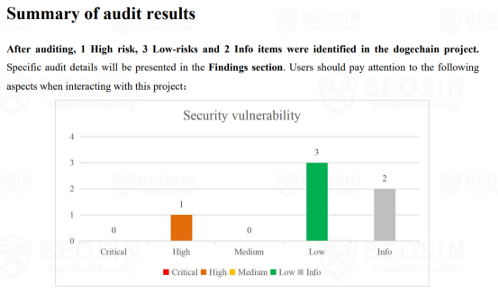 Audit Workflow
Beosin has conducted a comprehensive audit of the project, including basic modules such as JSON RPC interface, network nodes, transaction logic, transaction pools, virtual machines and consensus mechanisms, as well as the project's Ethereum-compatibility, cross-chain asset security, system contract implementation and other unique features. The auditing workflow is mainly as follows:
I Conduct preliminary source code review;
II Use Beosin's self-developed automatic smart contract formal verification platform — VaaS to conduct an in-depth detection of the contract codes in all aspects;
III Practical deployment and validation via sandbox simulation;
IV Manual line-by-line code review by security experts;
V Complete the final audit report.
About Beosin
Beosin is a leading global Web 3.0 blockchain security brand co-founded by several professors from world-renowned universities. The team consists of 100+ security experts, including 40+ PhDs and postdocs.
With the mission of "Securing Web3.0 blockchain ecosystem", Beosin provides integrated blockchain security services and products to serve 1 million+ users in the global blockchain ecosystem.
Related Project
Related Project Secure Score
Guess you like
Learn More
How to Steal User's Signature in NFT Phishing Attacks

June 14, 2022

Beosin cryptocurrency tracing service is officially launched

May 31, 2022

Beosin and CrossSpace have entered into a strategic partnership

July 20, 2022

Can 'Unchecked K-value Issues' be Detected by Tools?

July 21, 2022