Beosin Integrates Chainlink Price Feeds to Help Secure EagleEye Monitoring Service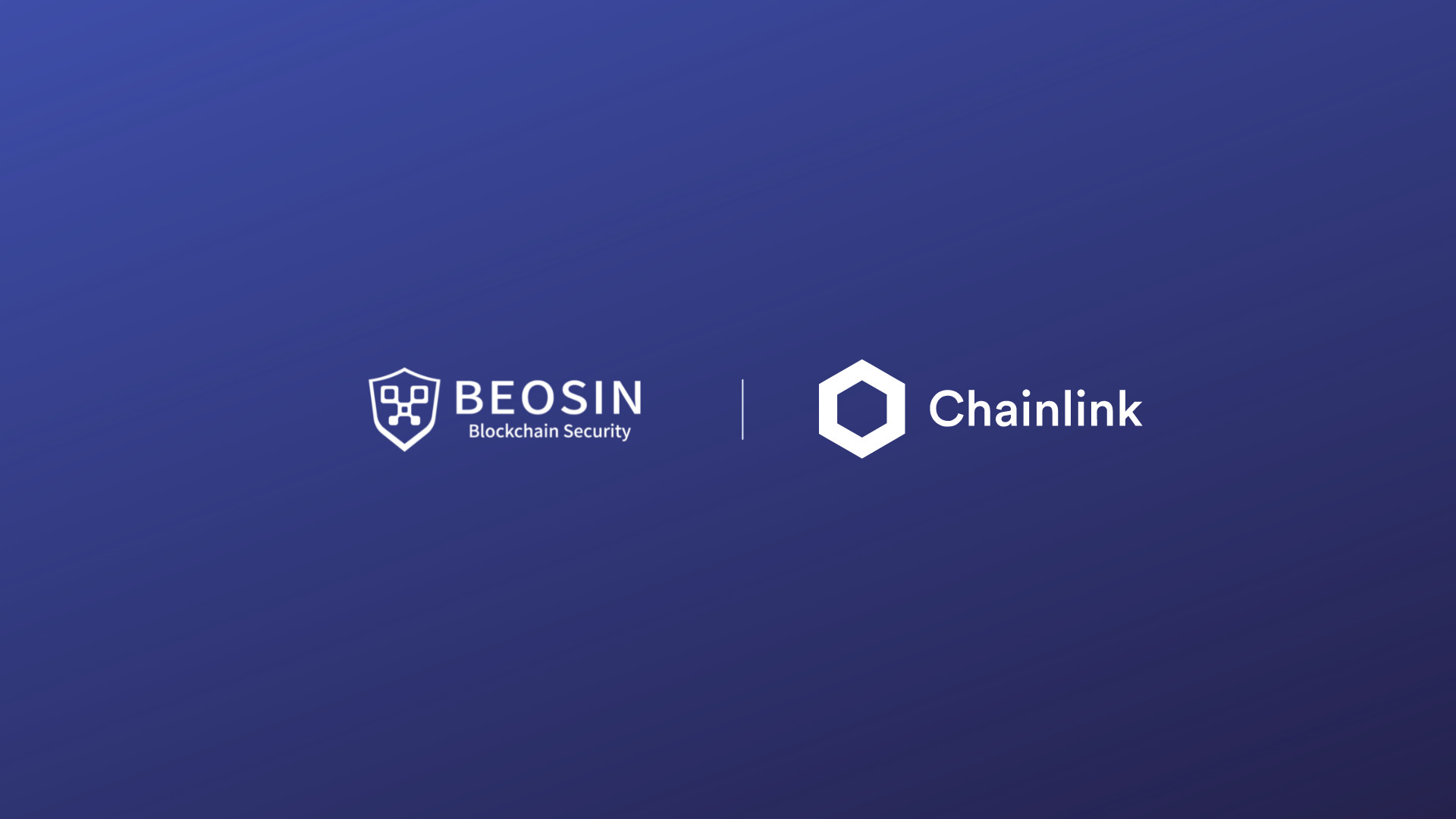 We're excited to announce that Beosin EagleEye — a Web3 security monitoring service — has integrated Chainlink Price Feeds. This will provide our users with stronger assurances that the EagleEye tool monitoring risks and sending security alerts is underpinned by highly accurate, reliable, tamper-proof market data.
We chose Chainlink as our go-to oracle solution because its infrastructure is seamless to integrate and time-tested in production. Chainlink already helps secure leading DeFi protocols responsible for tens of billions of dollars in smart contract value, maintaining robust security and high availability even amidst unexpected events, such as exchange downtime, flash crashes, and data manipulation attacks via flash loans.
Beosin EagleEye is a Web3 security monitoring platform that helps protect crypto assets 24-7. EagleEye's features include multi-dimensional project security assessment, continuous smart contract security scanning, real-time risk transaction identification, and crypto address monitoring. With EagleEye, users can explore a project's security status in detail, customize security monitoring rules, and even receive risk notifications in real-time.
In order to help monitor security risks and identify hacker attacks, frauds, flash loans, and rug pulls, we needed access to fresh asset prices that are supplied directly on-chain in a highly reliable manner. Fair market asset prices should reflect a volume-weighted average from all trading environments. Thus, we needed to make use of an oracle network to fetch aggregated price data off-chain and deliver it on-chain to be consumed by our application.
After reviewing various oracle solutions, we integrated Chainlink Price Feeds because they provide a multitude of critical features such as:
High-Quality Data

— Chainlink Price Feeds source data from numerous premium data aggregators, leading to price data that's aggregated from hundreds of exchanges, weighted by volume, and cleaned of outliers and wash trading. Chainlink's data aggregation model generates more precise global market prices that are inherently resistant to inaccuracies or manipulation of any single or small set of exchanges.
Secure Node Operators

— Chainlink Price Feeds are secured by independent, security-reviewed, and Sybil-resistant oracle nodes run by leading blockchain DevOps teams, data providers, and traditional enterprises. Chainlink nodes have a strong track record of reliability, even during high gas prices and infrastructure outages.
Decentralized Network

— Chainlink Price Feeds are decentralized at the data source, oracle node, and oracle network levels, generating strong protections against downtime and tampering by either the data provider or oracle network.
Reputation System

— Chainlink provides a robust reputation framework and set of on-chain monitoring tools that allow users to independently verify the historical and real-time performance of node operators and oracle networks.
"We understand that highly secure infrastructure is mission-critical to investors and dApps in Web3. In order to provide the highest quality monitoring services possible with Beosin EagleEye, it was essential that we leveraged high-quality data from Chainlink Price Feeds."— Tommy, Managing Director of Beosin
About Beosin
Beosin is a Singapore based leading global blockchain security company co-founded by several professors from world-renowned universities. The team consists of 100+ security experts with 40+ PhDs. With the mission of "Securing Blockchain Ecosystem", Beosin provides integrated blockchain security products and services to one million+ users in global blockchain ecosystem, including Smart Contract Audit, Blockchain Risk Monitoring & Alert, Crypto KYT&KYC, and Crypto Tracing.
About Chainlink
Chainlink is the industry-standard Web3 services platform that has enabled trillions of dollars in transaction volume across DeFi, insurance, gaming, NFTs, and other major industries. As the leading decentralized oracle network, Chainlink enables developers to build feature-rich Web3 applications with seamless access to real-world data and off-chain computation across any blockchain and provides global enterprises with a universal gateway to all blockchains.
Learn more about Chainlink by visiting chain.link or reading the developer documentation at docs.chain.link. To discuss an integration, reach out to an expert.
Related Project
Related Project Secure Score
Guess you like
Learn More
Beosin Blockchain Security Monthly Recap of November: 518.09M lost in attacks

November 30, 2022

Move Audit and Move Prover

December 08, 2022

Beosin and Magnet Ventures Entered Into A Strategic Partnership

December 10, 2022

Can ChatGPT, the "Most Powerful AI", Detect Vulnerabilities in Smart Contracts ?

December 10, 2022