Beosin Invited Once Again by the Monetary Authority of Singapore for Exchange Security Training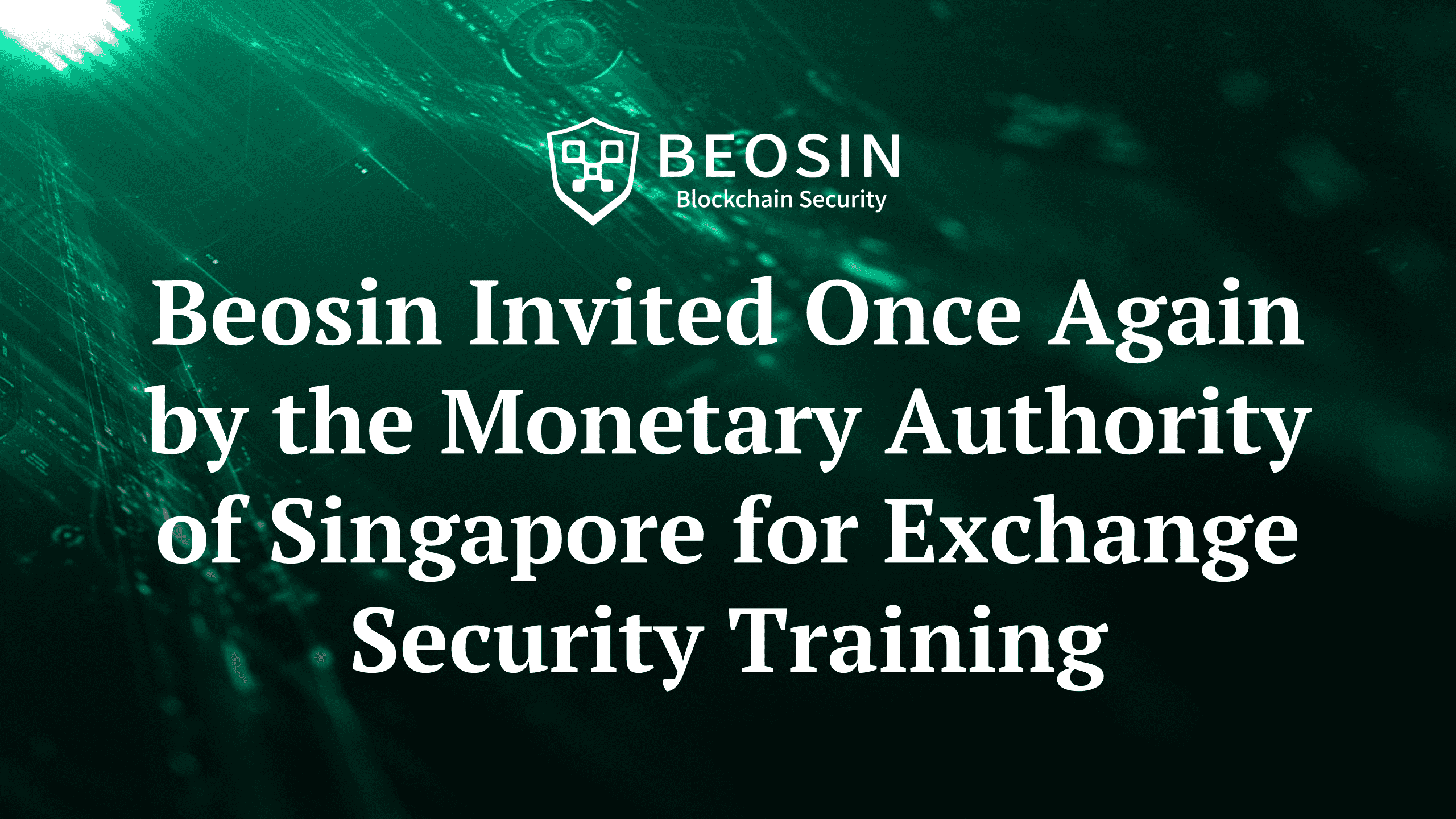 On October 19th, Jasper Kanetake, a senior security expert from Beosin, was once again invited to the Monetary Authority of Singapore (MAS) to conduct a technical security and regulatory training session with MAS internal personnel on the theme of "Exchange Security." This session is part of a series of blockchain security and regulatory training provided by Beosin to MAS, aiming to assist financial regulatory agencies in better addressing the threats and challenges in the digital asset field.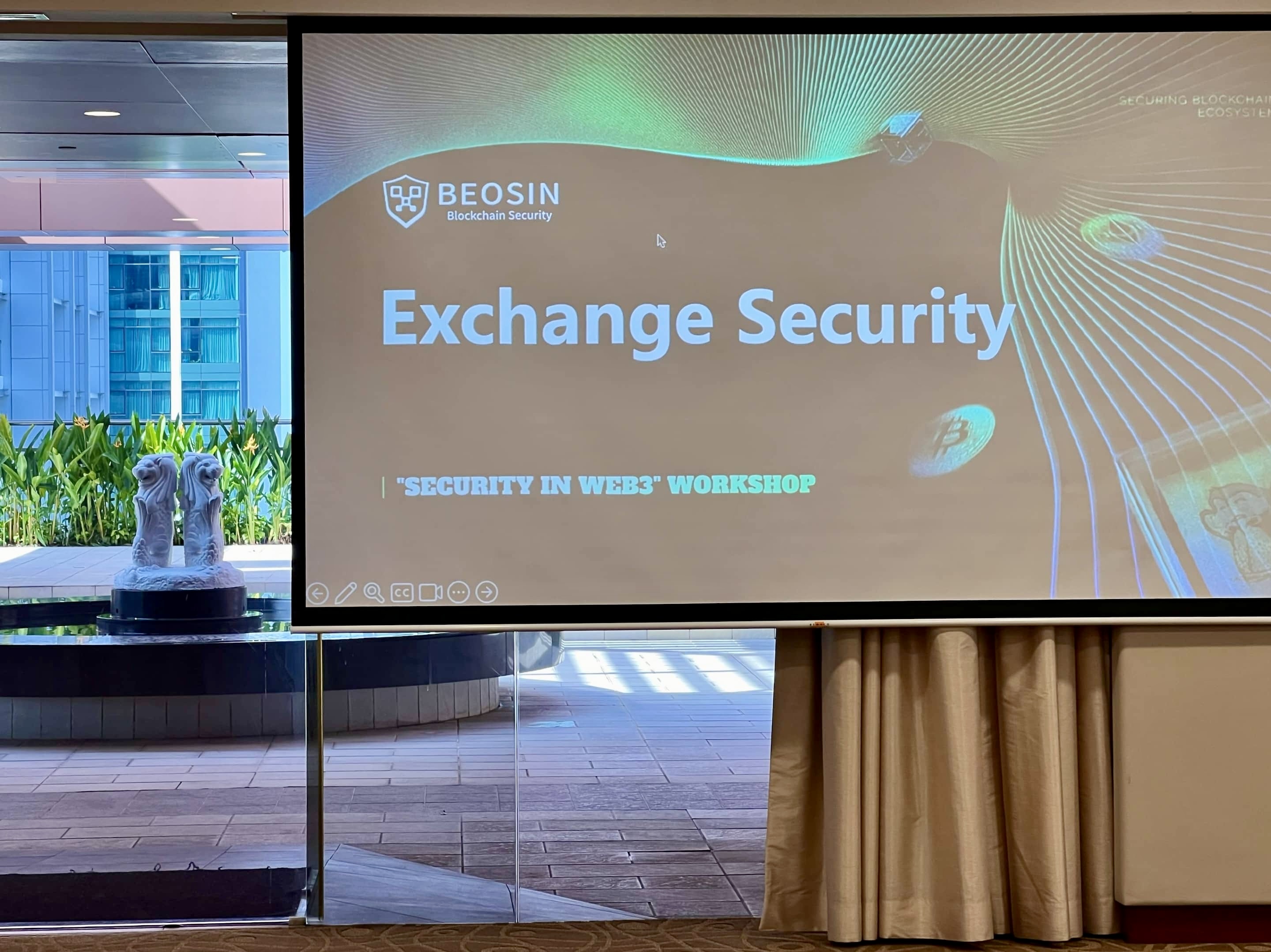 Previously, on August 17th, Beosin was invited to provide blockchain security and regulatory training for the Monetary Authority of Singapore, covering numerous key topics in Web3 security. On September 29th, senior security expert Jasper Kanetake from Beosin was once again invited to MAS to conduct a technical sharing session on the theme of "Smart Contract Security." In the session held on October 19th, Beosin focused on exchange security and presented a series of key insights to help participants in safeguarding user assets and ensuring platform security.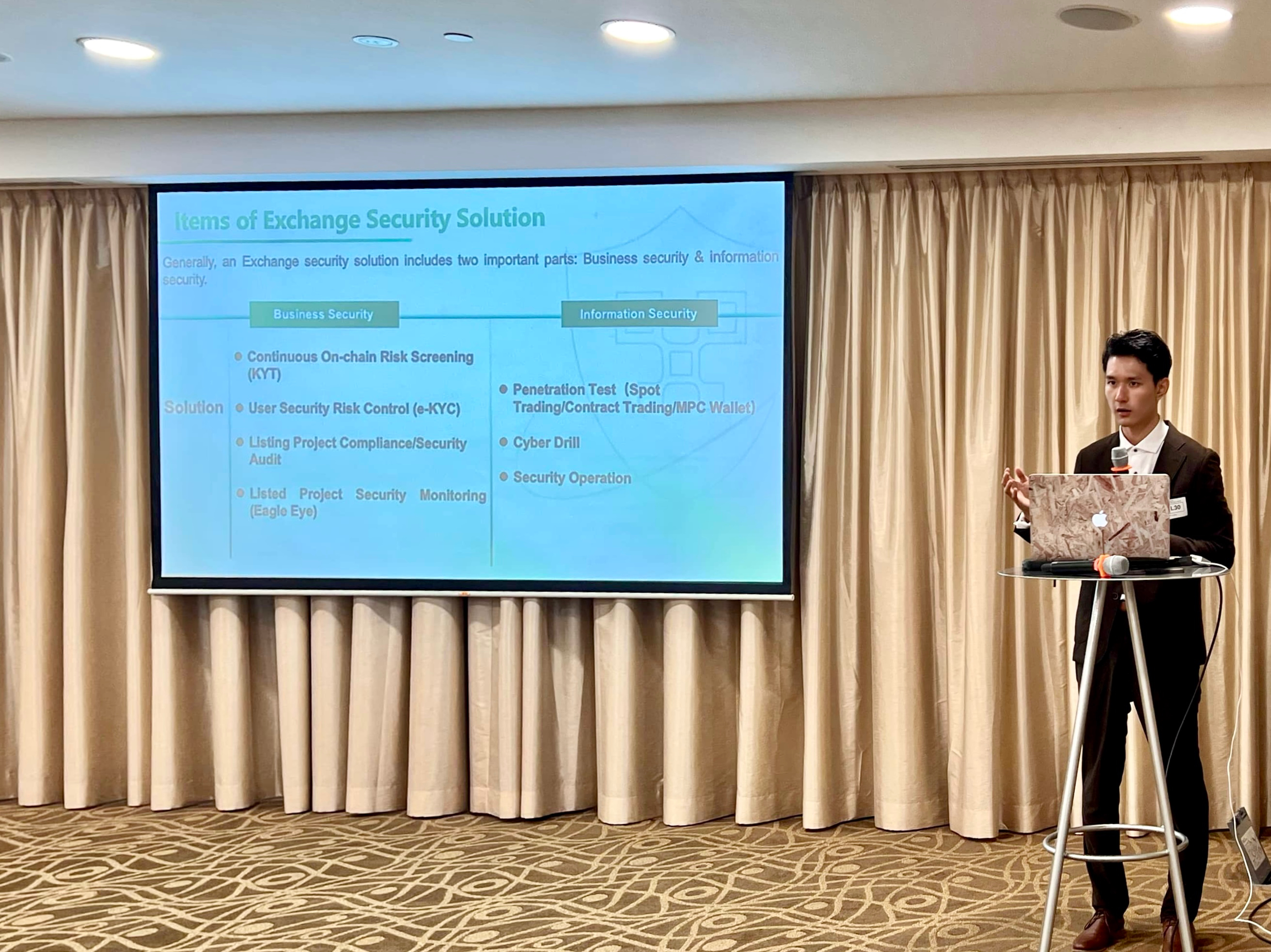 During this internal sharing session, Jasper Kanetake shared some notable exchange security cases, covering various types of events such as hacker attacks and financial fraud. Among them, he mentioned the hacker attack on the Japanese exchange Liquid Global in August 2021, resulting in losses of at least around $70 million. Additionally, the cryptocurrency exchange CoinEx was hacked on September 13th this year, with total losses exceeding $43 million.
Moreover, Jasper also mentioned the incident at JPEX exchange in Hong Kong in September. This event had a significant impact, with the unlicensed cryptocurrency exchange JPEX being warned by the Hong Kong Securities and Futures Commission and subsequently referred to the police for handling. The Hong Kong police received over 2,300 reports involving an amount exceeding HKD 1.4 billion. During the training session, Jasper explained how to use Beosin KYT to analyze the flow of funds behind the JPEX incident, helping users analyze on-chain data to enhance asset security.

Compliance has become an inevitable trend in the cryptocurrency industry, and digital financial enterprises such as exchanges need tools to identify fraud and illegal activities. Beosin KYT, a virtual asset anti-money laundering compliance and analysis platform, has been developed using blockchain big data analysis technology and advanced AI technology, relying on billions of address labels (mapping billions of addresses to real-world entities) and a black address library. This system can assist virtual asset service providers (VASPs) in building KYT and continuous risk assessment capabilities.
Reputable exchanges will also disclose their reserve proof, which is a data structure using a "Merkle tree." In exchanges, what investors are most concerned about is the inability to withdraw the funds they have deposited, which is primarily due to the exchange's total reserve being less than the total funds deposited by users. To reassure investors, transparency of these two data sets is essential. Furthermore, reputable exchanges will disclose their hot wallet addresses, and users can use trusted third-party platforms to monitor and receive real-time alerts for their wallet addresses. Currently, the EagleEye platform launched by Beosin provides real-time alerts and monitoring, allowing users to set their own monitoring criteria, such as triggering an alert when the outflow from the exchange's hot wallet address exceeds a certain amount.
As a global leader in blockchain security, Beosin has over five years of experience in the blockchain security industry and provides comprehensive security solutions for cryptocurrency exchanges, covering business security and information security. These services include secure wallet custody audits, on-chain transaction risk checks, compliance audits for listed projects, security penetration testing, offensive and defensive exercises, and overall platform security operations.
Beosin conducts security penetration testing on systems and applications for cryptocurrency exchanges, simulating real attack scenarios to discover potential vulnerabilities and security weaknesses, and provides solutions to strengthen the security of systems, helping exchange teams enhance their ability to respond to security incidents and attacks and strengthen overall security protection. Beosin provides comprehensive platform security operations services, including real-time monitoring of the security status of systems, response and handling of security incidents, log analysis, and security event tracing, to ensure the continuous security operation of the exchange platform.
Currently, Beosin has made significant contributions in terms of regulation and compliance in regions such as Hong Kong, the United Arab Emirates, and Japan, providing local regulatory agencies with comprehensive compliance solutions. Additionally, the company has established strategic partnerships with well-known institutions such as HashKey, Cobo, OpenBlock, Aegies, and others, relying on the Beosin KYT virtual asset anti-money laundering compliance and analysis platform to address the security and compliance challenges faced by digital asset service providers.
Contact
If you need any blockchain security services, welcome to contact us:
Related Project
Related Project Secure Score
Guess you like
Learn More
Beosin and Cobo Forge Strategic Partnership to Tackle Security and Compliance Challenges with Beosin

October 23, 2023

Beosin and Aegis Announce Strategic Partnership to Enhance Blockchain Security and Compliance

October 24, 2023

Will Scroll Drive the Layer 2 Wave? Exploring zkEVM Circuits and Audit Insights You Need to Know

October 27, 2023

Successful Conclusion of Beosin's Jasper's Lectures at Nanyang Technological University, Singapore

October 27, 2023