Beosin Partners with CrossAngle to Strengthen Blockchain Security and Transparency in Web3 Ecosystem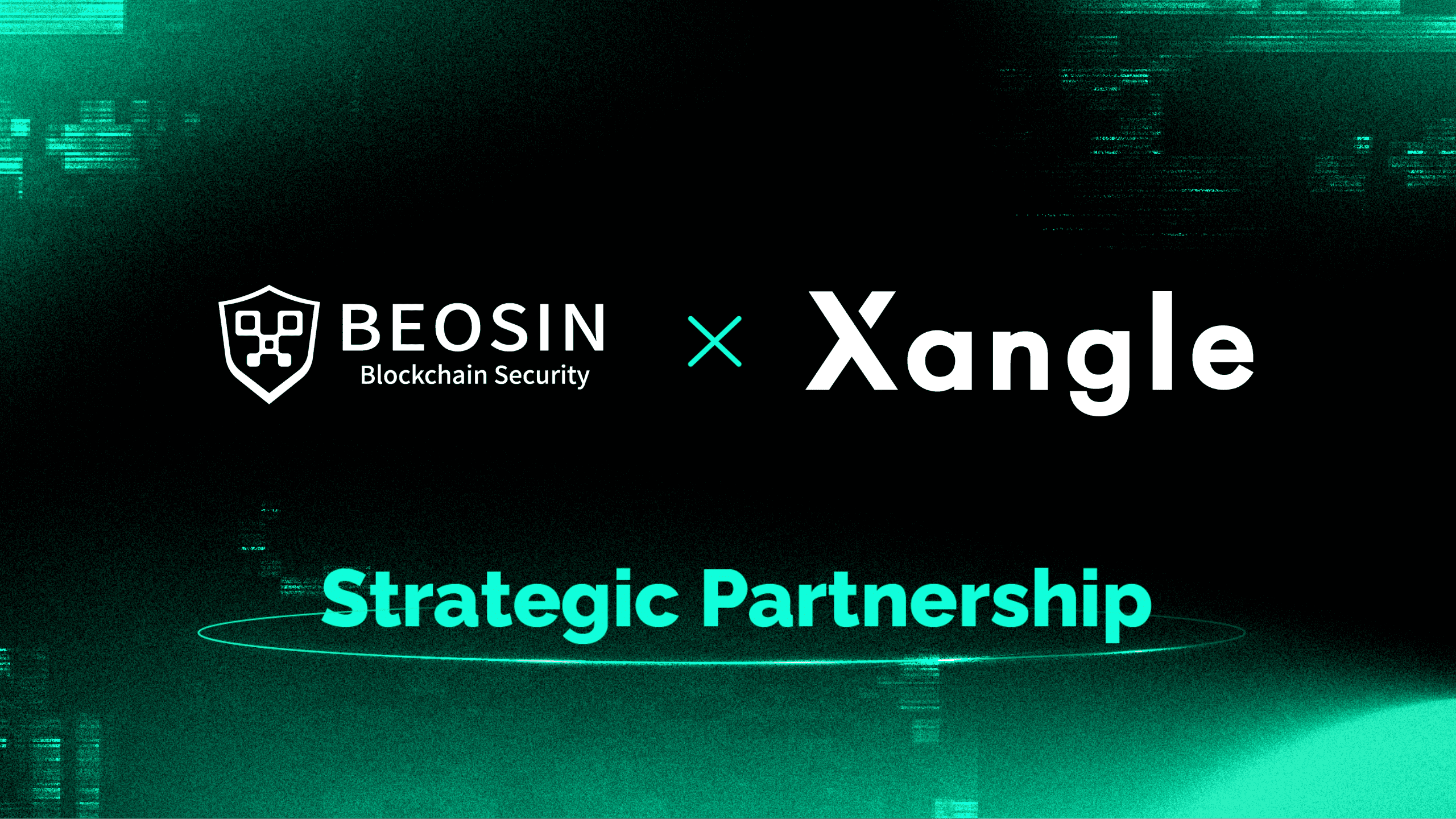 Beosin, the vanguard of blockchain security, is thrilled to announce a strategic collaboration with CrossAngle, the driving force behind the global Web3 data intelligence platform Xangle. This partnership signifies a pivotal moment in fortifying security and transparency within the blockchain industry.
At Beosin, our mission is clear: "Securing the Blockchain Ecosystem." We provide an all-encompassing Web3 security solution covering smart contract audits, risk monitoring and alerts, KYT/AML compliance, and crypto tracing. Our dedication lies in safeguarding the blockchain ecosystem, fostering its growth, and ensuring its resilience against malicious threats.
CrossAngle, on the other hand, has been unwavering in its commitment to resolving information asymmetry within the blockchain ecosystem since its inception in 2018. Their consistent release of top-tier industry analysis reports has been instrumental in cultivating a transparent and robust Web3 industry environment. These reports have earned accolades for their expertise and have found a place on prestigious global crypto and financial platforms, including Bloomberg Terminal, CoinMarketCap, Yonhap Infomax, and FnGuide.
Our partnership with CrossAngle will be marked by collaboration in the following areas:
From Beosin to CrossAngle:
We will cooperate in publishing select research reports authored by Beosin on the CrossAngle platform, provided these reports have been published in English and/or Korean. CrossAngle will have the option to feature these reports on its platform.
From CrossAngle to Beosin:
Beosin will furnish specific research reports published by us to CrossAngle upon their request. These reports will be made available on CrossAngle's platform.
Additionally, both parties pledge to explore mutually beneficial opportunities during the term of this partnership, reinforcing our commitment to advancing the blockchain industry.
This collaboration comes at a critical juncture as the blockchain landscape continues to evolve rapidly, demanding heightened security and transparency. Beosin and CrossAngle are excited to unite forces, addressing these challenges, and contributing to the success of the Web3 ecosystem.
"We firmly believe in the transformative power of blockchain, but security and transparency are the cornerstones of its success," stated Tommy Deng, Managing Director at Beosin. "Our partnership with CrossAngle is a testament to our shared commitment to these principles. Together, we will empower the blockchain community and create a safer, more transparent digital future."
Jake Lim, Chief Business Development Officer at CrossAngle, further remarked, "The objectives of this partnership align with Xangle's commitment to fostering the Web3 ecosystem through transparency and accuracy. We are determined to continue driving the ongoing mass adoption of Web3 to new heights."
Beosin and CrossAngle invite you to follow our journey as we work together to secure the blockchain world and drive transparency to new heights.
For more information about Beosin, please visit www.beosin.com.
For more information about CrossAngle and Xangle, please visit www.xangle.io.
Related Project
Related Project Secure Score
Guess you like
Learn More
Unraveling the Money Trail Behind the JPEX Controversy

September 21, 2023

Q3 2023 Global Web3 Security Report, AML Analysis & Crypto Regulatory Landscape

September 27, 2023

ERC-7520 Proposal: zk-SNARK Public Inputs Overflow Protection

September 27, 2023

Q3 2023 Global Web3 Security Report, AML Analysis & Crypto Regulatory Landscape

September 27, 2023