Beosin Unveils EagleEye: Enhancing Web3 Security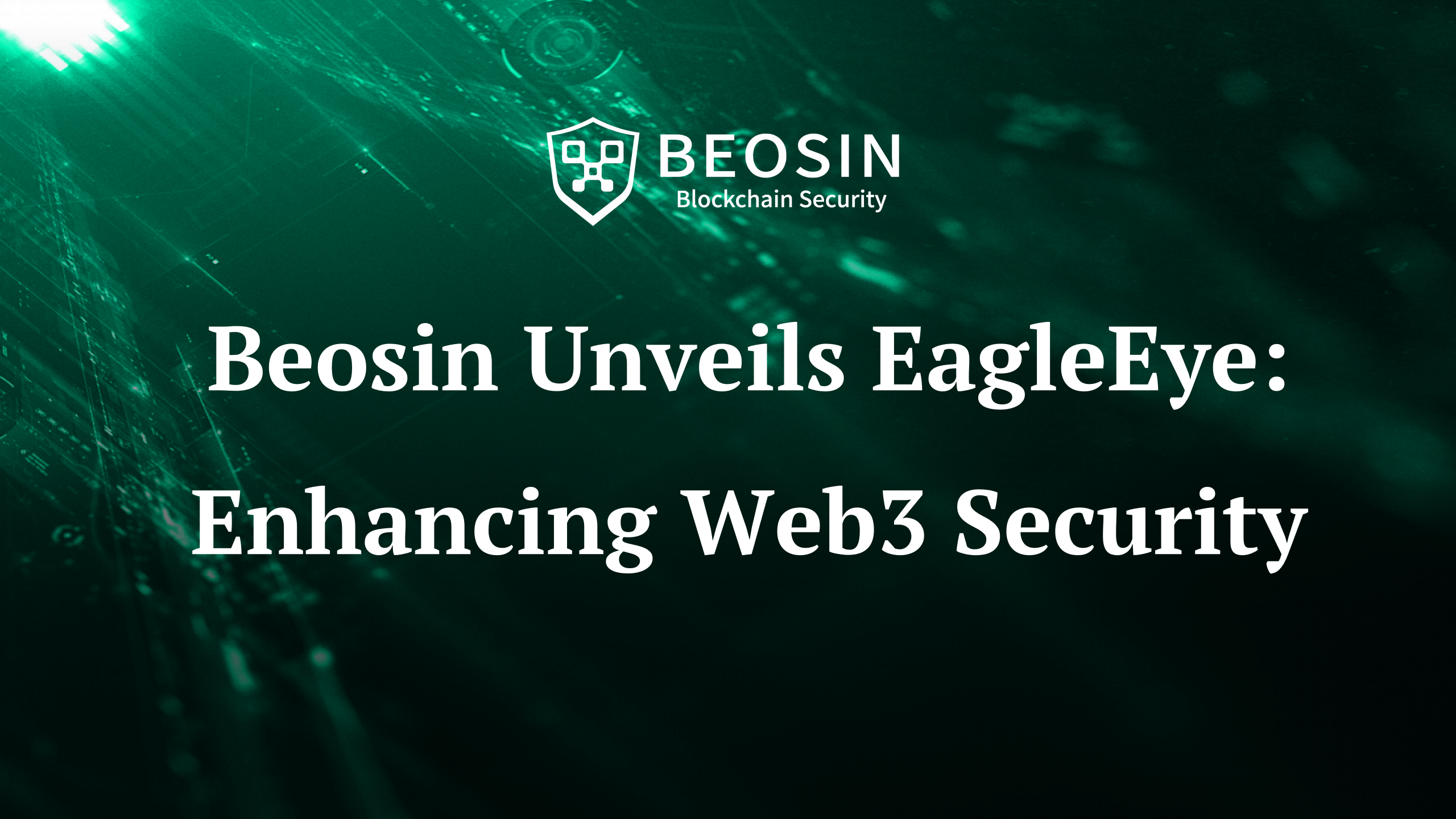 On September 12, 2023, the annual conference of the Blockchain Security Alliance, "Blockchain Security in Singapore," held as an official side event of TOKEN2049, became the focal point of the global blockchain security and compliance ecosystem. This event brought together builders from the Web3.0 sector, including top global security companies, infrastructure providers, cloud service providers, and academic institutions.
This event took place successfully at the historic Raffles Hotel in Singapore and attracted over 300 professionals and enthusiasts from the blockchain security field. Professor Lee Kuo Chuen, Chairman of the Global FinTech Institute (GFI) and Singapore University of Social Sciences (SUSS), delivered a special welcome address at the beginning, emphasizing the importance of compliance for the healthy development of Web3, injecting passion and motivation into the entire event.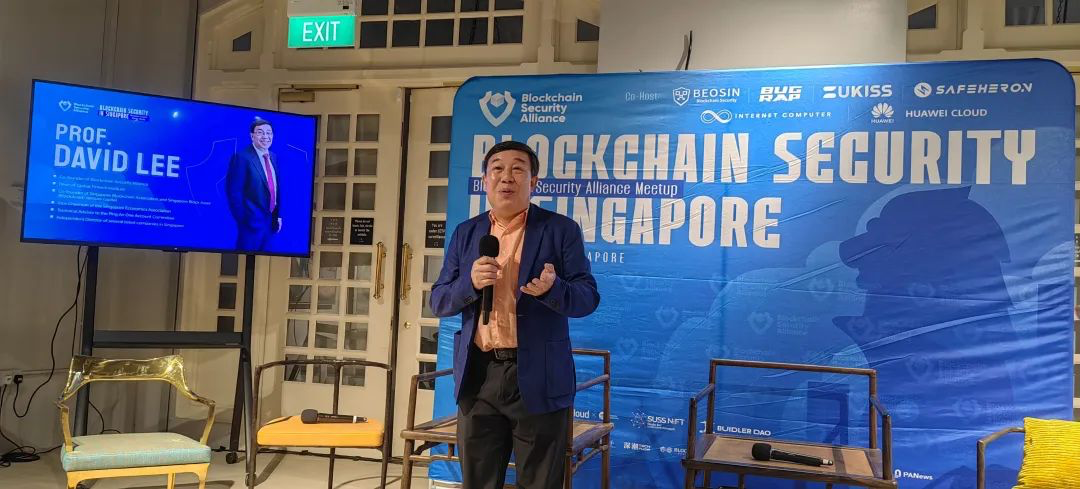 During the keynote address, Beosin announced the official launch of its newly upgraded consumer-oriented security product, EagleEye, aimed at enhancing the security of on-chain operations for Web3 investors, allowing them to securely manage alternative assets.
Beosin stated, "As a security company, we have had countless users approach us over the past few years hoping to recover stolen assets. To minimize the risk of individual investors' assets being stolen, we have developed EagleEye based on existing smart contract scanning technology to protect everyone's assets. Users can use the EagleEye platform to check project information, address risks, and explore relationships between projects. It also assists users in monitoring projects of interest and whale addresses. The platform integrates KYT (Know Your Transaction) functionality, supporting individual address queries, one-click scanning of addresses across multiple chains, and on-chain interaction risks. EagleEye allows users to invest in new projects more securely, prevent wallet theft, and promptly check for wallet contamination."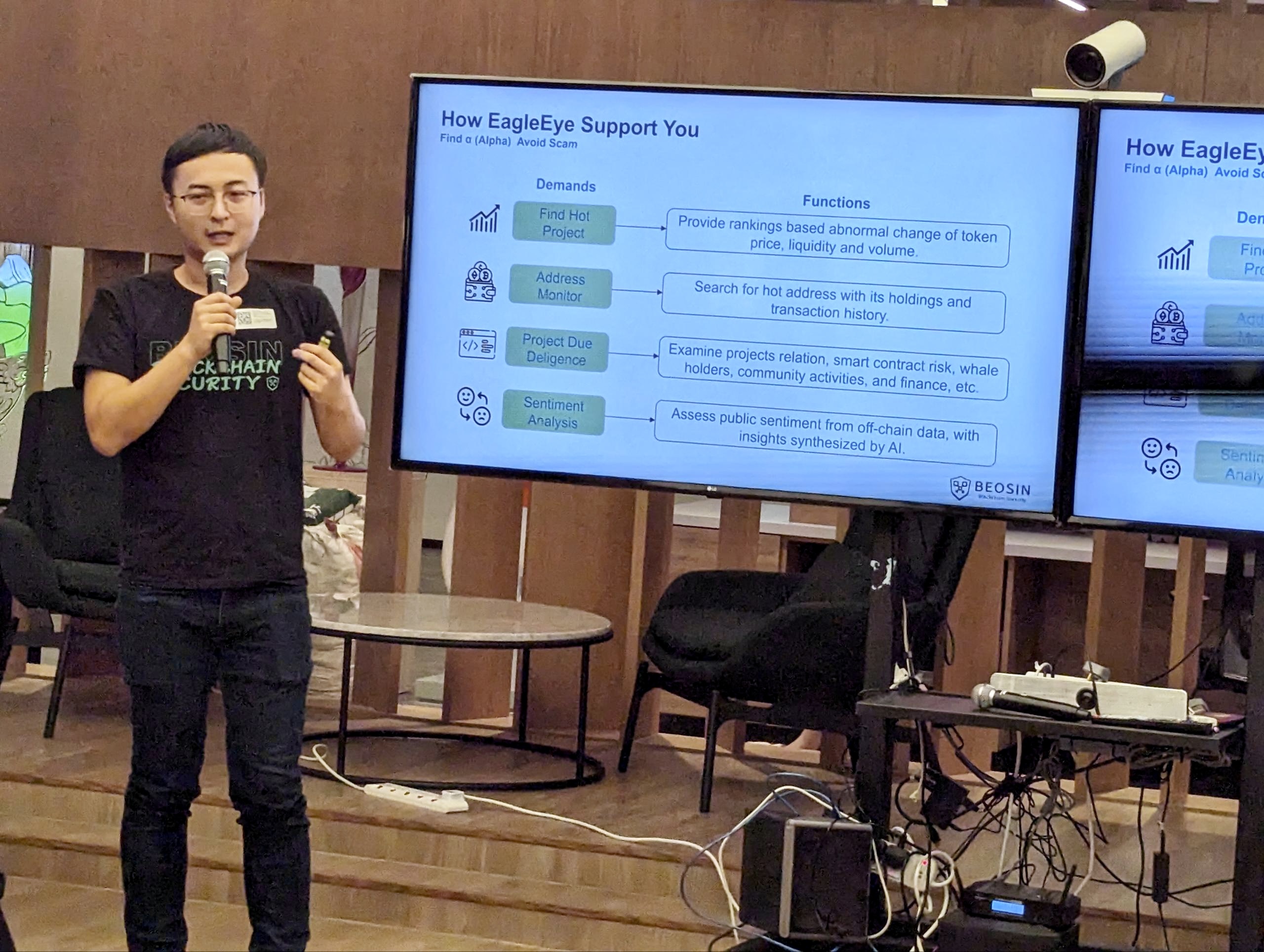 The updated EagleEye garnered widespread attention from attendees, creating a buzz on the spot. The audience showed significant interest in EagleEye's practical features. The Beosin spokesperson proceeded to provide on-site demonstrations of several key functions of EagleEye:
1. Powerful Project Search Functionality
EagleEye utilizes robust on-chain contract scanning to automatically catalog information on newly listed projects, enabling users to quickly discover the hottest, latest, and most promising projects. EagleEye also provides relationship analysis between projects, allowing users to gain insights into teams, investors, partners, and other information behind the projects for better due diligence.
2. Risk Identification and Address Monitoring
EagleEye employs Beosin's professional formal verification technology to offer users intelligent contract risk identification, enabling users to timely discover and avoid threats such as contract backdoors, token over-issuance, and malicious contracts. Furthermore, EagleEye leverages Beosin's expertise in KYT anti-money laundering to integrate address query functionality, effectively preventing users' wallets from being contaminated by blacklisted addresses.
3. High-Value Signal Alerts
EagleEye utilizes artificial intelligence analysis and community collaboration to automatically fetch project-related sentiment and security information, allowing users to stay informed about the latest project developments and security status for making informed decisions. For example, it provides real-time risk alerts and market signals based on whale trading signals, contract security assessments, and significant project updates.
Following the EagleEye product update, two exciting panel discussions were organized as part of the program. The first discussion revolved around establishing a secure Web3.0 ecosystem in Singapore, featuring in-depth insights from Beosin's senior security expert, Jasper, and alliance members Safeheron and BugRap, analyzing the challenges and solutions in blockchain security while sharing recent experiences in teaching at Nanyang Technological University (NTU) and the Monetary Authority of Singapore (MAS). The second panel featured guests from the Dfinity Foundation and Huawei Cloud and focused on overcoming entry barriers for mass adoption of Web3.0, with participants offering innovative ideas and suggestions.
The event's closing dinner and networking session provided an opportunity for attendees to relax and engage in deeper discussions with alliance members in a casual atmosphere. The successful hosting of "Blockchain Security in Singapore" once again demonstrated the leadership and influence of the Blockchain Security Alliance in promoting the security development of Web3. Alliance members' efforts provide a solid foundation for innovation and collaboration in the field of blockchain security, contributing positively to the industry's prosperity.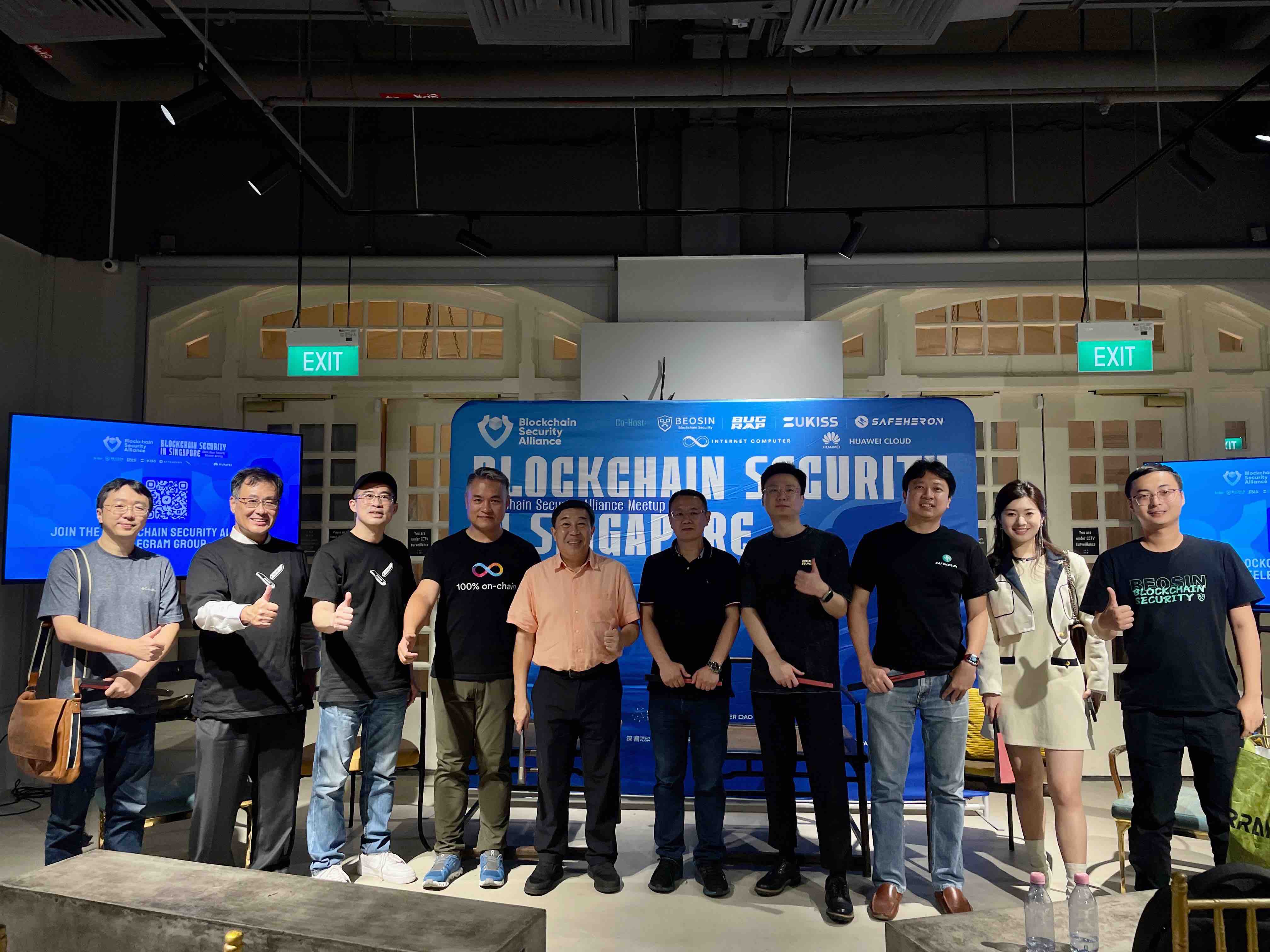 Looking ahead, the Blockchain Security Alliance remains committed to driving development and innovation in the blockchain security field, making relentless efforts for the industry's sustainable growth.
Currently, EagleEye is open for use. Web3 users can explore it through the following link:
Related Project
Related Project Secure Score
Guess you like
Learn More
Beosin KYT: How Does It Prevent Money Laundering in Hong Kong's Virtual Currency Space?

September 12, 2023

A Must-Read for ZKP Projects|Circuit Audit: Are Redundant Constraints Really Redundant?

September 20, 2023

Unraveling the Money Trail Behind the JPEX Controversy

September 21, 2023

Beosin Partners with CrossAngle to Strengthen Blockchain Security and Transparency in Web3 Ecosystem

September 27, 2023