Beosin Unveils New Blockchain Solution for Financial Regulation and Security at SFF
Recently, the largest financial and technological event in Asia, the Singapore Fintech Festival (SFF), made a grand return on November 15. This year's theme is "The Application of Artificial Intelligence in Financial Services," with a focus on the development and application of artificial intelligence and its potential impact on financial services. Over 800 global thought leaders from the government, financial services, and blockchain sectors gathered to explore the integration of AI and Web3 in the financial field.
As a sponsor of the conference, Beosin not only showcased a new blockchain financial regulatory and security solution, but also actively participated in special presentations and panel discussions at the Fintech Festival side events. We engaged in in-depth discussions with industry experts and government officials, sharing the progress of blockchain financial regulation and security technology across the ecosystem.
Beosin Showcases KYT Product at Singapore Fintech Festival
As a key platform for the global financial technology industry, the Singapore Fintech Festival showcased the latest technological innovations and industry trends to various stakeholders. During this event, Beosin demonstrated the powerful features and application cases of its latest upgraded KYT (Know Your Transaction) product to global customers. This move signifies Beosin's innovation and technological prowess in the field of cryptocurrency anti-money laundering.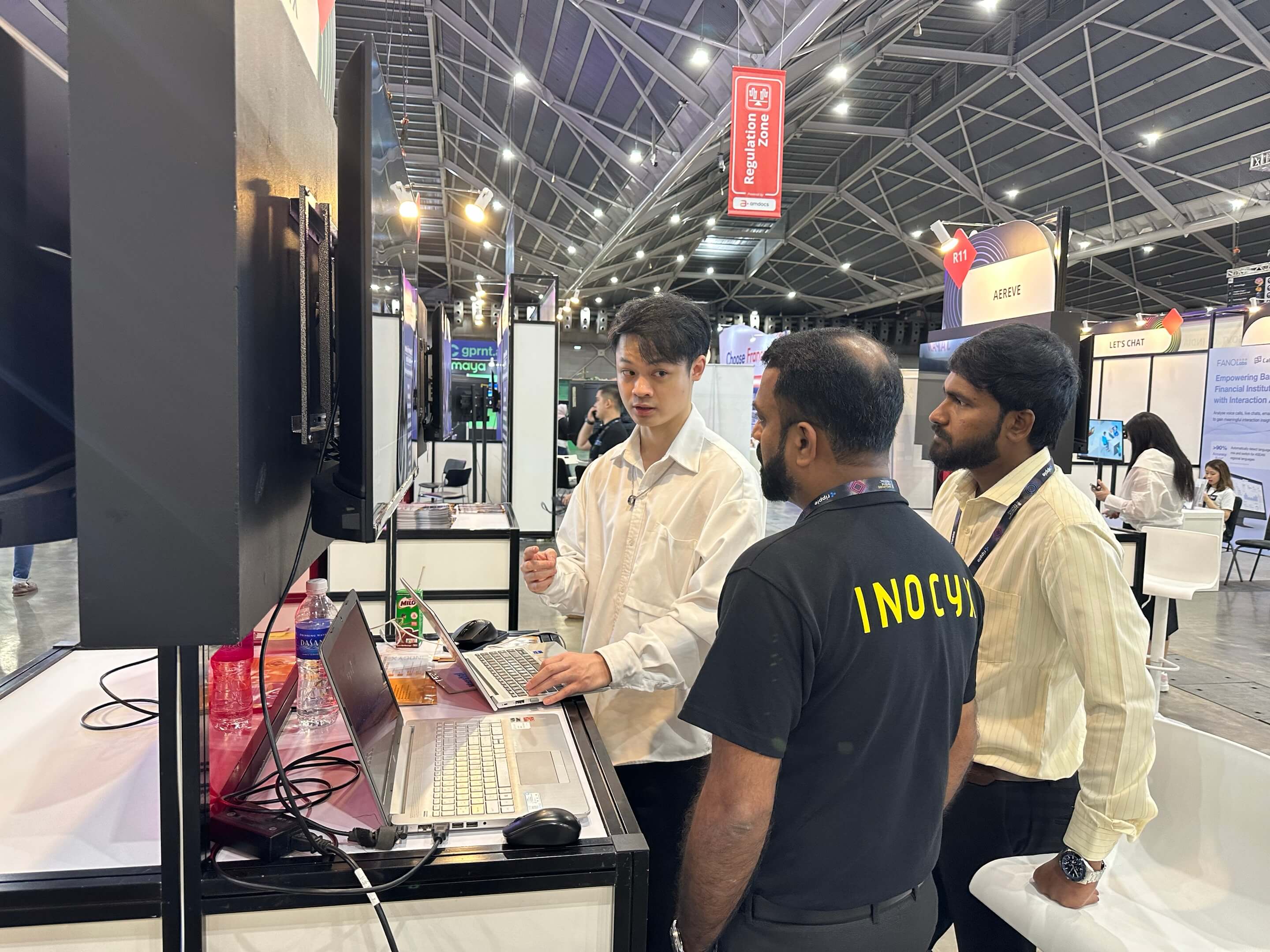 Beosin KYT is a blockchain-based anti-money laundering solution that enables real-time monitoring and analysis of digital asset transactions. It helps financial institutions and enterprises identify suspicious activity and ensure transaction compliance. Leveraging advanced AI algorithms and machine learning technology, the product can quickly and accurately analyze large volumes of transaction data, identify potential money laundering risks, and generate corresponding reports and alerts to help users take prompt action.
Beosin security expert Ricky also mentioned how Beosin assists enterprises in ensuring the security of their applications and smart contracts in the Web3 ecosystem through smart contract audits and risk monitoring. This helps identify potential vulnerabilities and provide solutions. He further highlighted that Beosin has launched a new comprehensive blockchain financial regulatory and security solution, offering a "one-stop" approach to Web3 security and compliance. This includes full-process products and services such as KYT-AML, virtual asset compliance technology due diligence, and virtual asset security monitoring and alerts. These solutions aid businesses in maintaining compliance in the evolving regulatory landscape and identifying potential risks.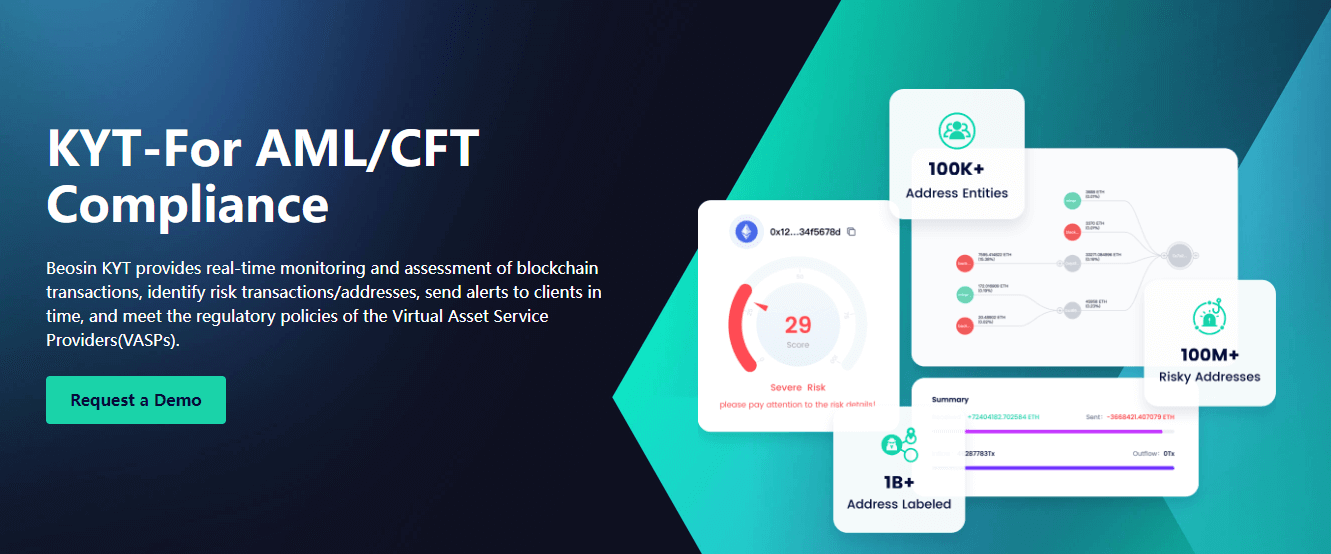 Visitors in the Fintech Festival expressed keen interest in Beosin KYT. They recognized the importance of KYT in enhancing anti-money laundering capabilities and reducing compliance risks, appreciating the product's efficiency and reliability. Through active participation in the Fintech Festival and related events, Beosin continues to contribute to the innovative application of blockchain technology in the financial sector, providing comprehensive support for the digital transformation and secure development of the financial industry. Beosin remains committed to refining and optimizing Beosin KYT to meet customer needs and actively contribute to the compliance and security of the financial industry.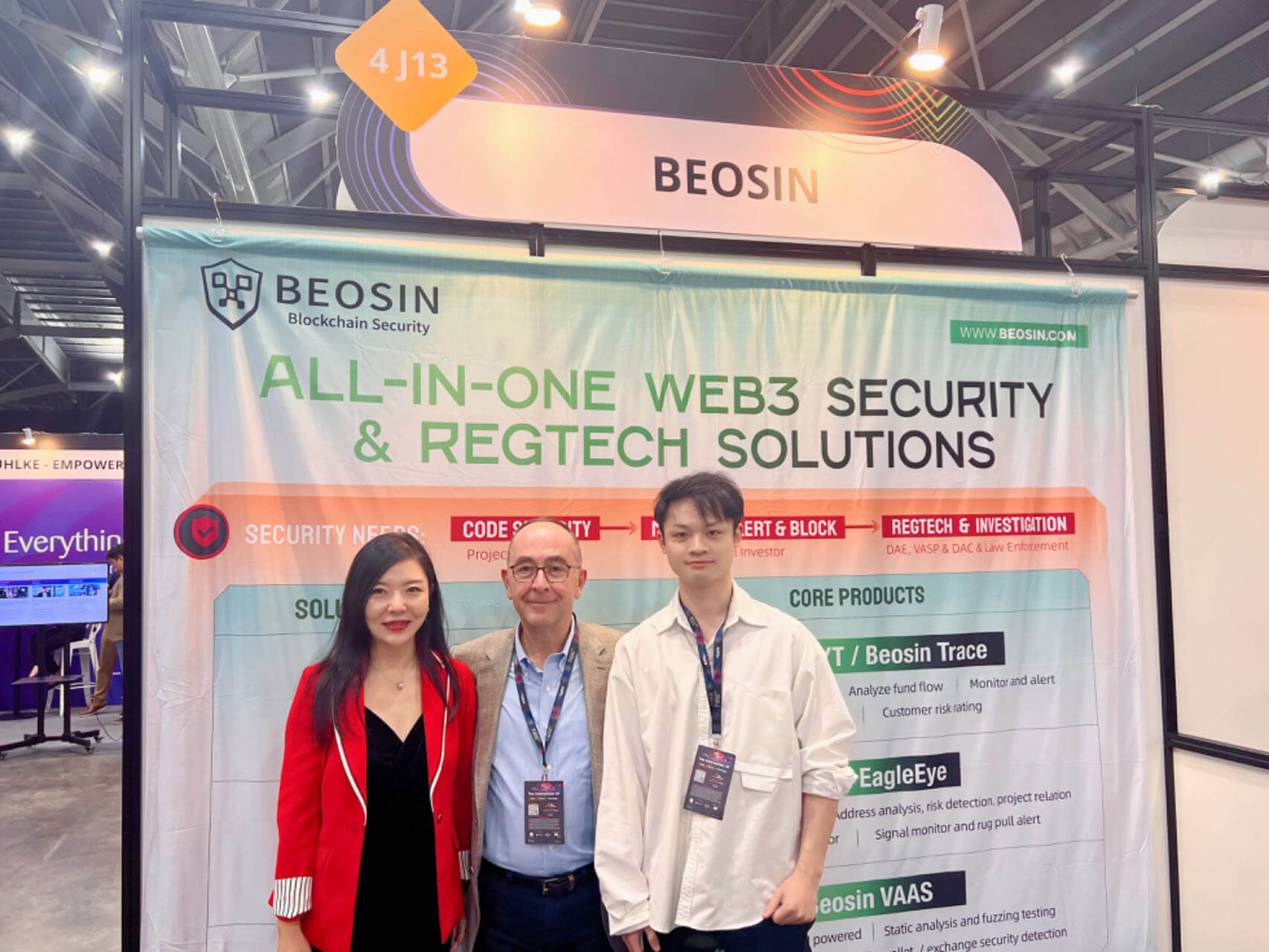 Beosin CEO Invited to SUSTAINABLE WEB3 SG 2023 Conference
On November 14, the SUSTAINABLE WEB3 SG 2023 conference, jointly organized by the SUSS NiFT and Wanxiang Blockchain Lab, was held at the Sands Expo and Convention Centre as a peripheral event of the Singapore Fintech Festival. The conference invited prominent technology leaders, experts and academics to focus on the security, innovation and sustainable development of Web3, and delve into the challenges and opportunities facing the Web3 industry.
The event featured 18 keynote speeches and 14 roundtable discussions covering a wide range of topics from "Exploring the Frontiers of Web3 Security" to "Guiding the Regulatory Landscape of Web3", including sustainable Web3, infrastructure, regenerative finance (ReFi), RWA and other wide-ranging topics. SUSTAINABLE WEB3 gathered voices from around the world, providing multi-dimensional discussions and forward-looking insights on key Web3 issues, guiding the future development of the Web3 industry.
Beosin CEO Wendy Sun, together with members of the Blockchain Security Alliance, participated in a panel discussion themed "Security and Privacy for a Sustainable and Inclusive Web3." The discussion focused on topics such as privacy, data sovereignty, smart contract security, and cross-chain issues. Wendy mentioned that Beosin, as a blockchain security company, has actively participated in and supported the secure and trustworthy development of the Web3 ecosystem. Beosin provides comprehensive security protection for Web3 projects and users through a range of products and services, including security and compliance audits, on-chain risk monitoring, malicious address tracking, etc. She also shared Beosin's experience and insights in the field of Web3 security and introduced the new Web3 project due diligence platform, EagleEye, to address challenges faced by individual participants, such as fraud and phishing.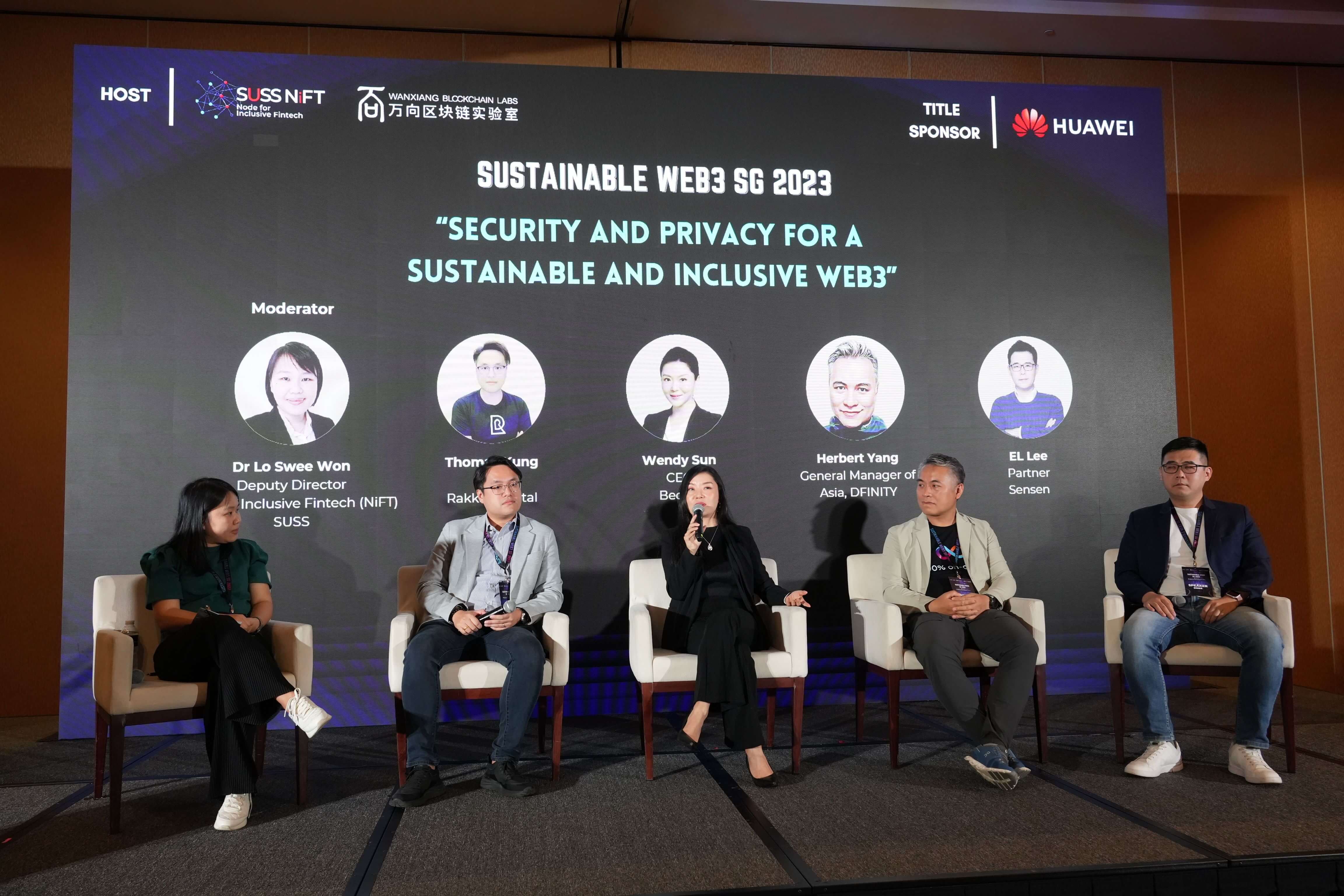 Finally, the participants collectively emphasized the importance of ensuring user privacy and data sovereignty in the Web3 ecosystem. They discussed best practices for addressing Web3 security and covered the application of other privacy protection technologies such as zero-knowledge proofs and homomorphic encryption, as well as the challenges and solutions related to cross-chain technologies.
Beosin Invited to Alibaba Cloud Go Saudi Event
On November 14, Beosin was invited to participate in the Alibaba Cloud Go Saudi event. This event provided in-depth insights into the financial technology market in Saudi Arabia, offering information on regulatory environments, market potential, and the latest developments in localized business.
Wendy Sun, Beosin CEO, presented Beosin KYT solution during the event. With the rapid development of the financial technology industry, regulatory compliance has become a crucial issue for enterprises. The Beosin KYT solution is designed to meet this demand. Based on blockchain technology, it helps financial institutions and businesses effectively identify and prevent financial crimes, such as money laundering and terrorist financing, by analyzing and monitoring transaction activities.
Wendy Sun shared Beosin's experience in the field of blockchain security and explained how these technologies and knowledge are applied to the financial sector, helping businesses establish a more secure and reliable trading environment. Additionally, she highlighted Beosin's collaboration and development in the Saudi Arabian financial technology market, showcasing successful cases and partnerships, demonstrating Beosin's leadership and influence in that market.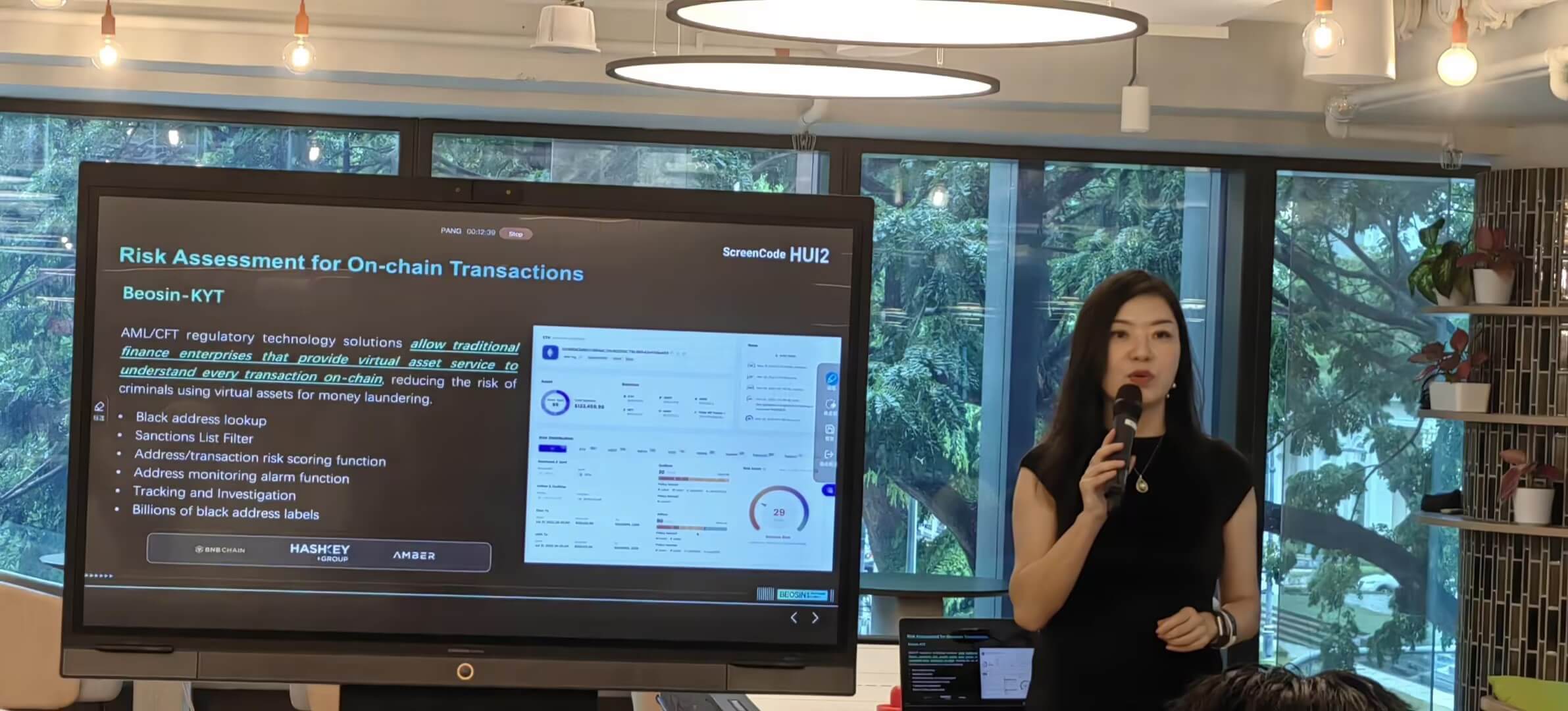 In conclusion, Beosin's presence at the Singapore Fintech Festival was not only a showcase of its strength and innovation but also a vital opportunity to establish connections and partnerships in the industry. Through interactions with industry experts and investors, Beosin seeks more collaboration opportunities to collectively drive the application and development of blockchain technology in the financial sector.
Contact
If you need any blockchain security services, welcome to contact us:
Related Project
Related Project Secure Score
Guess you like
Learn More
How to Identify Cryptocurrency Traps? EagleEye Deciphers the Schemes

November 20, 2023

A Security Perspective on the GameFi Fren Pet Across the Entire Chain

November 23, 2023

Heco Bridge hacked over $83M and Kyber exploited over $48M. How should we be more vigilant after these two security incidents?

November 24, 2023

Understanding the RGB Protocol: Bridging Bitcoin and Smart Contract

November 24, 2023