Beosin's Analysis of the ZEED Exploit
On April 21th, 2022, according to Beosin EagleEye, ZEED's contract on BNB Chain was exploited for about $100M. Beosin security team analyzed the incident and the findings are shown below.
ZEED Introduction
ZEED is a decentralized financial ecosystem deployed on BNB Chain.
Relevant Information
Transaction hash:
0x0507476234193a9a5c7ae2c47e4c4b833a7c3923cefc6fd7667b72f3ca3fa83a
Hacker address:
0xec14207d56e10f72446576779d9b843e476e0fb0
Hacker contract:
0x05e55d051ac0a5fb744e71704a8fa4ee3b103374
Victim contract:
0xe7748FCe1D1e2f2Fd2dDdB5074bD074745dDa8Ea
Exploitation Flow
1.The hacker transfers to the three trading pairs ZEED, HOR, USDT through YEED respectively.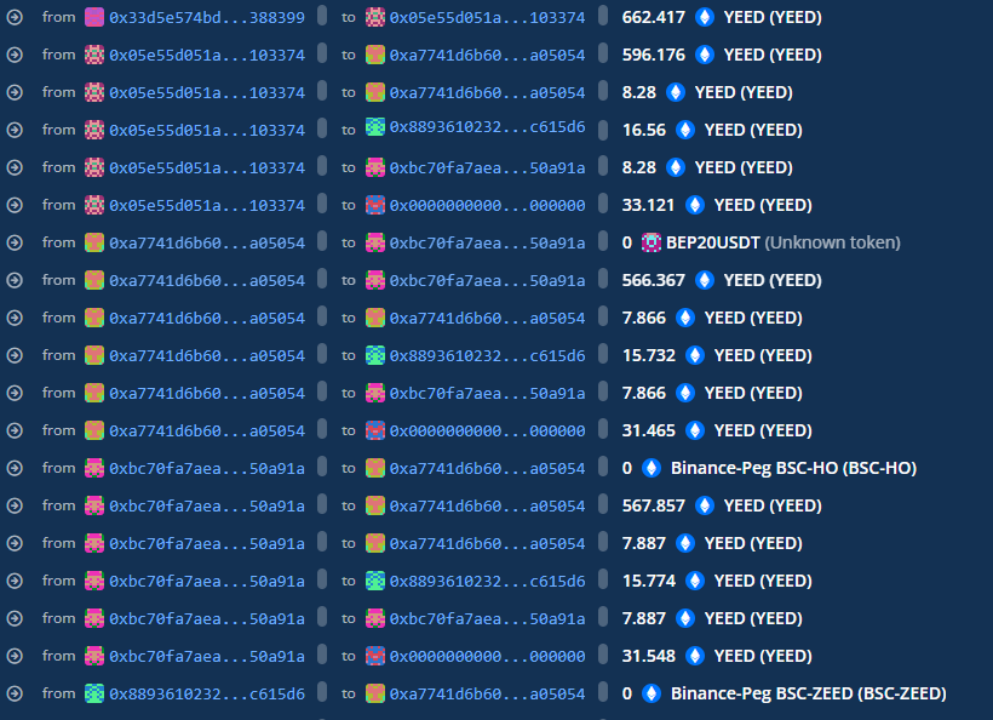 2. Repeat this operation several times.
3. Since ZEED tokens are calculated by adding or subtracting directly from the balance of the trading pair, this vulnerability can be utilized to increase the balance and get excess rewards from the pair.
Vulnerability Analysis
This attack mainly exploits the fact that ZEED contract directly calculates the balance using rewardFee passed in, but does not use the separate calculation of zedreward, horward, usdtreward, so that the hacker can exploit the calculation vulnerability to profit.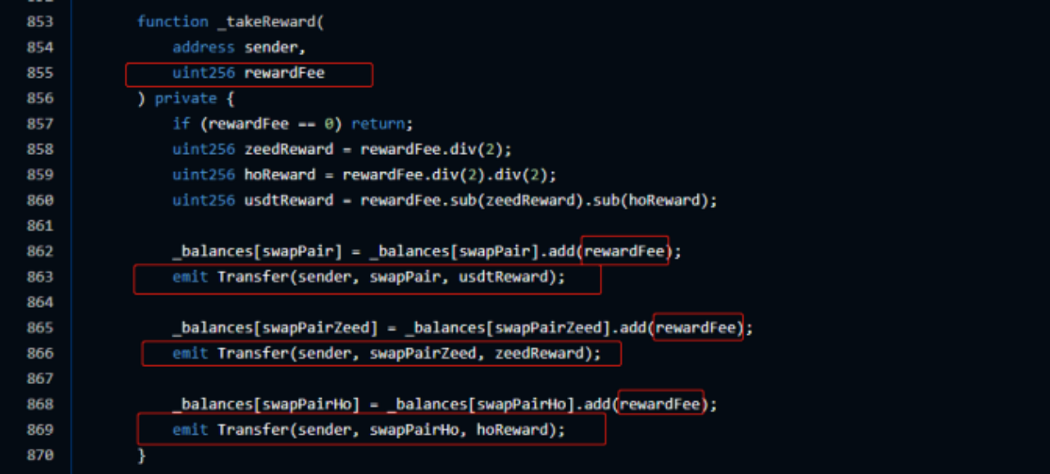 Fund Tracing
As of this writing, the stolen funds are estimated to be $1,043,070. The contract has been self-destructed before the hacker transfers out the funds.
Summary
In response to this incident, Beosin security team recommends:
1. Do not directly add or subtract trading pairs in tokens with dividends.
2. Before the project goes live, it is highly recommended to choose a professional security audit company to conduct a comprehensive security audit to avoid security risks.
If you have need any blockchain security services, please contact us:
Related Project
Related Project Secure Score
Guess you like
Learn More
$34M Locked Due to Contract Vulnerabilities in Akutar: Beosin's Full Analysis

April 23, 2022

How to quickly track assets laundered by Hacker's Paradise-Tornado Cash? Beosin may help you

April 21, 2022

Beosin Has Completed Security Audit Service of Crafting

April 21, 2022

Beosin's Analysis of the 2omb Flash Loan Attack

April 19, 2022