Creating a $9 billion valuation in 5 years: what is Optimism?
In early May, Messari did an in-depth analysis of Optimism in its own report and gave it a valuation of $9 billion. After several rounds of huge funding, Optimism has been the consensus among top VCs such as a16z and Paradigm.
With the release of the airdrop news and its live on Binance, Optimism has once again become a hot topic in the market.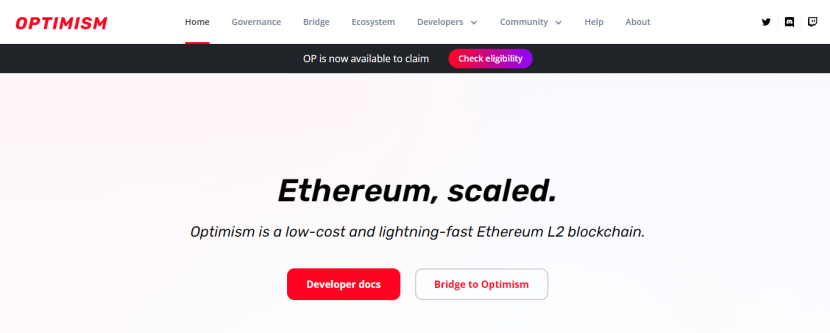 What is Optimism?
— The Layer 2 Scaling Solution for Ethereum
In response to the scalability issue of Ethereum, a series of alternatives — commonly known as "Ethereum killers" — have emerged.
Optimism is one of the Layer 2 scaling solutions for Ethereum, and Optimism's primary use is for bulk transactions on the Optimism network, which allows users to enjoy lower Gas fees on transactions executed on the Optimism network through optimistic aggregation techniques.
Optimism became the first Layer 2 network to implement a governance pass, with an initial supply of 4.294 billion governance pass OPs, according to public information, with the total supply set to swell at 2% per year. 19% of the initial supply of OPs will be used for airdrops, with 5% given to the community in the first round and another 14% to be distributed in the future.
Some OP tokens were airdropped to early Optimism users in late May 2022, and the developers behind Optimism have said it will continue to airdrop more tokens.
In the official Optimism blog post, it says:
"It's hard to believe that in the year or so since the Optimism mainnet launched, we have.
Saved users over $1.1 billion in Gas fees Deployed over 6,800 smart contracts Welcomed over 300,000 unique addresses Obtained over $900 million in on-chain value Facilitated over $17.4 billion in transaction volume Generated over $24.5 million in revenue Donated over $1 million to charitable funds
Today, Optimism is once again generating a lot of buzz throughout the crypto community with the arrival of a new governance mechanism, Optimism Collective, the airdrop of Optimism's native governance Token OP, which is not only a hot topic in the current market, but another landmark event in the history of crypto development.
With the arrival of OP, Ether opens another new chapter. In the words of "Margin Call" — "Remember this day boys, remember this day".
More
1.What is the impact on Web3 after LUNA's crash and DeFi "fled" ?
2. How to Ensure the Security of NFT Under the Web 3.0 Boom?
3. DEUS Finance Suffered its Second Flashloan Attack This Year: Beosin's Detailed Analysis
4. Investigation of Common Phishing Attacks in Web 3.0: Discord, Google Ads, Fake Domains and Others
5. 「RECAP」AMA About How to Keep Your Smart Contract Secure During Development With Beosin VaaS
Contact
If you have need any blockchain security services, please contact us:
Related Project
Related Project Secure Score
Guess you like
Learn More
Hype, Plagiarism, Insider Fraud, NFT Scams on OpenSea and Security Advice

July 25, 2022

BEOSIN | Public Blockchain Security Audit Solution Fully Upgraded

June 01, 2022

Investigation of Common Phishing Attacks in Web 3.0: Discord, Google Ads, Fake Domains and Others

May 25, 2022

Analysis of Attack on Feminist Metaverse

May 19, 2022