Hype, Plagiarism, Insider Fraud, NFT Scams on OpenSea and Security Advice
How fiercely the tide of NFT turns, how quickly it ebbs.
Recently, the U.S. Department of Justice filed NFT insider trading charges against a former employee of OpenSea. The accused employee, named Nathaniel Chastain, was arrested on the morning of June 1 and charged with telecommunications fraud and money laundering, each of which carries a maximum sentence of 20 years in prison.
In addition to insider trading, plagiarism is still a widespread problem on OpenSea. This has also given rise to many 'fakes', where a single work can be altered slightly and become another irreplaceable new item.
Fraud and plagiarism, system vulnerabilities, insider trading on the platform, and various other problems have emerged one after another. Today, we'll take stock of the common problems on OpenSea and give security advice.
01 How much of the unique NFT comes from plagiarism?
The most important reason why NFT can quickly come out of the circle in a crowd of Web3 tracks is that it has the characteristics of verifiability, uniqueness, indivisibility and traceability, so that NFT can be applied to a wide range of scenarios, and can solve a large number of real-life problems involving ownership.
As the hype of NFT is getting increasingly hot, a large number of incidents of plagiarism and theft of works have been exposed one after another recently. On OpenSea, the world's largest NFT marketplace, some artists' works have also been mass produced as NFTs for sale by anonymous users.
Dutch artist Lois van Baarle found over 100 of her artworks for sale on Opensea when she searched her name, none of which were minted by her; American artist Aja Trier found close to 90,000 NFTs created on OpenSea based on her IP work when she had never done any NFTs on her own.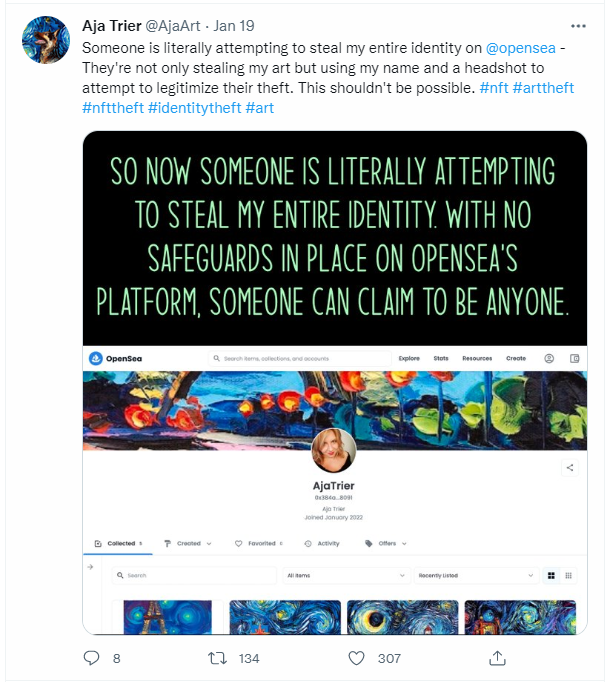 02 Is OpenSea starting to crack down on counterfeiting?
A while ago, OpenSea announced that it was going to start "fighting fake". On the one hand, it is going to update the account verification and collection badge system, expanding the number of creators who are eligible for verification. On the other hand, a system to reduce "copymints" by identifying and deleting them will be introduced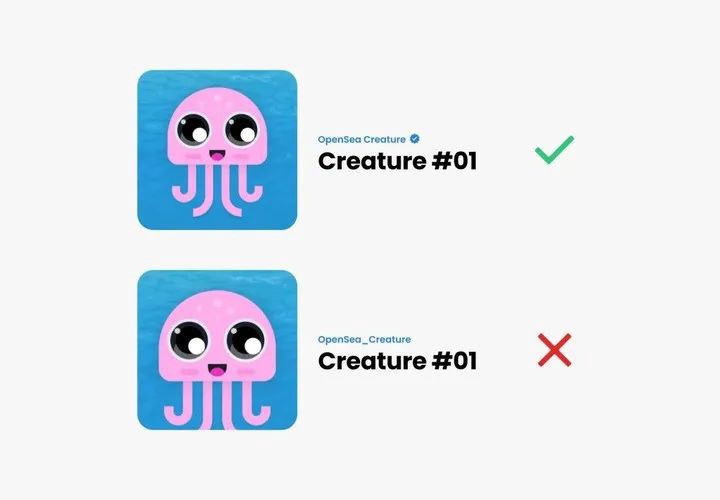 As one of the largest NFT trading platforms, there are countless NFT projects uploaded and transferred on OpenSea every day. Recently, OpenSea stated in a Twitter post that more than 80% of the NFTs created for free on the platform were copied from other artists or spam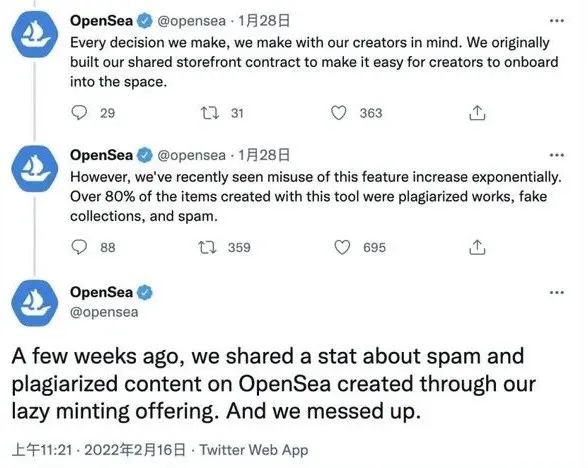 03 It's not enough to officially fight against counterfeiting. Take this OpenSea fraud prevention guide
There are many torrents of scam projects on OpenSea that look exactly like the official projects. When you try to find a specific project, it is easy to land on a fake project page and then buy the fake project, which will not be of any value.

Fraud and plagiarism, system vulnerabilities, in addition to the official fight against counterfeiting, these OpenSea NFT fraud prevention guidelines should be received quickly.
Check the name of the project
This is the easiest step: check the name. Most major projects on OpenSea have the exact same account name. So, if you look for projects on OpenSea and see names with sharp, periods, singular forms, etc., these are fake.
Find verified badges
Since most official programs have verified badges, while scam programs do not. However, in some cases, scam programs will try to make it look like a verified badge by photoshopping it, etc., so make sure the badge is located on the outside of the icon image, not inside the image.
Check the number and volume of project
Scammers don't have the time or money to create NFTs of order of magnitude, so be more careful when you encounter smaller NFT projects.
Low trading volume
Since the fake program is a parody, its trading volume and transaction amount are usually much lower than the real popular programs.
Low reserve price
You can check the information on each project page via Rarity.tools (project, volume and reserve price), so you can go to each project page to see if the volume and reserve price are the same as what you see in OpenSea.
Checking attributes
Attributes are also another way to identify whether an item is fake or not. If you go to the details page of one of the projects and look at the "Properties" tab, the official project will have properties that describe the various characteristics of each NFT. If you look at the details of a fake NFT, you often can't find the "Properties" tab, so pay more attention to that as well.
Checking Addresses
Another way to be sure is to check the address of a particular OpenSea project. If you go to the "Details" tab on the same page of OpenSea, you can find the address of the relevant NFT. Compare this contract address with the one on the official website and see if it is the same.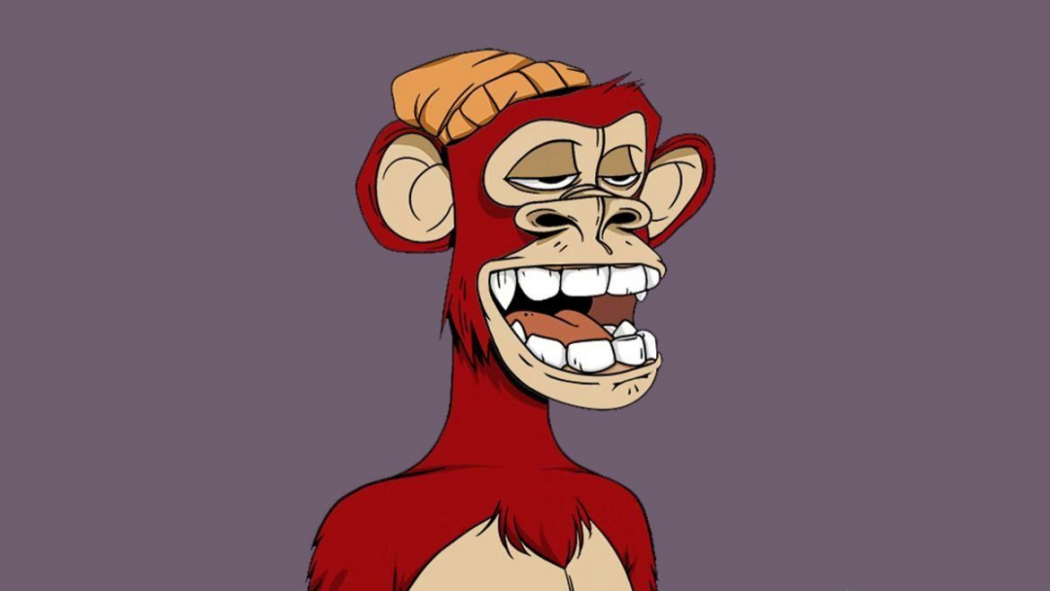 Irregular management, unsafe transactions, in the gray area of investment properties. After this wave of "everything can be NFT" hype, people may have begun to rethink what the real value of NFT is. We hope that these suggestions will provide you with some help in preventing fraud.
Related Project
Related Project Secure Score
Guess you like
Learn More
A Research Into NFT Whitelist Bypass Vulnerability

June 24, 2022

Creating a $9 billion valuation in 5 years: what is Optimism?

June 07, 2022

BEOSIN | Public Blockchain Security Audit Solution Fully Upgraded

June 01, 2022

Investigation of Common Phishing Attacks in Web 3.0: Discord, Google Ads, Fake Domains and Others

May 25, 2022