Seoul Web3.0 Festival Kicked Off, as Exclusive Security Partner, Beosin Leads Korean Youth to Build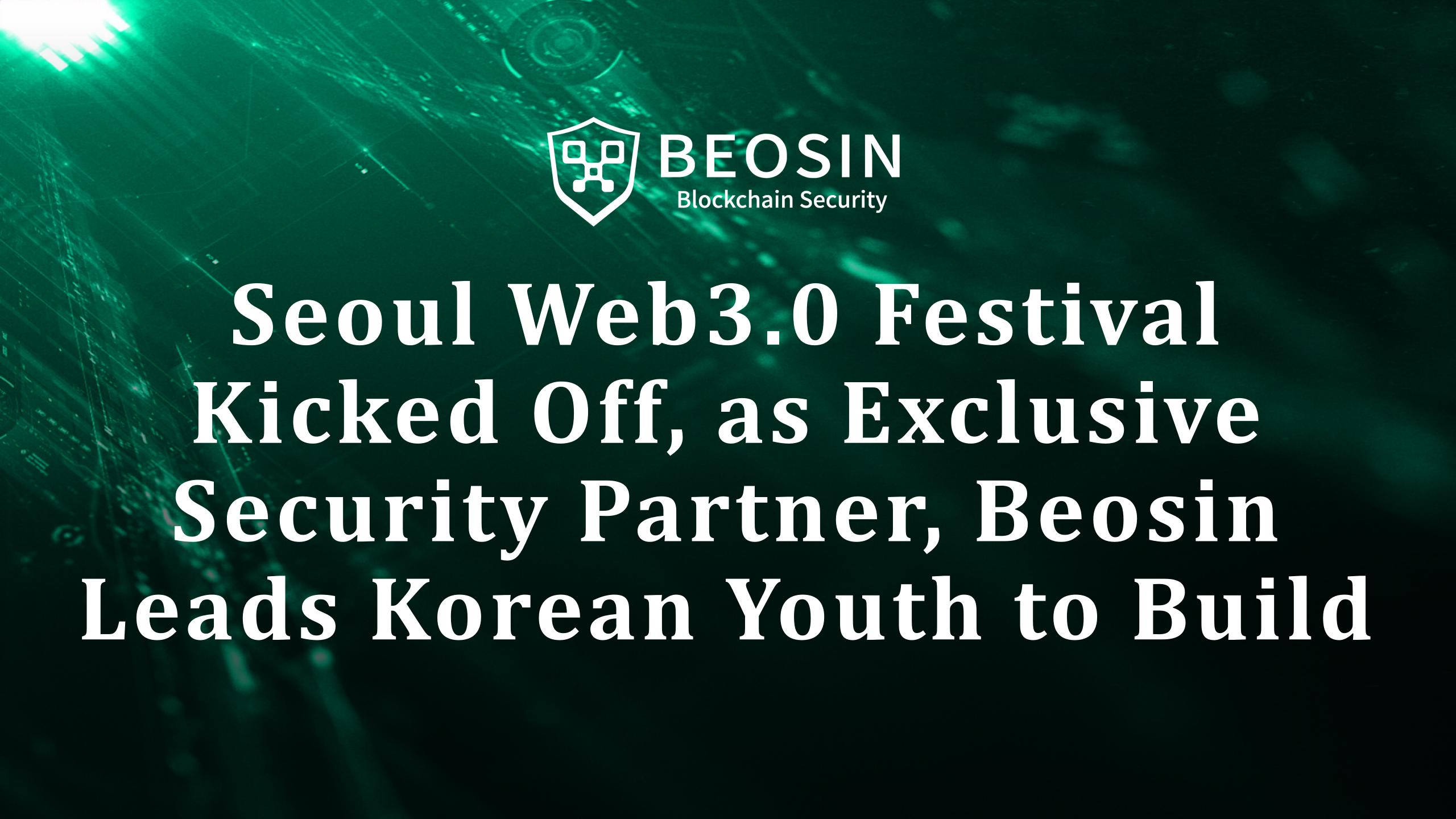 South Korean retail investors are fiercely active and well-known internationally.
When it comes to South Korea, people often think of the young South Koreans who are crazy about trading cryptocurrencies. South Korean youths generally hold a positive attitude towards cryptocurrencies, as they have a high acceptance of new technologies and digital assets, which contributes to their great interest in cryptocurrencies.
Furthermore, there is a strong demand among South Korean youths for employment and entrepreneurial opportunities, and the development of cryptocurrencies and blockchain technology offers them new prospects and opportunities. Recently, with the opening of the inaugural Seoul Web3.0 Festival, we have witnessed the enthusiasm of South Korean youths for Web3 arena.
The opening of Seoul Web3.0 Festival.
To encourage Web3 innovation and attract talents, the Seoul Government, in collaboration with Seoul Design Foundation and Baobab Partners, hosted the inaugural Seoul Web3.0 Festival from July 31 to August 2, 2023. The event, themed "Transformation, Opportunities, Challenges" included various formats such as hackathons, Demo Day, NFT forums, and exhibitions, aiming to explore the real-life applications and development prospects of Web3.
https://seoulweb3festival.com/
Beosin is the exclusive security audit partner for the Seoul Web3.0 Festival Hackathon. Through this event, we learned that young South Koreans have a strong interest and enthusiasm for new technologies and digital innovation and they actively participate in activities like Hackathons.
Hackathons are also very common in Korea. Many startups and tech companies organize or participate in such events. In addition, some universities and educational institutions in Korea also hold hackathon events to encourage students to actively explore and attempt digital innovation and tech entrepreneurship. Korean youth usually have a positive and open attitude towards hackathon events and actively participate in them.
Korean young people are highly engaged at Hackathon.
Alvin, Beosin Head of BD for East Asia, was invited to join the judging panel of this Hackathon, providing professional evaluation and guidance for the participants' projects. After the event, Beosin will offer code security audit services to the winning project, while other participating teams will have the opportunity to receive discounted audit services from Beosin. The event aims to incubate more high-quality Web3 application prototypes and promote the widespread adoption of Web3 technology in South Korea and globally.
Alvin from Beosin invited to join the Hackathon judging panel.
Looking to the second half of 2023, we can expect that Web3 activities in South Korea will remain active. In early September, the largest Ethereum developer conference in South Korea, 2023 ETHCON KOREA, sponsored by the Ethereum Foundation, will take place from September 1 to 3 at the shared workspace Platz2 in the center of Seoul. Vitalik and numerous Web3 developers will share insights into the future development of Ethereum and the cutting-edge achievements in this field, promoting mutual learning and collaboration among researchers.
https://financefeeds.com/ethcon-korea-2023-ethereum-foundations-dev-event-to-feature-vitalik-in-seoul/
Korea Blockchain Week 2023 (KBW) to be held in early September is also highly anticipated. KBW, organized by FactBlock and co-hosted by Hashed, is a top blockchain event in South Korea that aims to gather top talents in the blockchain industry to discuss and shape the future of finance. The event will kick off with a two-day IMPACT conference, providing valuable opportunities for participants to interact with industry leaders. Following that, there will be immersive experiences in NFT at The Gateway: Korea, the SEOUL BOUND music festival that combines technology and entertainment, and 40+ other peripheral activities.
Seoul youths flock to Web3 crypto institutions.
In recent years, with the rise of cryptocurrencies and blockchain technology, the interest and participation of young South Koreans in these emerging fields have steadily increased.
Some surveys and reports indicate that the number of young people working in crypto-related institutions in South Korea is gradually increasing. They may work in areas such as cryptocurrency exchanges, blockchain technology companies, data analytics firms, and digital asset management companies, engaging in tasks related to technical development, brand marketing, operations management, and risk control. Some young people are also starting their own cryptocurrency and blockchain technology companies to explore new business models and innovative directions.
In South Korea, besides well-known major exchanges like Bithumb and UPbit, there are also Web3 crypto institutions that have achieved noteworthy accomplishments in terms of fundraising and development. These crypto institutions also attract the interest of young people in Seoul.
*The following information is for research purposes only and does not constitute investment advice.*
Delabs Games:
Founded in March 2023, Delabs Games was created by Joonmo Kwon, the former CEO of the Korean gaming company NEXON. NEXON is known for popular titles like DNF, CrazyRacing KartRider, MapleStory, and Counter-Strike Online, with a strong presence in both the mobile and PC gaming markets. Currently, Delabs Games has released its first game, Rumble Racing Star, while two other games, Space Frontier and Metabolts, are still under development. On July 25, Delabs Games completed a $4.7 million seed funding round with lead investment from Hashed, and participation from The Spartan Group, Polygon, Merit Circle, and Planetarium.
Xangle:
Established in 2019, Xangle's founders are James Junwoo Kim and Lihan Hyunwoo Lee. Xangle's primary business is providing various data, indicators, and analysis of the crypto market to individual users and businesses. Currently, Xangle has completed two funding rounds totaling approximately $21 million, with investments from major Korean financial institutions like KB Investment, Shinhan Capital, Naver Financial, and IMM Investment.
MetaBeat:
MetaBeat is an NFT incentive community platform supported by fan activities. Music artists and fans collaborate as partners in their development through participation and rewards on the MetaBeat platform. Currently, the platform has over 4,000 K-pop music IPs, and users can purchase music NFTs to support their favorite artists. In August 2022, MetaBeat completed a strategic investment round with participation from Neo Global Capital Ventures, AC Capital, KuCoin Labs, and other institutions.
Com2Verse:
Com2Verse is a metaverse platform developed by the Korean company Com2uS. The platform plans to bring real-world systems from society, culture, and the economy into the digital world to create a virtual space for daily life. In January 2023, Com2Verse completed its strategic financing round, raising approximately $12.5 million from enterprises such as Hana Financial Group, Kyobo Book Center, SK Network, and Kyowon Group. These funds will be used for further development of the Com2Verse platform.
Over the past few years, Beosin has also closely collaborated with some Web3 institutions in Korea, providing security audit services for these institutions, including Terraswap, Quota, allswap, Changer.io, etc. Additionally, Beosin has cooperated with some Korean exchanges in the field of KYT anti-money laundering, assisting in regulatory security. In terms of security warnings, Beosin has also analyzed the collapse of some Korean projects, such as the South Korean top company that released the "Legend" game, and the reasons behind the drastic fall of its related token, WEMIX.
Impact of Korean Regulatory Policies on Young People
The South Korean government has shown some support and attention towards cryptocurrencies and blockchain technology but has also taken strict measures to regulate and prevent illegal activities. The downfall of Do Kwon has accelerated the introduction of more regulatory policies in Korea.
According to South Korean media reports, the South Korean National Assembly passed the first stage of the Virtual Assets Act, known as the "Virtual Assets Investor Protection Act," on May 11. The core of this first-stage legislation is to introduce legal rules that protect customers' assets and prevent unfair trading practices. The second-stage legislation, which aims to complement the market order regarding virtual assets issuance and disclosure, will be advanced when international standards for virtual assets are established.
This act aims to regulate the virtual asset market, unifying terms such as cryptocurrencies, crypto assets, and digital assets under the term "virtual assets." Virtual assets are defined as "electronically tradable or transferable tokens with economic value." Central bank digital currencies (CBDCs) are excluded from the scope of virtual assets. According to the act, there will be a basis for claims for damages arising from unfair trading practices related to virtual assets, and users will be able to demand compensation. Additionally, unfair trading practices involving the use of undisclosed information, market price manipulation, and illegal transactions will be subject to fines, and individuals found engaging in such practices may face imprisonment for one year or less or a fine of up to five times the unjust gains, depending on the profit or loss amounts.
Through this act, the Financial Services Commission (FSC) in South Korea is authorized to supervise and review virtual asset operators, and the National Assembly can establish a virtual asset committee responsible for advising on virtual assets. Moreover, the second-stage legislation regarding the advancement of virtual asset issuance and disclosure market information is expected to be established later. The chairman of the National Assembly's Political Affairs Committee stated, "Virtual assets have finally entered the realm of the law."
In July this year, according to the regulatory draft rules released by South Korean financial regulators, South Korea will require companies holding or issuing cryptocurrencies to disclose their holdings in financial statements starting from 2024. According to the new rules, companies will be required to disclose information such as the quantity, characteristics, business models, and accounting policies related to cryptocurrency sales, as well as the profit, quantity, and market value of their cryptocurrencies.
The Financial Services Commission (FSC) of South Korea announced a new bill requiring all companies that issue or hold cryptocurrencies like Bitcoin to disclose their holdings.
The new measures aim to increase transparency in cryptocurrency accounting and disclosure and align with guidelines that require accounting for each transaction involving cryptocurrencies. The initiative also seeks to revise accounting standards to require disclosure of virtual asset transactions.
In the current draft of South Korea's cryptocurrency accounting guidelines, the FSC mentions that the scope of reportable virtual assets includes assets based on distributed ledger technology or "similar technology" and assets issued using cryptography. The guidelines also encompass security tokens or digital securities under the terms of the Capital Market Act.
Overall, South Korean regulatory policies have some impact on young entrepreneurs and crypto investors. The main purpose of these policies is to protect investors and prevent illegal activities. The measures taken include strengthening anti-money laundering and anti-terrorist financing measures, real-name authentication, restricting leveraged trading, etc. These measures may dampen some young people's enthusiasm for crypto trading and investment, but they also help protect the safety and interests of their investments.
It can be seen that Korean youth have an enthusiastic attitude towards participating in Web3 activities, demonstrating their strong interest and passion for new technologies and digital innovation. Through hackathons and other events, we will also help Korean young people to Build in the Web3 ecosystem, injecting new momentum into the local digital economy and innovation ecosystem.
Beosin is a leading global blockchain security company co-founded by several professors from world-renowned universities and there are 40+ PhDs in the team, and set up offices in 10+ cities including Hong Kong, Singapore, Tokyo and Miami. With the mission of "Securing Blockchain Ecosystem", Beosin provides "All-in-one" blockchain security solution covering Smart Contract Audit, Risk Monitoring & Alert, KYT/AML, and Crypto Tracing. Beosin has already audited more than 3000 smart contracts including famous Web3 projects PancakeSwap, Uniswap, DAI, OKSwap and all of them are monitored by Beosin EagleEye. The KYT AML are serving 100+ institutions including Binance.
Contact
If you need any blockchain security services, welcome to contact us:
Official Website Beosin EagleEye Twitter Telegram Linkedin
Related Project
Related Project Secure Score
Guess you like
Learn More
Blockchain Security Monthly Recap of July: $415M lost in attacks

August 02, 2023

Telegram bots, a powerful tool for degens or another story to be shilled?

August 04, 2023

Beosin's Research | Transaction Malleability Attack of Groth16 Proof

August 07, 2023

Exploring Tornado Cash In-Depth to Reveal Malleability Attacks in ZKP Projects

August 07, 2023