Unraveling the Money Trail Behind the JPEX Controversy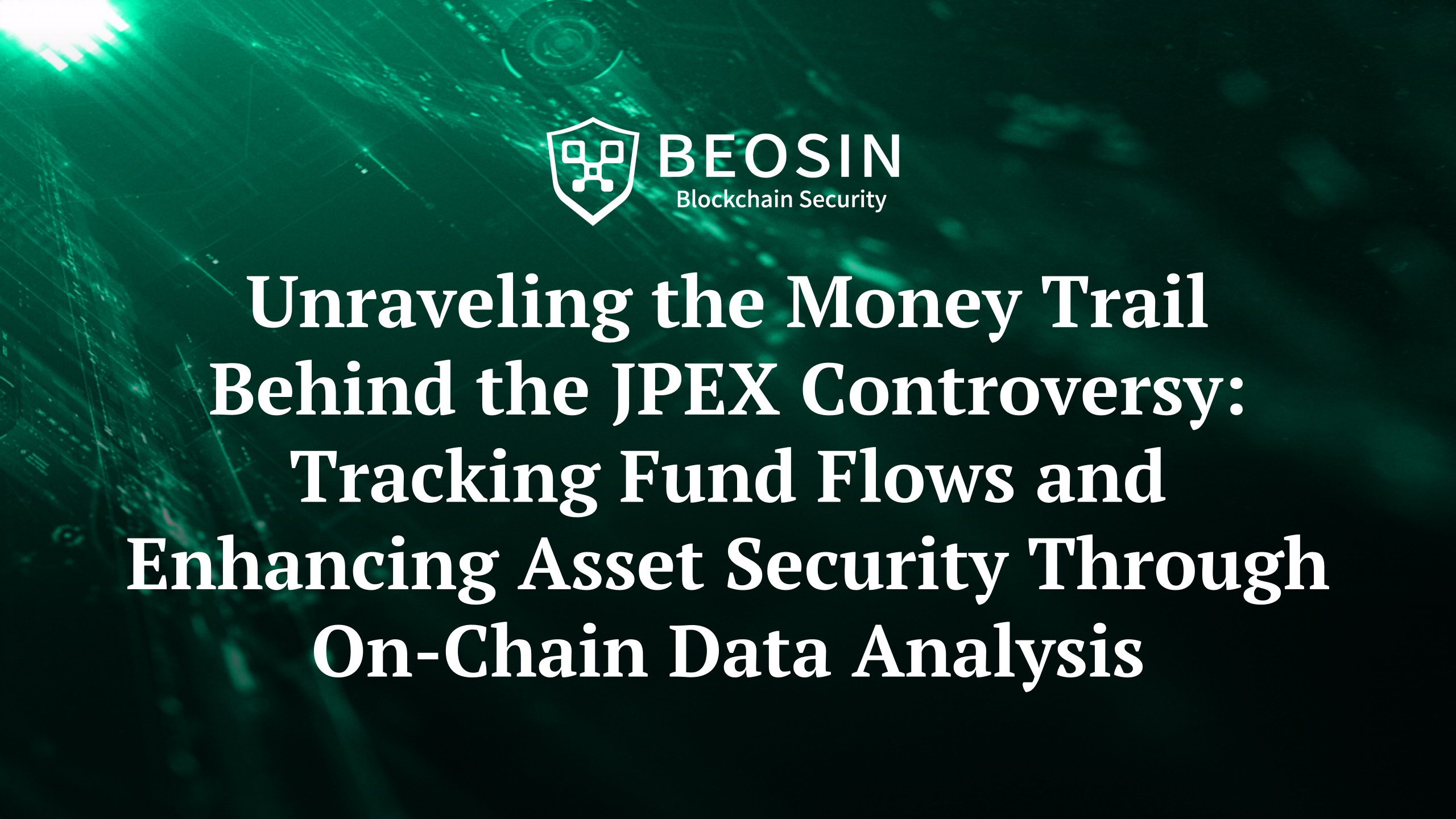 On September 13, 2023, the Hong Kong Securities and Futures Commission issued a statement titled "Regarding Unregulated Virtual Asset Trading Platforms," stating that the virtual asset trading platform JPEX did not possess a license from the commission and had not applied for one. The following day, the JPEX community discovered that the platform's withdrawal limit was set at only 1000 USDT, with withdrawal fees reaching a staggering 999 USDT, effectively preventing users from withdrawing their funds. Additionally, JPEX's booth at the TOKEN2049 conference in Singapore remained vacant.
On September 19, 2023, the Hong Kong Securities and Futures Commission held a press conference, revealing that JPEX had ceased its trading operations. Subsequently, JPEX issued a statement on its platform, asserting that it was cooperating with regulations and Hong Kong laws, and all trading functions remained operational.
The investigation into this event is ongoing.
With Beosin's newly launched on-chain project analysis platform, EagleEye, Beosin traced the physical addresses associated with JPEX. After identifying these addresses, our research team conducted a thorough analysis of the funds involved. Here is our latest analysis.
JPEX Ethereum On-Chain Funds Flow
JPEX's deposit wallet address on the Ethereum blockchain is 0x50c85e5587d5611cf5cdfba23640bc18b3571665, where assets deposited by users on the JPEX platform are automatically stored. Ethereum-based USDT assets are transferred to the withdrawal wallet address 0x9528043B8Fc2a68380F1583C389a94dcd50d085e.
The deposit wallet address 0x50c8 showed no fund transfers or activity beyond September 19, 2023, after a transaction was completed at 01:37 AM, remaining dormant for over 24 hours.
The USDT withdrawal wallet address 0x9528 transferred 100,000 USDT to three deposit addresses of the FixedFloat exchange (which does not require KYC) around 5 PM on September 18, 2023. Since then, this address displayed no further fund transfer activity. Results for Beosin KYT:

In addition to USDT, ETH is distributed across various addresses linked to JPEX as follows:
0x50c85e5587d5611cf5cdfba23640bc18b3571665: 641 ETH
0x31030a8C7E3c8fD0ba107e012d06f905CD080eD9: 320 ETH
0x87E1E7D3ee90715BCE8eA12Ef810363D73dc79FB: 400 ETH
0xcd19540f8d14bEbBb9885f841CA10F7bF5A71cAC: 350 ETH
0x22E70793915625909E28162C8a04ffe074A5Fc98: 400 ETH
0xd3528B66C3e3E6CF9C288ECC860C800D4CB12468: 200 ETH
The detailed charts of ETH as well as USDT fund flows: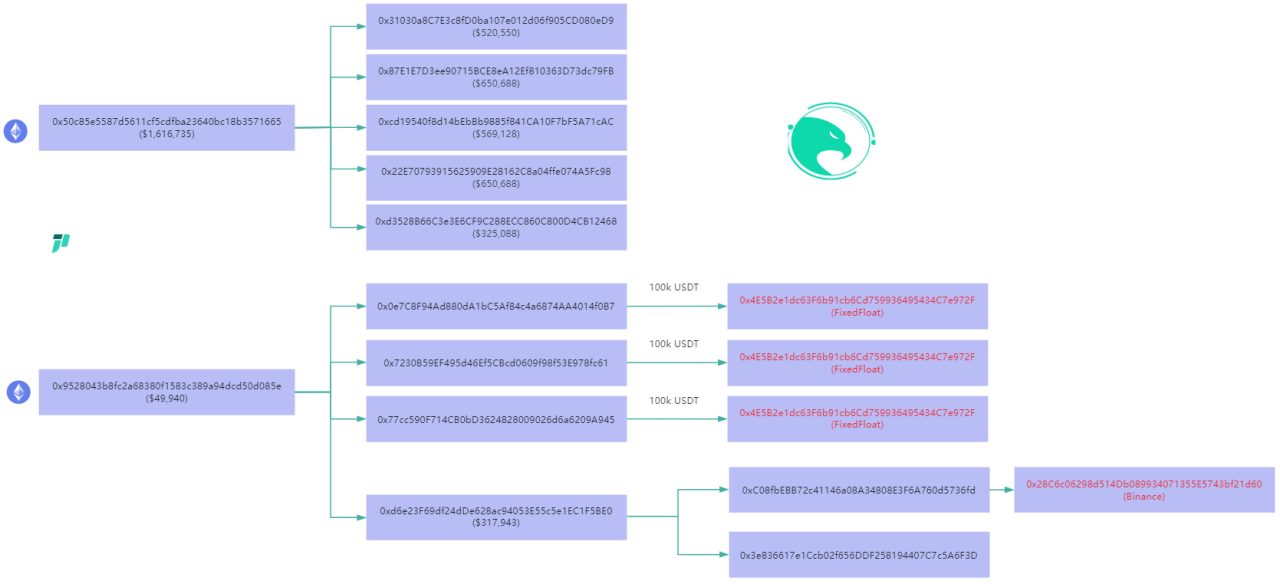 JPEX Bitcoin On-Chain Funds Flow
Bitcoin (BTC) on the Bitcoin blockchain is dispersed across various addresses associated with JPEX as follows:
3LJVASCfNRm9DEmHYaRbWhiKVSg14JqarS: 28 BTC
32JWJvigxttRmfYYcXEsCFScibnVU3bD92: 20 BTC
381agNrmetRakEsfz9oD1XGvwgR9Q6y6fa: 30 BTC
3LhYzsTZadkXaf6qsYQoP65ynGiiDv5XGU: 20 BTC
3KBnBZTNGkbqEaQV6jb6oGxoiMHwmVLoGM: 25 BTC
3A6G8gkxY9zgkRCHorSLvcj49J6Cp5TVBx: 33 BTC
The detailed charts of BTC fund flows: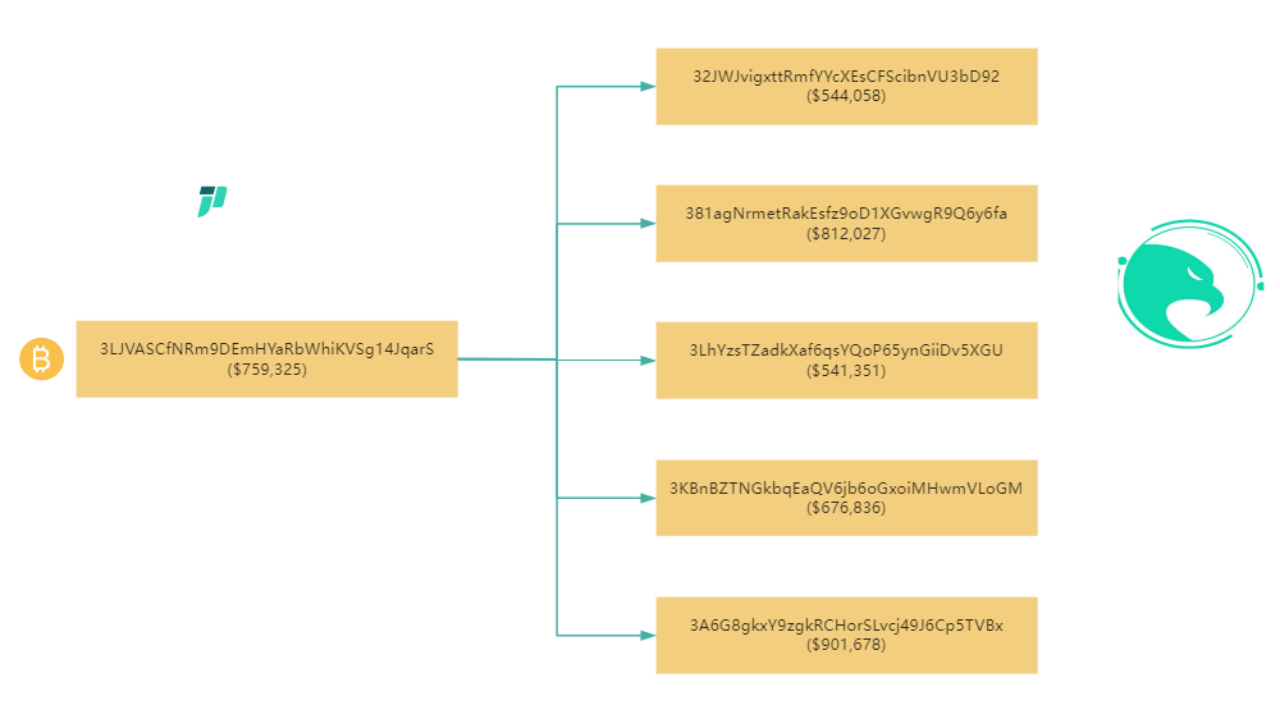 JPEX Controversy
In July of this year, JPEX sponsored a boxing event. Subsequently, the community raised concerns that JPEX might have misappropriated user funds because the funds used for sponsorship originated from users' withdrawal wallet addresses (0x9528043B8Fc2a68380F1583C389a94dcd50d085e). Most exchanges typically segregate the management of user assets in separate wallets.
On September 14, the inability to withdraw funds from JPEX caused widespread panic. Screenshots from JPEX's Discord community members indicated that the platform had restricted withdrawal limits to 1000 USDT with a 999 USDT withdrawal fee.
As of now, JPEX has not officially responded to these allegations on public social platforms such as Twitter. The entire crypto community has condemned JPEX's actions, with many investors commenting on previous tweets, demanding reduced fees and the restoration of withdrawal limits. JPEX's actions could potentially subject them to a more rigorous investigation by the Securities and Futures Commission.
During the JPEX controversy, the price of the platform's native token, $JPC, experienced significant fluctuations. According to information provided by JPEX, $JPC serves as both the platform token and the native token of the JPC chain, used for paying on-chain transaction fees. EagleEye now supports monitoring and alerts for $JPC tokens. Based on EagleEye's analysis, $JPC exhibits risks of token inflation, which may severely impact its price. Users are advised to exercise caution when holding $JPC.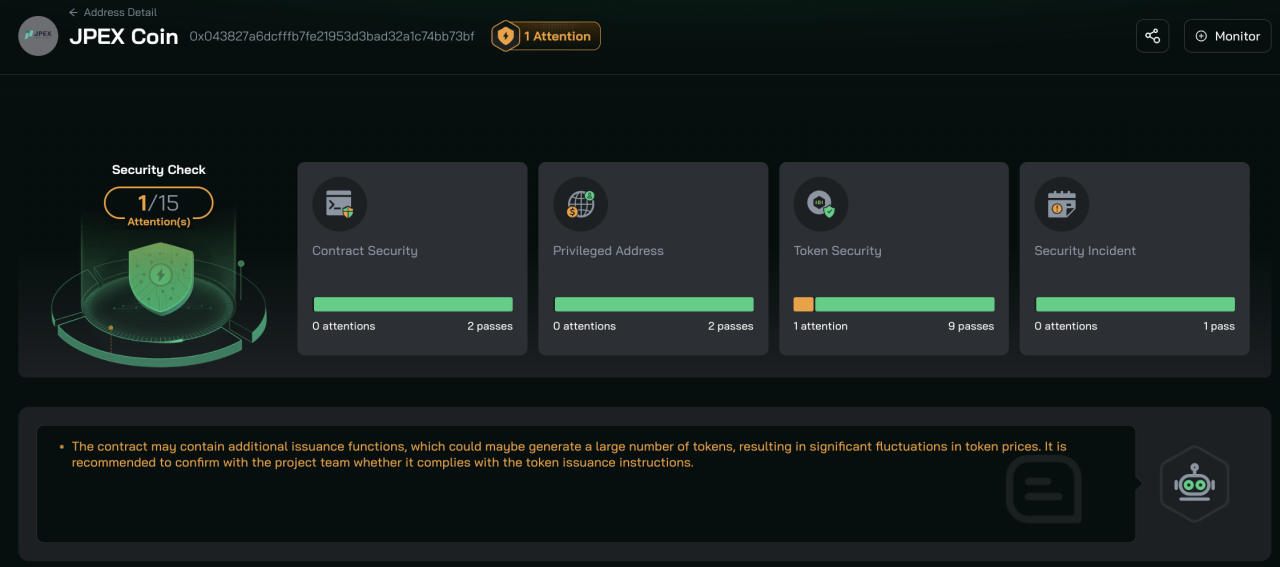 How Users Can Protect Their Assets?
1. Use Licensed Virtual Asset Trading Platforms
The Hong Kong Securities and Futures Commission officially established a licensing system for virtual asset exchanges earlier this year. Licensed virtual asset exchanges must adhere to requirements such as segregating customer assets, undergoing third-party audits, and conducting KYC checks. This enables institutions and retail users to trade digital assets compliantly and securely, mitigating the risk of losses.
2. Monitor Proof of Reserve
Following the FTX incident, most virtual asset exchanges now regularly disclose Proof of Reserve, demonstrating that they hold sufficient on-chain reserves to cover all user assets on the exchange. This practice ensures the exchange's ability to redeem all user assets. Proof of Reserve utilizes zero-knowledge proof techniques to verify an exchange's holdings without disclosing sensitive information about individual account balances. It has become a crucial component of virtual asset exchange security.
3. Monitor and Set Alerts for Exchange Addresses
Reputable exchanges disclose their hot wallet addresses. Users can employ trusted third-party platforms to monitor and receive real-time alerts for these wallet addresses. Beosin's EagleEye platform offers real-time monitoring and alerts, allowing users to set custom criteria for monitoring address activity, such as triggering alerts for large outgoing transactions from exchange hot wallet addresses.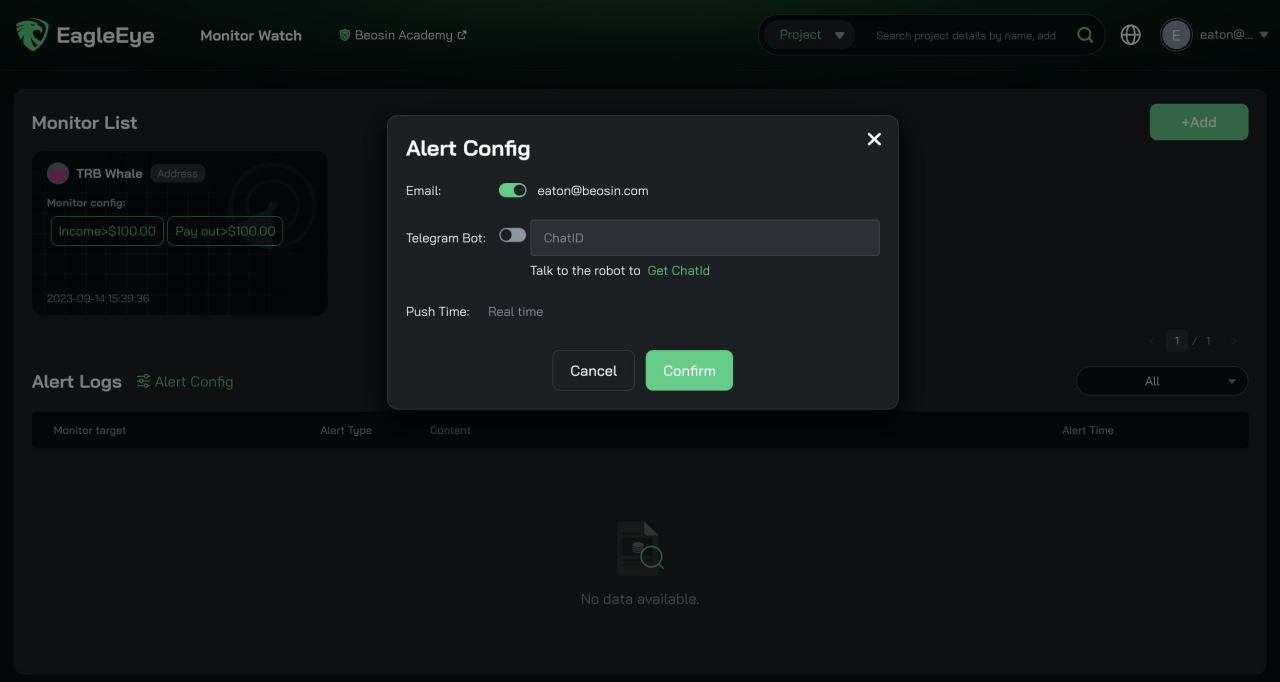 4. Engage in Secure Seminars and Training to Enhance Awareness
The Hong Kong Web3.0 Association, university blockchain associations, Web3 communities, and businesses frequently organize seminars and training sessions related to blockchain. These courses cover topics such as blockchain fundamentals, smart contract security, and user safety. In February of this year, Beosin collaborated with Blockchain Academy to launch a six-month online Web3 developer course. On March 31st, Beosin, in partnership with Blockchain Academy and InvestHK, hosted a discussion on the latest regulatory policies in Hong Kong. In April, Beosin partnered with the Hong Kong University Blockchain Association, 0xU, to organize offline Web3 public courses, aimed at enhancing the general public's understanding of virtual assets. On June 19th, Beosin and AWS jointly hosted a "Hong Kong Web3 Technology and Development Trends Workshop," engaging in in-depth discussions on virtual asset security and compliance issues.
In the midst of the JPEX controversy, Beosin, through its analysis and interpretation of on-chain data, revealed the flow of funds within the JPEX platform and provided insights into how users can analyze on-chain data to enhance their asset security. These series of events have garnered extensive attention and vigilance, serving as a reminder of the importance of safeguarding one's assets.
Through the comprehensive implementation of these measures, users can better protect their asset security, mitigate risks, and experience a more secure and reliable environment for virtual asset trading. Beosin encourages users to remain vigilant at all times and proactively take steps to enhance their awareness and capacity for asset security.
Contact
If you need any blockchain security services, welcome to contact us:
Related Project
Related Project Secure Score
Guess you like
Learn More
A Must-Read for ZKP Projects|Circuit Audit: Are Redundant Constraints Really Redundant?

September 20, 2023

Beosin Partners with CrossAngle to Strengthen Blockchain Security and Transparency in Web3 Ecosystem

September 27, 2023

Q3 2023 Global Web3 Security Report, AML Analysis & Crypto Regulatory Landscape

September 27, 2023

ERC-7520 Proposal: zk-SNARK Public Inputs Overflow Protection

September 27, 2023