Beosin and Art de Finance Have Entered Into A Strategic Partnership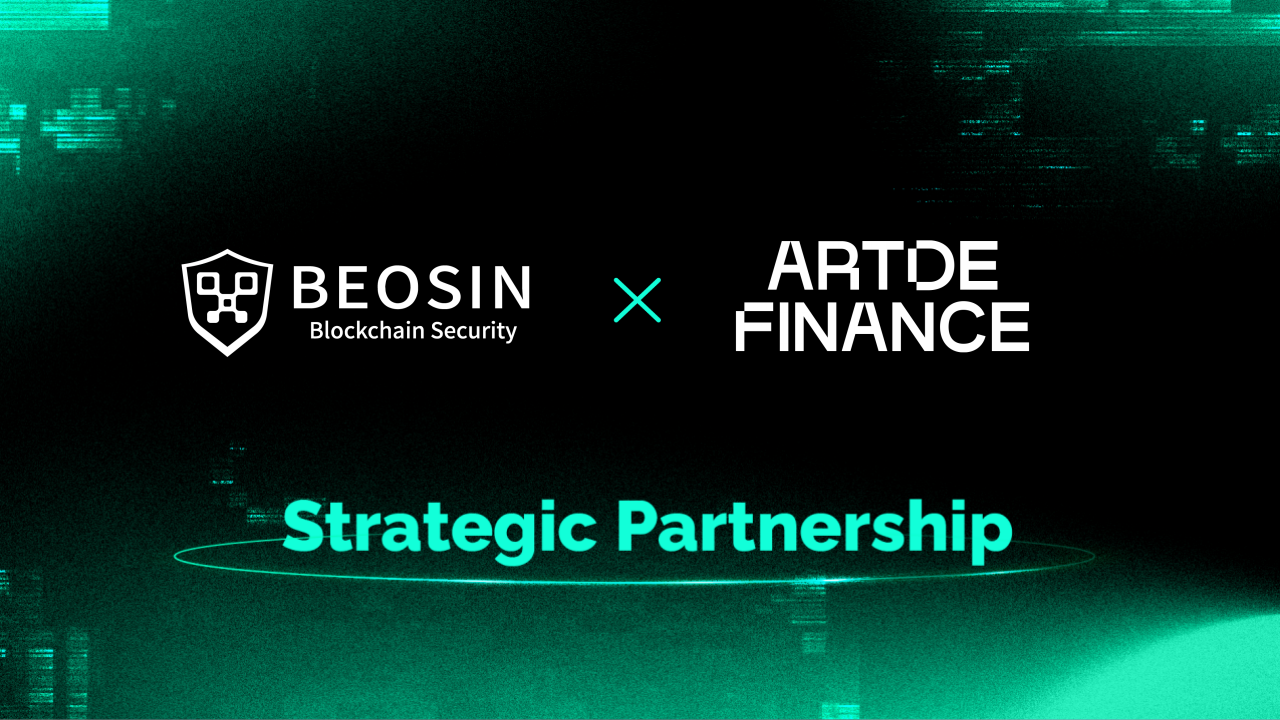 Art de Finance, which is building a blockchain-based Digital Renaissance art infrastructure, and Beosin, a blockchain security company, have entered into a strategic partnership. Through this agreement, we will contribute to the growth of the secure Web 3.0 Art ecosystem by establishing security standards for the art industry using the q blockchain.
Art de Finance is a Web 3.0 Art Platform for Digital Arts/NFT & Physical Arts. Art de Finance provides NFT Marketplace, Blockchain Social Platform, NFT Proof of Authenticity, and Art Storage for Physical Arts & NFTfi Service. Art de Finance will use blockchain technology to solve the problems demanded by the art market and establish an art platform that supports passionate new artists so they can enter the art market based on Crypto.
Beosin is a leading global blockchain security company co-founded by several professors from world-renowned universities and there are 40+ PhDs in the team. It has offices in Singapore, South Korea, Japan and other 10+ countries. With the mission of "Securing Blockchain Ecosystem", Beosin provides "All-in-one" blockchain security solution covering Smart Contract Audit, Risk Monitoring & Alert, KYT/AML, and Crypto Tracing.
Through this partnership, Art de Finance and Beosin will strive to ensure the authenticity of artworks, trace ownership, and promote the formation of a 'global art market' that overcomes physical limitations by ensuring the security of blockchain-based services.
Art de Finance is rapidly moving forward with the goal of revitalizing the Digital Renaissance through the establishment of the blockchain art infrastructure. Art de Finance has secured physical art storage and security through a partnership with Incheon Airport Art Hub Consortium, ARSHEXA, and is building a Web 3.0 Art Platform based on Polygon to provide "the perfect user experience."
As a blockchain ecosystem security solution provider, Beosin combines its technical capabilities from serving leading global brands for many years to provide KYT/AML and other technical support to Art de Finance and perform security audits on Art de Finance's Web 3.0 Art Platform. In addition to security screening and monitoring, we plan on providing additional solutions to protect our platform.
Related Project
Related Project Secure Score
Guess you like
Learn More
Ape in altcoins but fall into a honeypot. What you should pay attention to in the meme season?

May 16, 2023

BRC20, a new dark horse in the digital currency market or a flash in the pan? What are its risks?

May 25, 2023

A $31.6 million Rug Pull? Let Beosin KYT trace the fund flow and help you identify high-yield scams!

May 25, 2023

Beosin launched the Move Lint static detection tool to secure Sui smart contract development

May 30, 2023