Beosin and BlockPI Have Entered Into A Strategic Partnership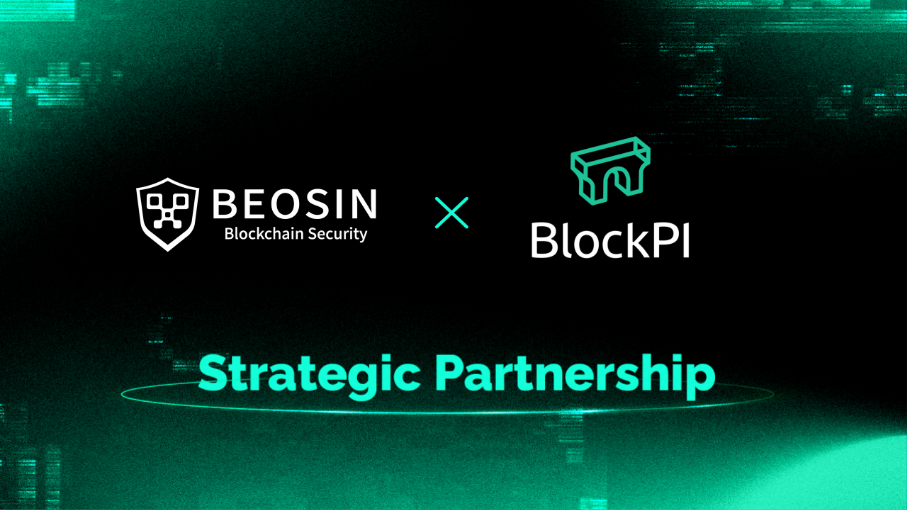 Beosin is pleased to announce that we have entered into a strategic partnership with BlockPI. In this partnership, Beosin will provide BlockPI with professional and comprehensive security technical support.
At the same time, Beosin has reached RPC infrastructure cooperation with BlockPI and will provide BlockPI with a malicious website address database to ensure the security of BlockPI users of compliance. In addition, together with BlockPI, Beosin will go deeper into the developer communities, actively exploring more marketing as well as deepening technical collaborations. Both parties will build on each other's strengths and capabilities to jointly secure the blockchain ecosystem.
About BlockPI
BlockPI Network is a multi-chain globally distributed RPC provider, dedicated in offering high quality RPC service with the best possible performance, lowest latency, great stability and low cost. To enable one-stop onchain interactive experience for users, BlockPI currently supports 18+ chains including Eth, Polygon, Arbi, Op, BSC and etc.
About Beosin
Beosin is a leading global blockchain security company co-founded by several professors from world-renowned universities and there are 40+ PhDs in the team. It has offices in Singapore, South Korea, Japan and other 10+ countries. With the mission of "Securing Blockchain Ecosystem", Beosin provides "All-in-one" blockchain security solution covering Smart Contract Audit, Risk Monitoring & Alert, KYT/AML, and Crypto Tracing. Beosin has already audited more than 3000 smart contracts including famous Web3 projects PancakeSwap, Uniswap, DAI, OKSwap and all of them are monitored by Beosin EagleEye. The KYT AML are serving 100+ institutions including Binance.
Contact us
If you have need any blockchain security services, please contact us:
Related Project
Related Project Secure Score
Guess you like
Learn More
Beosin teams up with HashKey Group to advance virtual asset security practices within the Web3 ecosy

May 10, 2023

Ape in altcoins but fall into a honeypot. What you should pay attention to in the meme season?

May 16, 2023

Beosin and Art de Finance Have Entered Into A Strategic Partnership

May 18, 2023

BRC20, a new dark horse in the digital currency market or a flash in the pan? What are its risks?

May 25, 2023