Beosin and Cobo Forge Strategic Partnership to Tackle Security and Compliance Challenges with Beosin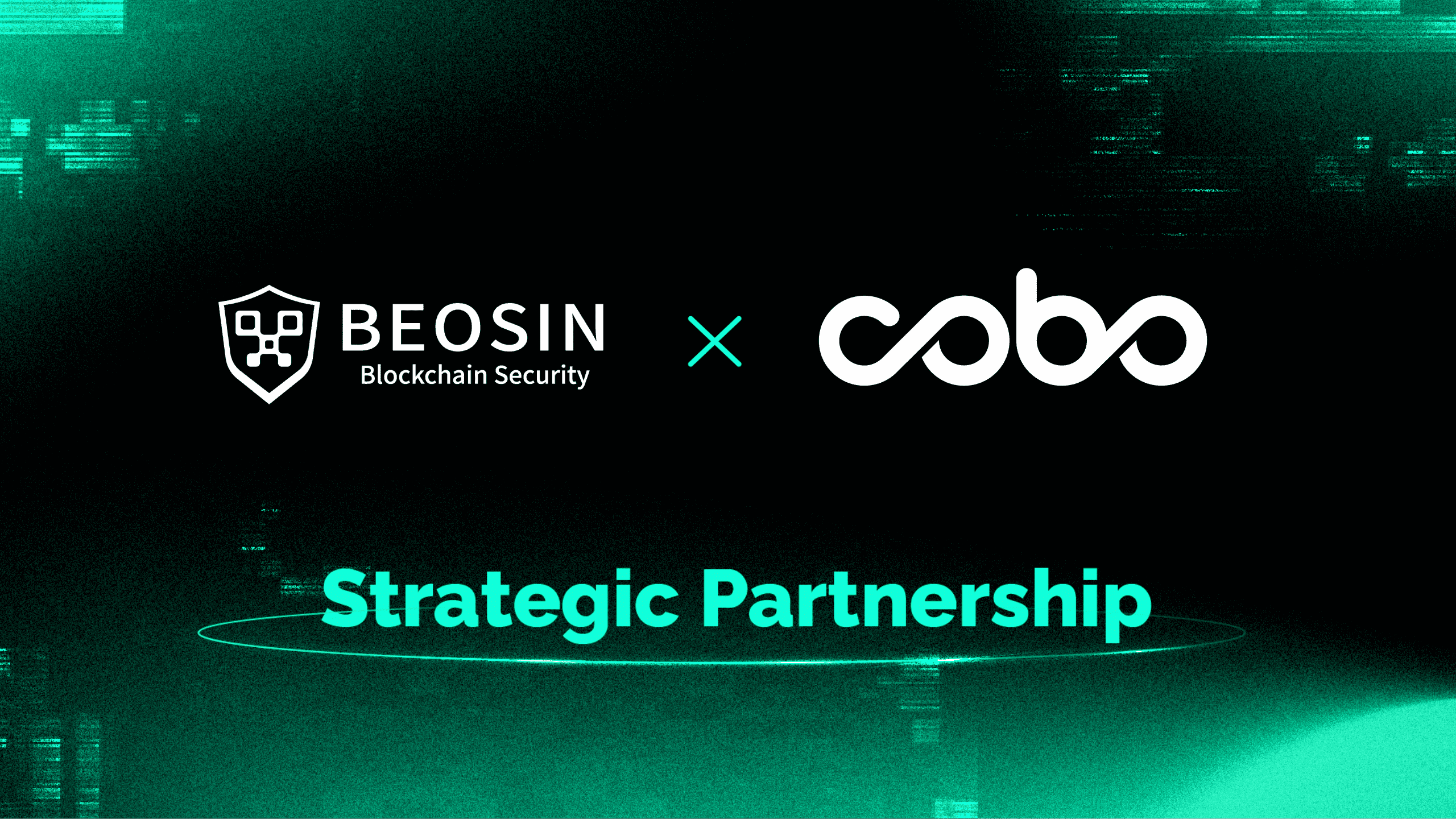 Beosin, a global leader in blockchain security, is delighted to announce our strategic partnership with Cobo, one of the world's largest digital asset custody solutions provider. This partnership leverages the remarkable Beosin KYT, a virtual asset anti-money laundering (AML) and analysis platform, to address the ever-evolving security and compliance challenges faced by digital asset service providers.
Cobo is a globally trusted leader in digital asset custody solutions. As the world's first omni-custody platform, Cobo offers the complete spectrum of solutions from custodial wallets to non-custodial wallets including MPC and smart contract wallets, as well as Wallet-as-a-Service, a DeFi management platform (Argus), and an off-exchange settlement network (SuperLoop). Trusted by over 500 institutions with billions in assets under custody, Cobo inspires confidence in digital asset ownership by enabling safe and efficient management of digital assets and interactions with Web 3.0. Cobo is SOC2 Type 1 and Type 2-compliance-certified and licensed in 5 jurisdictions.
Beosin, as a world-leading blockchain security company, offers a comprehensive suite of blockchain security products and services. These encompass pre-launch code security audits, real-time security risk monitoring during project execution, alerts and blocks, stolen digital asset recovery, and security compliance services like KYT/AML (Know Your Transactions and Anti-Money Laundering). Beosin KYT, one of our flagship products, is a virtual currency tracking and anti-money laundering system. This platform, powered by blockchain big data analytics and advanced AI technology, supports billions of address labels and a comprehensive blacklist library. Beosin KYT aids in the identification of suspicious transactions, provides comprehensive risk assessment for multi-asset addresses, and identifies on-chain address relationship risks, among other innovative features. It equips VASPs with the tools they need to meet their compliance requirements effectively.
This collaboration with Cobo signifies our commitment to enhancing security and compliance in the digital asset landscape. Post-partnership, Cobo will utilize Beosin KYT's malicious address search, address transaction risk scoring, STR report generation, and on-chain fund tracing capabilities to gain a deeper understanding of its clients' real-world identities and transaction behaviors. This information will be instrumental in detecting money laundering, fraud, and other illicit activities. It will also help Cobo monitor transaction risks and execute AML compliance procedures.
Beosin KYT, with its extensive mapping of billions of addresses to real-world entity labels, aids in recognizing suspicious activities in digital asset transactions, presenting a compliant visual representation of on-chain activities, including security breaches, dark web transactions, mixer usage, fraudulent activities, ransom operations, and gambling-related risks. Furthermore, utilizing big data technology, it traces the source and destination of designated account funds, enabling comprehensive, rapid, and precise data analysis. The risk analysis engine provides real-time risk assessments of cryptocurrency transactions, offering automatic risk suggestions and comprehensive evaluations of transaction and address risks, thus enhancing transparency and informed decision-making. It also provides highly customizable STR reports (Suspicious Transaction Reports).
The strategic partnership between Beosin and Cobo will offer digital asset service providers a comprehensive compliance solution to navigate evolving compliance challenges. The potent capabilities of Beosin KYT, in conjunction with Cobo's expertise in digital asset custody and global presence, promise to make a positive impact on the compliance development of the entire industry.
Contact
If you need any blockchain security services, welcome to contact us:
Related Project
Related Project Secure Score
Guess you like
Learn More
Beosin Invited for Smart Contract Security Training by the Monetary Authority of Singapore

October 04, 2023

Beosin Invited Once Again by the Monetary Authority of Singapore for Exchange Security Training

October 20, 2023

Beosin and Aegis Announce Strategic Partnership to Enhance Blockchain Security and Compliance

October 24, 2023

Will Scroll Drive the Layer 2 Wave? Exploring zkEVM Circuits and Audit Insights You Need to Know

October 27, 2023