Beosin and HashPort Have Strengthened Strategic Partnership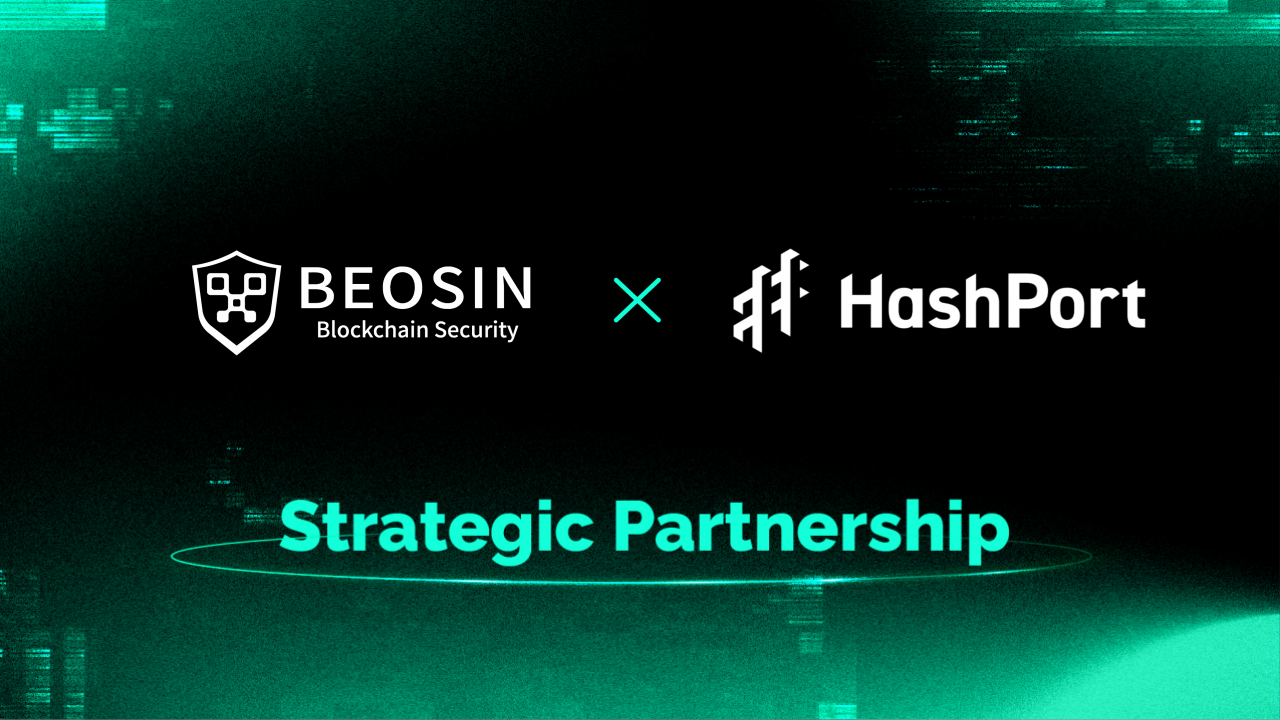 To strengthen the security of the Japanese Web3 market, Beosin and HashPort, public utility that facilitates the movement of digital assets, have strengthened their strategic partnership. The two companies have collaborated on security audits and compliance assessments of blockchain platforms and smart contracts.
Since Beosin and HashPort have established a strategic partnership in 2019, both parties have been working together to enhance security and compliance of Japanese blockchain companies. We have collaborated on security audits and compliance evaluations for blockchain platforms and smart contracts.
While Japanese Web3 ecology develops rapidly, Beosin will further develop deeper cooperation with HashPort. Beosin started offering the following new services to Japanese blockchain companies, and in collaboration with HashPort broadly delivering the services, we aim to accelerate the development of Japan's Web3 ecology.
Beosin EagleEye - the Security Risk Monitor, Alert and Block Platform
Beosin EagleEye can analyze on-chain and off-chain data in real-time to discover security risks during Web3 project operations in a timely manner, and provide early warning and real-time blocking. It sends real-time warnings to subscribers for 10 kinds of abnormal risky transactions such as large transfers, flash loans, permission changes, slippage to prevent security issues such as hacking, fraud and rug pulls.
Website: https://eagleeye.beosin.com/
Beosin EagleEye - the Security Risk Monitor, Alert and Block Platform
AML Solutions for VASP
Beosin KYT, the virtual asset AML compliance and analytics platform, relying on big data and advanced AI technology, has included 1 billion+ address tags in its database, which can help virtual asset service providers (VASPs) build KYT and continuous risk assessment capabilities.
Beosin aims to help Japanese virtual asset service providers build secure and compliant services, meet Japanese regulatory requirements, reduce customers' compliance costs, and provide security for customers' business growth; Beosin provides a strong portfolio of services and products in Japan that can help users reduce the risk of non-compliance, improve customers' ability to identify risky transactions, strengthen customers' suspicious address tracing and analysis capabilities, and help customers create a secure risk control system that meets local compliance policies.
Beosin KYT
On-chain Stolen Asset Recovering 
Beosin is also able to provide on-chain asset tracing service for partner projects to locate the on-chain address and other identity information. Based on years of security research and development in the blockchain industry, Beosin's team has independently developed Beosin Trace, a cryptocurrency tracing platform combining big data and AI technologies, which can provide fund tracing and assist in investigations for many clients worldwide after theft.
About Beosin
As a leading global blockchain security company, Beosin has established branches in more than 10 countries and regions around the world, covering "one-stop" services such as code security audit, security risk monitoring, early warning and blocking, stolen crypto asset recovery, security compliance KYT/AML, etc. Beosin has provided security services to more than 3,000 blockchain companies worldwide, auditing more than 3,000 smart contracts and protecting assets over $500 billion. In 2023, Beosin will continue to work with HashPort to secure the development of blockchain enterprises in Japan.
About HashPort
HashPort was established in 2018 with a mission to "digitize all assets". We provide consulting services in the Web3 field, including entry support for NFTs and SBTs field, support for IEOs by top Japanese companies, and code audit for smart contract and its related. HashPort owns two subsidiaries, "HashPalette" and "HashBank". HashPalette runs NFT business aiming to establish communication infrastructure in the digital space, and develops blockchain infrastructure optimized for NFT, NFT marketplace and contents that utilize NFT such as games. "HashBank" runs DeFi business aiming to establish financial infrastructure in the digital space and develops digital asset storage systems for enterprise, wallet and its surrounding systems, and systems for variety kinds in web3 fields. HashPort group works together to lead building a token economy structure for web3.
Beosin Profile
Company name: Beosin Technology Pte. Ltd.
Location: 80RR Fintech Hub SG, 80 Robinson Rd, Singapore 068898
CEO: Monica Yang
Established on: 2018
Overview of Business:
Smart Contract Audit
Risk Monitoring & Alert
KYT/AML
Crypto Tracing
Website: https://www.beosin.com/

HashPort Profile
Company name: HashPort Inc.
Location: EDGE Shiba 4-chome Bldg. 10F, 4-5-10 Shiba, Minato-ku, Tokyo
CEO: Seihaku Yoshida
Established on: July 13, 2018
Overview of Business:
Web3 related consulting
Support for entry into the Web3 field, including NFT and SBT
Token design and global IEO support
Blockchain code audit support
Website: https://hashport.io/en/
Related Project
Related Project Secure Score
Guess you like
Learn More
Beosin Become The Exclusive Security Auditing Partner Of The Big Demo Day

March 01, 2023

Summary of SUSS NiFT Seminar 'The Evolution of Bitcoin Economics'

March 02, 2023

Blockchain Security Monthly Recap of February: $56.88M lost in attacks

March 02, 2023

How to Avoid Issues Related to Deflationary Tokens

March 03, 2023