Beosin and OpenBlock Forge Strategic Partnership to Build a Secure and Trusted Blockchain Financial
Recently, Beosin and OpenBlock, a decentralized wallet, announced a strategic partnership. Our joint aim is to create a more secure and trustworthy blockchain financial ecosystem for digital asset users. As a pioneer in blockchain security technology, Beosin is set to provide robust KYT (Know Your Transaction) technical support to OpenBlock's wallet users, striving to achieve KYT for virtual asset services and continuous risk assessment capabilities, ultimately ensuring comprehensive fund security for users.
Leveraging advanced blockchain big data analysis technology and artificial intelligence algorithms, Beosin KYT has crafted a virtual currency tracking and anti-money laundering system. This system has positioned Beosin as an ideal collaborator for digital asset service providers. Supported by billions of address labels and blacklists, the system utilizes pattern recognition, AI algorithms, and other technologies to map billions of addresses to real-world entities. This effectively identifies suspicious activities in digital asset transactions, aiding OpenBlock wallet users in distinguishing malicious addresses, fraudulent addresses, and suspicious blacklisted addresses.
This collaboration centers on OpenBlock's utilization of Beosin KYT's blacklist query capability, enabling the wallet to rapidly and accurately identify potential transaction risks. Additionally, Beosin KYT provides OpenBlock wallet with address and transaction risk assessment functions. Built upon extensive data and AI technologies, it traces the flow of funds for specific accounts, facilitating real-time risk assessment of cryptocurrency transactions and offering automatic risk suggestions. Through a comprehensive risk analysis engine, the system evaluates both transaction and address risks, pinpointing risk factors transparently to help users make compliant decisions.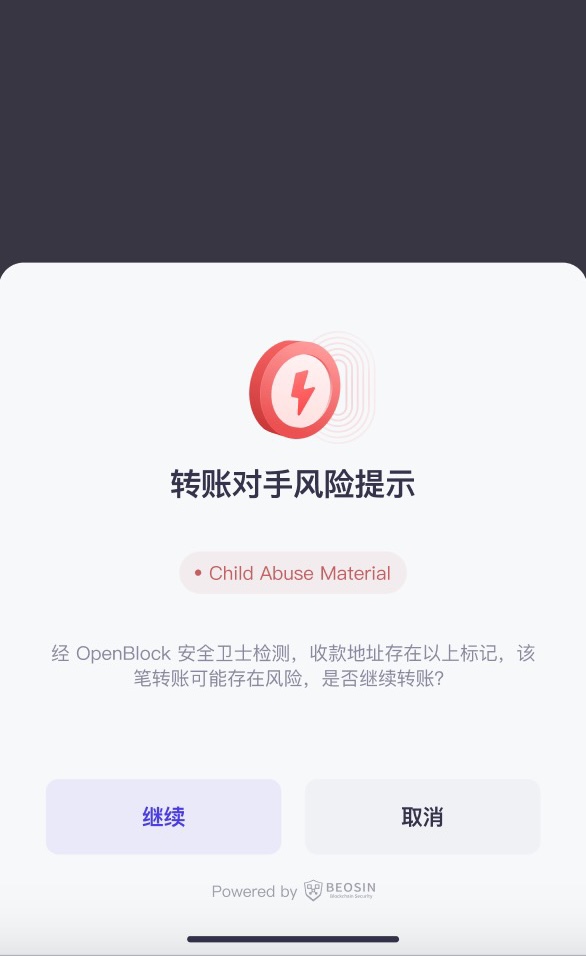 OpenBlock, incubated by senior team Bixin Group, is an on-chain financial platform integrating MPC, non-custodian and decentralized technology. OpenBlock is designed with high-quality aggregation functions for consumer and enterprise users, ensuring that on-chain transactions are both safe and convenient. OpenBlock MPC solves the problems of auxiliary word preservation and private key invalidation, making asset management. OpenBlock MPC solves the problems of keeping mnemonics and private key failure, making asset management easier. OpenBlock MPC solves the problems of mnemonic preservation and private key failure, and makes asset management easier. Its self-developed features such as DApp store, chain-wide flash cash, Gas Station, ETH 2.0 Staking and NFT market make on-chain financial operations more efficient. In response to market demand, OpenBlock has also introduced enterprise-level features that are "easy to use for everyone", including MPC chain multi-signature, team authority management and customized approval flow, which are designed to meet the security and management needs of the enterprise level and ensure the safety of funds and convenient operation.
As a global leader in blockchain security, Beosin has established multiple branches both domestically and internationally and serves over 3000 enterprises worldwide, encompassing areas such as code security audits, real-time security monitoring and prevention during project operations, and asset recovery. Its proficiency in the field of blockchain security has earned recognition from numerous partners, contributing significantly to the secure development of the Web3 ecosystem.
The strategic collaboration between Beosin and OpenBlock is poised to further elevate security standards within the blockchain financial domain. This partnership will create a safer and more transparent trading environment for digital asset users, collectively constructing a healthier and more trustworthy digital economic ecosystem. Moving forward, Beosin will continue leveraging its advantages in the blockchain security sector, joining forces with more partners to propel the innovation and development of blockchain technology.
Contact
If you need any blockchain security services, welcome to contact us:
Official Website Twitter Telegram Linkedin
Related Project
Related Project Secure Score
Guess you like
Learn More
Base sets off Onchain Summer. What opportunities and risks are there?

August 30, 2023

Blockchain Security Monthly Recap of August: $17.43M lost in attacks

August 31, 2023

"Memory Bomb" Vulnerability Causes Sui Node to Crash

September 04, 2023

Beosin Brings Web3 Excitement with Nearly 10 Events!

September 08, 2023