Beosin Has Completed Audit Service of Quota

Project Overview
Audit work duration: January 11th, 2023 — February 3th, 2023
Audit methods: Formal Verification, Static Analysis, Typical Case Testing and Manual Review.
Audit team: Beosin Technology Co. Ltd.
About Quota
QUOTA is a full-range DeFi Protocol, which includes tiered NFT membership levels, staking pools for yield-farming, and an equilibrium seeking synthetic currency controlled by an AAS algorithm (Automatically Adjusted Supply). The reference point for its EP (Equilibrium-price) is derived from the current level of the S&P 500 Index value.
Audit results
After auditing, no Critical, High or Medium risk issues were found during the auditing process. The final audit results are available in the audit report.
Enter 202302031647 to view the report at https://beosin.com/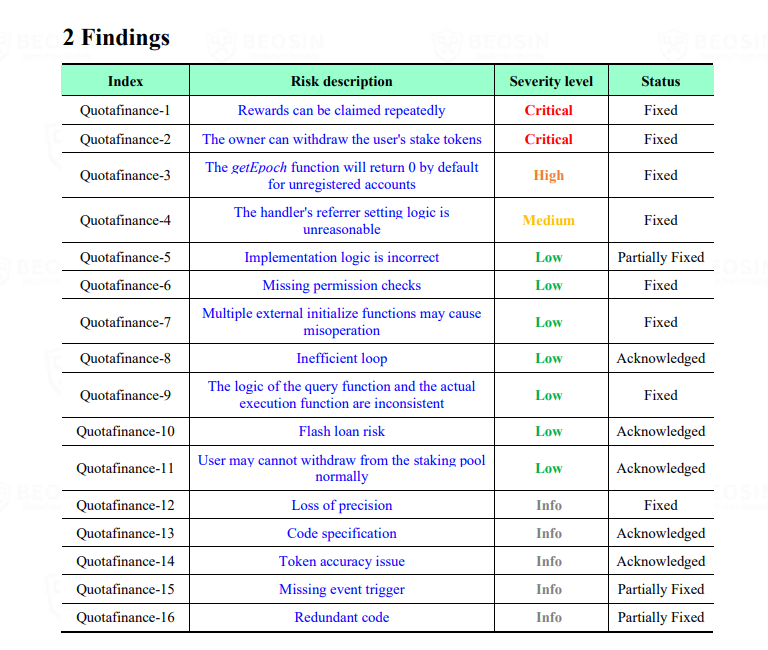 Audit Process
Beosin has focused on the core security issues such as contract implementation, execution of business logic, centralized permission control, and transaction replay. The auditing workflow is mainly as follows:
Conduct preliminary source code review;
Use Beosin's self-developed formal verification engine to conduct an in-depth detection of the contract codes in all aspects;
Practical deployment and validation via sandbox simulation;
Manual line-by-line code review by security experts;
Complete the final audit report.
About Beosin
Beosin is a leading global blockchain security company co-founded by several professors from world-renowned universities and there are 40+ PhDs in the team. It has offices in Singapore, South Korea, Japan and other 10+ countries. With the mission of "Securing Blockchain Ecosystem", Beosin provides "All-in-one" blockchain security solution covering Smart Contract Audit, Risk Monitoring & Alert, KYT/AML, and Crypto Tracing. Beosin has already audited more than 3000 smart contracts including famous Web3 projects PancakeSwap, Uniswap, DAI, OKSwap and all of them are monitored by Beosin EagleEye. The KYT AML are serving 100+ institutions including Binance.
Contact
If you have need any blockchain security services, please contact us:
Related Project
Related Project Secure Score
Guess you like
Learn More
Beosin KYT to Support South Korea in Cracking Down Money Laundering by Tracking Crypto Transactions

February 03, 2023

How to Avoid Telegram Scams?

February 13, 2023

Beosin deepens its strategic partnership with BNB Chain and becomes a security auditor partner

February 16, 2023

Blur is heating up sensationally. What are the risks of its FOMO?

February 23, 2023