Beosin Invited to Conduct Blockchain Security and Regulatory Training for MAS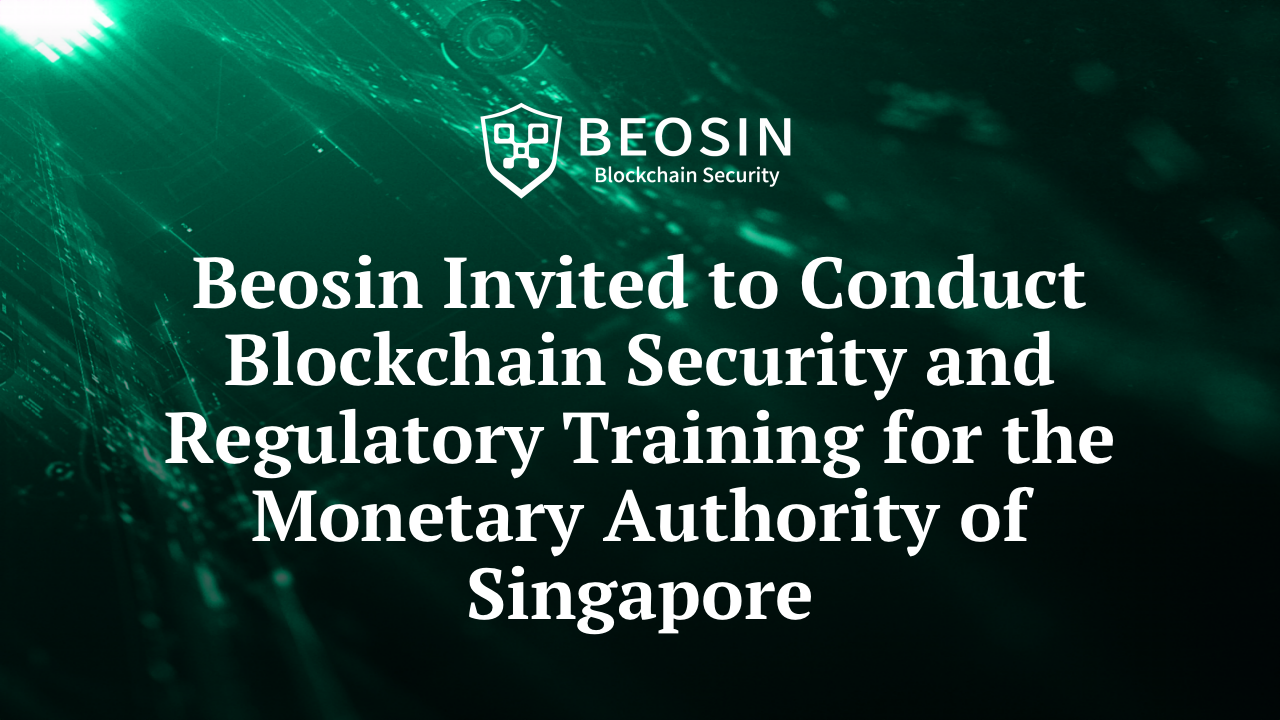 On August 17th, Beosin senior security expert Jasper Kanetake was invited by the Monetary Authority of Singapore (MAS) to conduct an in-depth technology sharing session with nearly 50 MAS officers.
In this high-profile training, Beosin senior security expert Jasper Kanetake introduced a series of topics related to blockchain risks and anti-money laundering, including Web3 threat intelligence, typical attack methods of smart contracts, exchange operation risks, crypto tracking and investigation, stablecoin code analysis, and Beosin's one-stop security solution.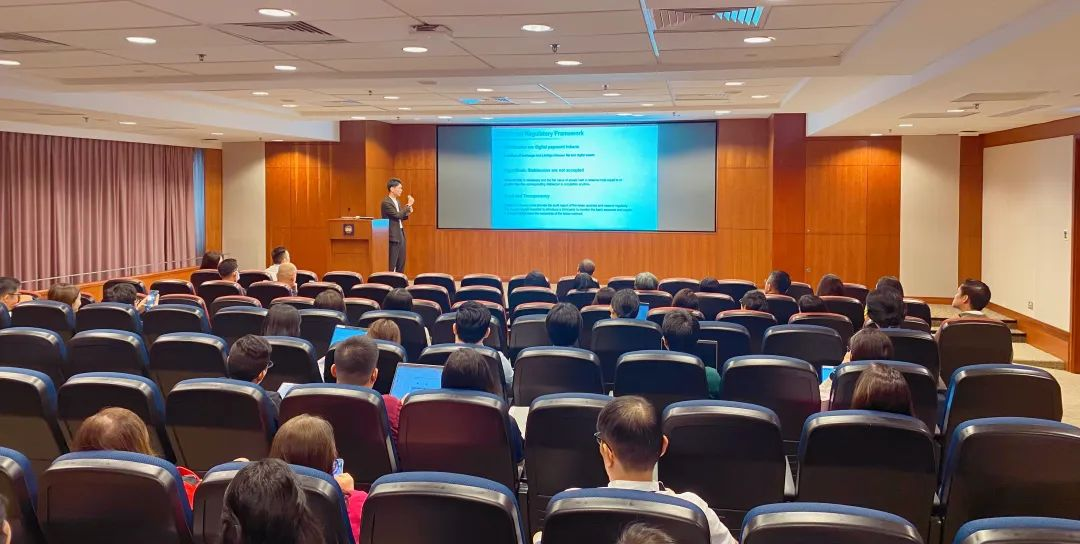 In recent years, the Monetary Authority of Singapore (MAS) has gradually increased their attention to digital currency, recognizing its potential and influence in the fields of finance and technology. MAS actively explores the regulation of emerging technologies to promote financial innovation and ensure the stability and security of the financial system.
In this internal sharing meeting, Jasper focused on many key contents such as Web3 security. In terms of threat intelligence process, Jasper analyzed in detail the key steps of intelligence collection, analysis and response, and shared KYT and Trace, etc. which are professional analysis tools to help global regulators and law enforcement agencies better respond to security challenges in the Web3 space. In terms of smart contract security, he introduced in detail the attack methods of hackers and related vulnerabilities, and disassembled the actual case through the VaaS automated code scanning tool, showing the importance of smart contract auditing to Web3 projects.
Jasper also highlighted the security issues of exchanges. Based on Beosin's past researches, he shared some effective measures to help exchanges protect assets and enhance platform security, such as multi-factor authentication, penetration testing and compliance, and management of hot and cold wallets. These measures are aimed at improving the overall security of the exchange and reducing the risk of hacking and insider mischief. He mentioned that the Beosin KYT AML analysis platform can help virtual asset service providers such as cryptocurrency exchanges to more clearly understand the physical information of customers and the transaction behavior of their users, so as to detect illegal activities such as money laundering and fraud in real time.
Additionally, Jasper discussed the importance of cryptocurrency tracking and investigation to law enforcement. He introduced some tools and technologies for on-chain tracking and investigation of cryptocurrency paths, and how Beosin Trace assists law enforcement agencies in Asian countries to combat cryptocurrency crimes. He emphasized the need for cooperation and information sharing between security firms and regulators to ensure the safety and compliance of the cryptocurrency market.
It is worth mentioning that the Monetary Authority of Singapore announced on August 15 that it has finalized the stablecoin regulatory framework. The regulatory framework will apply to single currency stablecoins (SCS) pegged to the Singapore dollar (SGD) or any G10 currency. According to the regulatory framework, the composition, valuation, custody and audit of SCS reserve assets must comply with relevant regulations to ensure a high degree of value stability. In addition, issuers must maintain minimum underlying capital and liquidity to reduce the risk of insolvency and, if necessary, to wind down business in an orderly manner.
According to this regulatory framework, Jasper also mentioned the security and regulatory challenges of stablecoins, explored the design principles and risks of stablecoins through incidents such as LUNA-UST unpegging, and how regulators should respond to the development of the CBDC market. At the same time, he introduced that Beosin has made significant contributions to the regulation and compliance in Hong Kong, the United Arab Emirates, Japan and other regions, providing a one-stop compliance solution for local regulatory agencies.
This sharing gave participants a deeper understanding of Web3 security and regulation. Beosin will continue to be committed to promoting the development of Web3 security regulation technology, and work together with regulators, enterprises and users to build a secure Web3 ecosystem.
About Beosin
Beosin is a leading global blockchain security company co-founded by several professors from world-renowned universities and there are 40+ PhDs in the team, and set up offices in 10+ cities including Hong Kong, Singapore, Tokyo and Miami. With the mission of "Securing Blockchain Ecosystem", Beosin provides "All-in-one" blockchain security solution covering Smart Contract Audit, Risk Monitoring & Alert, KYT/AML, and Crypto Tracing. Beosin has already audited more than 3000 smart contracts including famous Web3 projects PancakeSwap, Uniswap, DAI, OKSwap and all of them are monitored by Beosin EagleEye. The KYT AML are serving 100+ institutions including Binance.
Contact
If you need any blockchain security services, welcome to contact us:
Related Project
Related Project Secure Score
Guess you like
Learn More
Recklessness Comes at a Cost? Zunami Protocol Attacked for Price Manipulation with a Loss of $2.1M

August 15, 2023

Analysis of Exactly Protocol's $7.3M Exploit: How the Permit Check is Bypassed

August 22, 2023

Friend.tech exposes 100,000+ addresses related info, how to protect user privacy of social Dapps

August 24, 2023

May Bali take its place in the Web3 boom in Southeast Asia?

August 24, 2023