Beosin Won the Top Award at AIBC Asia Artificial Intelligence Blockchain and Cryptocurrency Pitch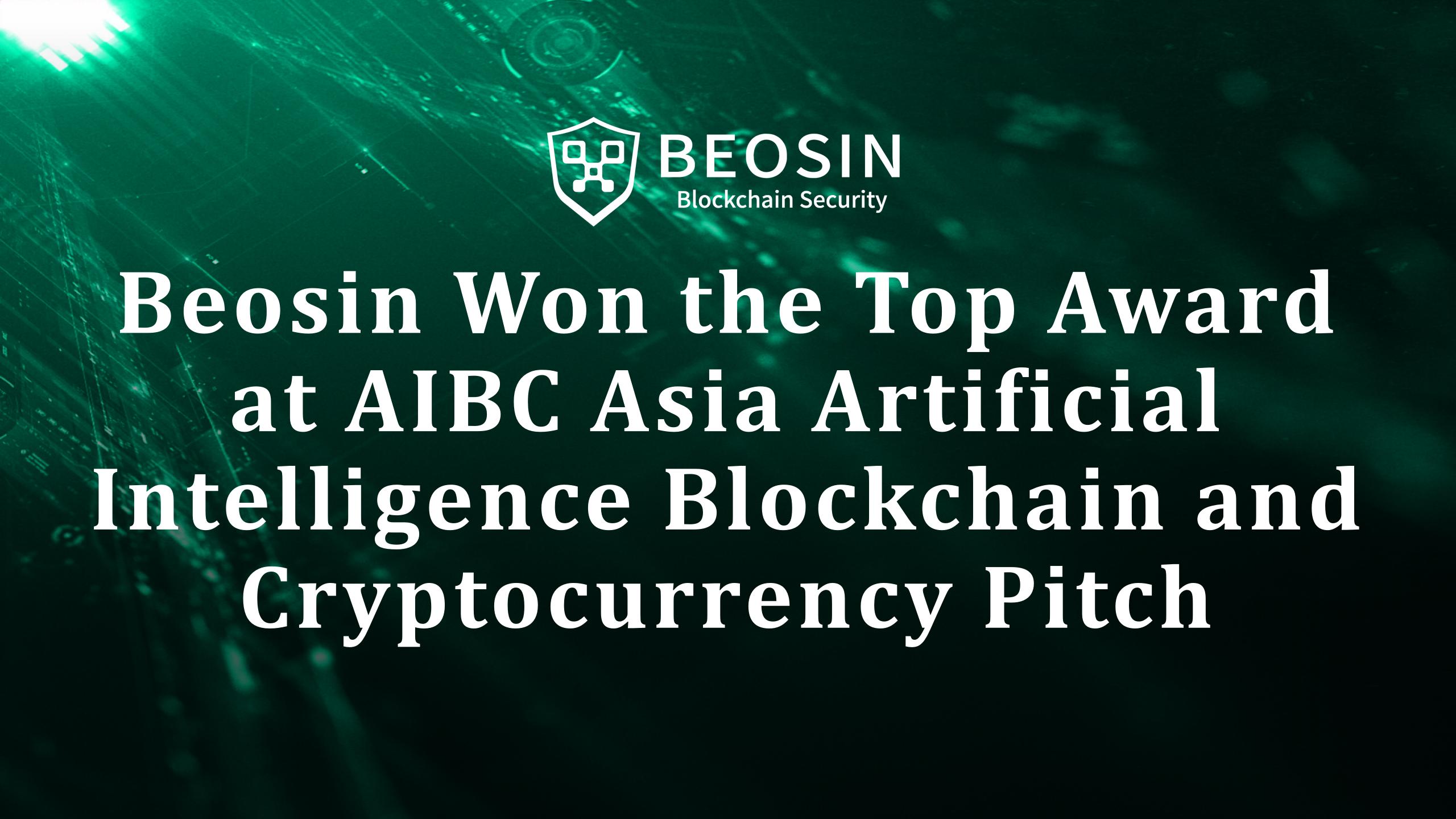 On July 21st, blockchain security company Beosin was awarded the highest prize at 2023 Artificial Intelligence Blockchain and Cryptocurrency Asia Summit (AIBC Asia) held in Manila, the Philippines. This prestigious international summit attracted companies from all over the world. Representing Beosin during the company's roadshow, BD Manager Ryan stood out among more than a hundred participating teams and secured the championship!
AIBC Asia Summit Site
The AIBC (Artificial Intelligence Blockchain and Cryptocurrency) Summit is an important platform for exchanging ideas in emerging technology fields. Its main topics include research and innovation in blockchain, artificial intelligence, quantum computing, and other domains. Since its successful inaugural event in Malta in 2018, the summit has become a significant gathering in the emerging technology sector, attracting industry leaders from leading global technology companies.
In this summit's competition, Beosin successfully showcased its technological developments in the Web3 blockchain domain, including smart contract security audits for Web3 projects, real-time security risk monitoring and alerts during project operations, detection of malicious addresses and abnormal transactions, stolen fund tracking, and comprehensive solutions for blockchain security products and services.
AIBC Asia Summit Site
Among them, Beosin EagleEye, the security risk monitoring and alert platform, caught the attention of the competition judges. The platform employs technologies such as artificial intelligence and big data analysis to automatically detect contract security status, monitor real-time transaction behavior on the chain, and identify abnormal transactions, thus conducting a comprehensive assessment of project security operations. This platform can help Web3 investors detect potential risks such as flash loan attacks, arbitrage trading, phishing websites, and other threats that could lead to fund theft.
Beosin BD representative Ryan, who was interviewed on-site, said, "We are honored to win the championship at the AIBC Asia Summit. This proves that our team's expertise and skills in the field of blockchain security is recognized by a wider range of professionals. We will continue to develop new products to help drive the advancement of on-chain security technology."
Since establishment, Beosin has consistently focused on and deepened the security development of the Web3 ecosystem. This award is another significant achievement for Beosin in the fields of blockchain and artificial intelligence, showcasing the company's influence and position in Asia. Beosin will continue to collaborate with leading global technology companies to jointly promote the integration and application of blockchain and artificial intelligence technologies.
Beosin is a leading global blockchain security company co-founded by several professors from world-renowned universities and there are 40+ PhDs in the team, and set up offices in 10+ cities including Hong Kong, Singapore, Tokyo and Miami. With the mission of "Securing Blockchain Ecosystem", Beosin provides "All-in-one" blockchain security solution covering Smart Contract Audit, Risk Monitoring & Alert, KYT/AML, and Crypto Tracing. Beosin has already provided security for 2000+ blockchain companies, audited more than 3000 smart contracts and protected our customers' assets worth of $500 billion.
Contact
If you need any blockchain security services, welcome to contact us:
Official Website Beosin EagleEye Twitter Telegram Linkedin
Related Project
Related Project Secure Score
Guess you like
Learn More
A Tale of Two Crypto Cities: Tokyo and Kyoto

July 25, 2023

Eralend Suffers $3.4 Million in Losses from Attack. Will Hackers Return the Funds?

July 31, 2023

Are Your Funds Safe? Vyper Reentrancy Vulnerability Causes $59 Million Loss in Multiple Projects

August 01, 2023

Blockchain Security Monthly Recap of July: $415M lost in attacks

August 02, 2023