Blur is heating up sensationally. What are the risks of its FOMO?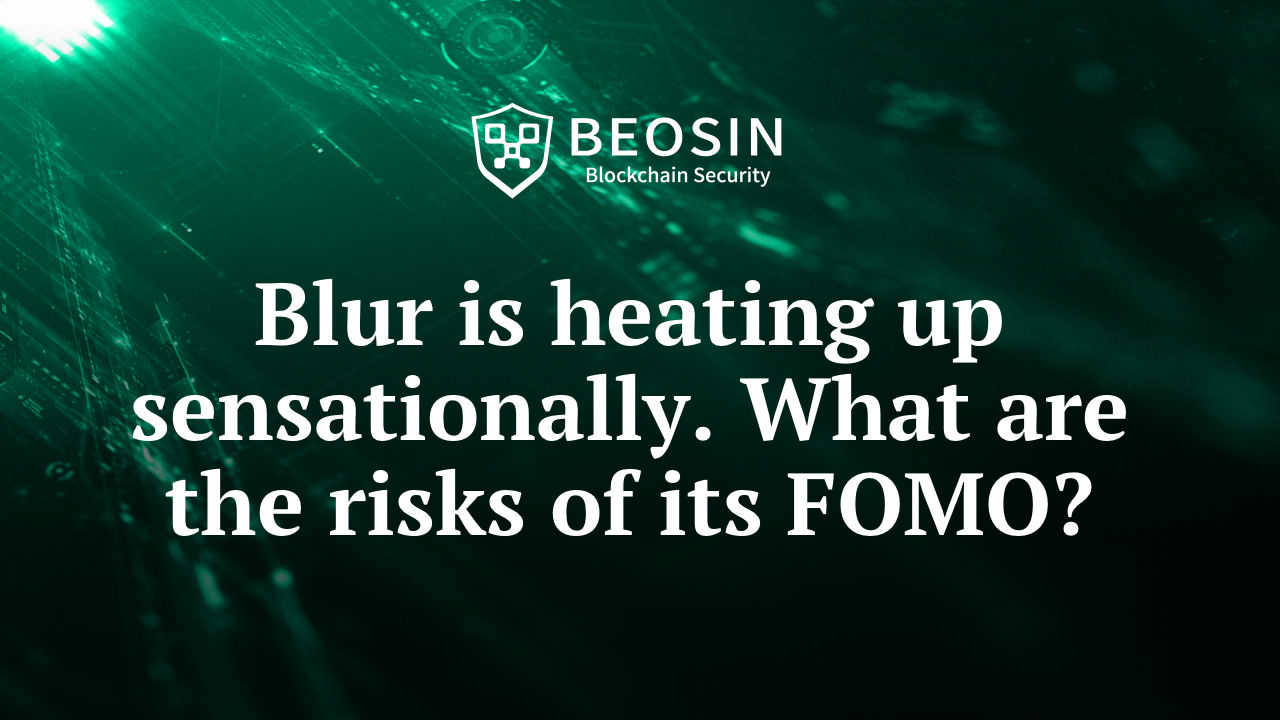 On February 14, Blur, an NFT aggregator marketplace, launched $Blur and airdropped $Blur worth more than $200m to its users. Then, Blur's statistics show that it is continuing to heat up after its airdrop.
On February 21, according to data from Dune, Blur surpassed OpenSea in daily NFT trading volume for the last five days. Users traded 65,359 times on Blur on February 19 while it is 39,835 times on OpenSea on that day.
It is obvious that Blur, as a rising star in the NFT trading market, is taking a lot of market share from OpenSea. Today, we are going to illustrate the features and risks of this rising star and the challenges that it will face.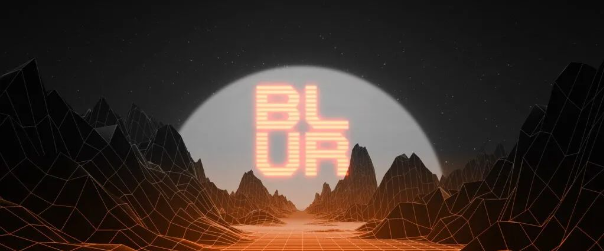 What is blur?
Opensea has been criticized since it intended to get an IPO rather than a token offering. In crypto, an NFT marketplace that is willing to share its profits with users is needed. Thus, in early 2022, LooksRare and X2Y2 came out with token incentives and grabbed some of OpenSea's market share. Blur, which was launched in October 2022, remained a challenger to Opensea after a four-month beta test.
Let's take a look at the overall architecture of Blur's Exchange contract: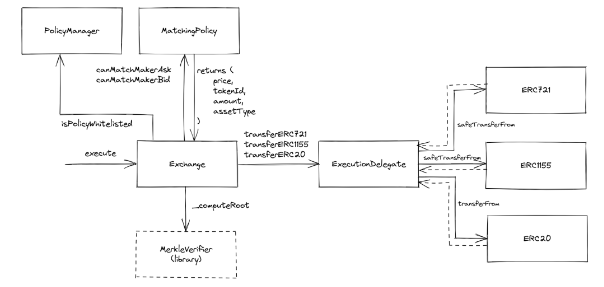 The source is from GitHub - code-423n4/2022-10-blur
Blur first checks whether an order is in the whitelist in the PolicyManager, and if it is in the whitelist, MatchingPolicy module continues to determine whether the limit order can be matched.
If the match is successful, Exchange module executes the transaction, and ExecutionDelegate is responsible for transferring related tokens. The whitelist mentioned above is actually Blur's pre-set limited order model for ERC721 and ERC1155 tokens.
Blur's trading model is the same as Opensea's order book model. To complete a transaction requires a centralized order book off-chain and on-chain transaction confirmations.
Blur officially claims that it is 10 times faster than GEM, another NFT aggregator that Opensea acquired, but Blur has not shown the detailed design and mechanism of how to speed up transactions. From the perspective of their smart contract design, it is very simple where PolicyManager can easily add new trading strategies and Blur added bulk listing signatures and oracle signatures to make it more convenient for users to conduct NFT transactions.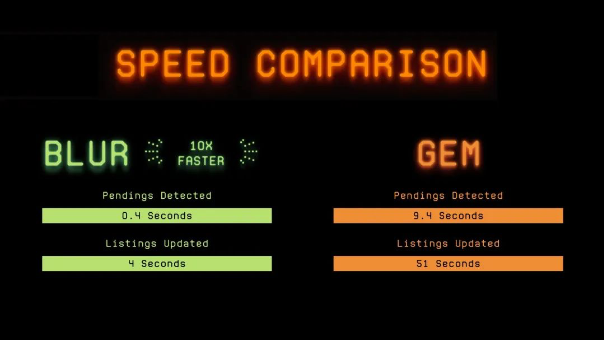 Why does blur go viral?
In addition to rich NFT variety on Blur, fast transaction speed, and a smooth and comfortable user experience, Blur is attracting users who once preferred other NFT platforms like Opensea, LooksRare, X2Y2 with 0 trading fees, 100% airdrop, and optional creator royalties to place orders on Blur.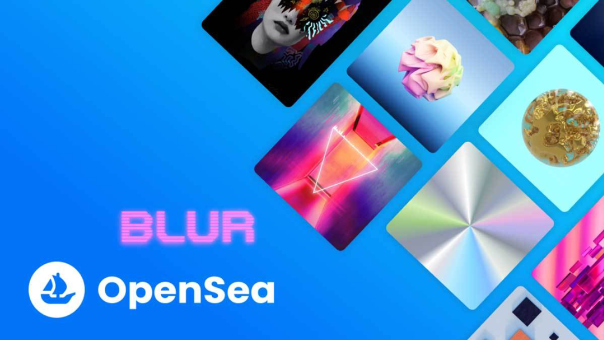 At the same time, Blur is trying to ease the controversy of optional creator royalties by introducing the concept of incentive royalties, which is that users who pay more creator royalties can get more airdrops in the future, to incentivize users to add creator royalties.
For airdrop activities, Blur had multiple rounds of airdrops to maintain interactive heat and retain users.
In the first round, users who traded on Opensea, LooksRare, X2Y2, and so on were airdropped blind boxes containing $Blur tokens. In the second round, the airdrop credits were determined based on users' transactions and creator royalties on Blur. In the third round, users earned airdrop credits by listing and bidding. On February 14, Blur airdropped $Blur to these users.
Blur airdrop's wealth effect and its Season 2 campaign were widely spread on February 15. On February 16, Blur accounted for more than 68% of trading volume in the NFT market.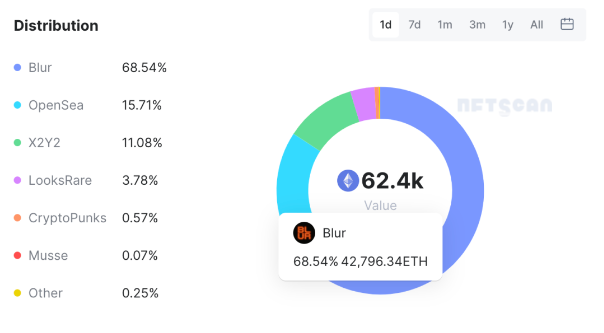 What are the risks of blur?
Blur needs to maintain its unique advantages: rich NFT variety, fast speed, and a comfortable user experience. Also, it continues its airdrop incentive campaign. During the campaign, Blur can continue to integrate Layer2 to give users a better trading experience, take advantage of Layer2's explosive user growth and dominate the NFT market in the future.
There are potential risks and security issues with Blur. For example, $Blur token has no function except voting and governance. Incentives and FOMO among users are the main reasons that Blur accounted for the majority of NFT trading volume these days. It is still a question that how many users Blur can retain after its airdrop campaign.
There is a smart contract risk of Blur. Blur's Execution module is responsible for the transfer of tokens, and it only checks whether the caller can transfer tokens. This means that it is possible for the owner of the contract to add other addresses to the mapping as callers to transfer tokens. Only users who trust Blur will choose to trade NFT on Blur.
Third, NFT price manipulation. Blur is currently attracting a lot of users to place orders for NFT. The price of a type of NFT can be easily manipulated by whales because of its limited quantities. These users, who intend to win airdrop, become the liquidity for others to sell their NFTs.
How to avoid phishing links related to Blur?
When Blur just launched, Blur tweeted that it had found a phishing account with the ID@Blur_DAO. It alerted that users should not click on phishing links. This phishing account tweeted that $Blur token query services were currently open and posted a phishing URL.
Blur is heating up these days and phishing scams are also popping up. Users should keep some anti-fraud tips in mind and do their best to avoid being caught in a phishing scam. Another solution is to install Beosin anti-phishing plugin to help you identify scams.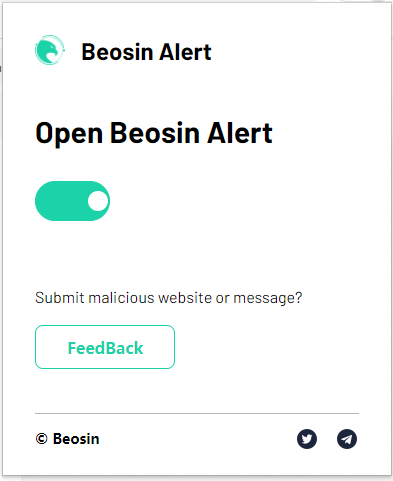 Download link:https://chrome.google.com/webstore/detail/beosin-alert/lgbhcpagiobjacpmcgckfgodjeogceji?hl=en
Blur is a great hit for now, but it still faces the challenge of user growth and competition with OpenSea after Blur FOMO fades. If OpenSea changes its strategy to attract users by optional creator royalties and 0 trading fee, can Blur keep growing and surpass OpenSea? You are welcome to share your thoughts with us.
Beosin is a leading global blockchain security company co-founded by several professors from world-renowned universities and there are 40+ PhDs in the team. It has offices in Singapore, South Korea, Japan and other 10+ countries. With the mission of "Securing Blockchain Ecosystem", Beosin provides "All-in-one" blockchain security solution covering Smart Contract Audit, Risk Monitoring & Alert, KYT/AML, and Crypto Tracing. Beosin has already audited more than 3000 smart contracts including famous Web3 projects PancakeSwap, Uniswap, DAI, OKSwap and all of them are monitored by Beosin EagleEye. The KYT AML are serving 100+ institutions including Binance.
Contact
If you have need any blockchain security services, please contact us:
Related Project
Related Project Secure Score
Guess you like
Learn More
Beosin deepens its strategic partnership with BNB Chain and becomes a security auditor partner

February 16, 2023

Beosin Become The Exclusive Security Auditing Partner Of The Big Demo Day

March 01, 2023

Beosin and HashPort Have Strengthened Strategic Partnership

March 03, 2023

Summary of SUSS NiFT Seminar 'The Evolution of Bitcoin Economics'

March 02, 2023