May Bali take its place in the Web3 boom in Southeast Asia?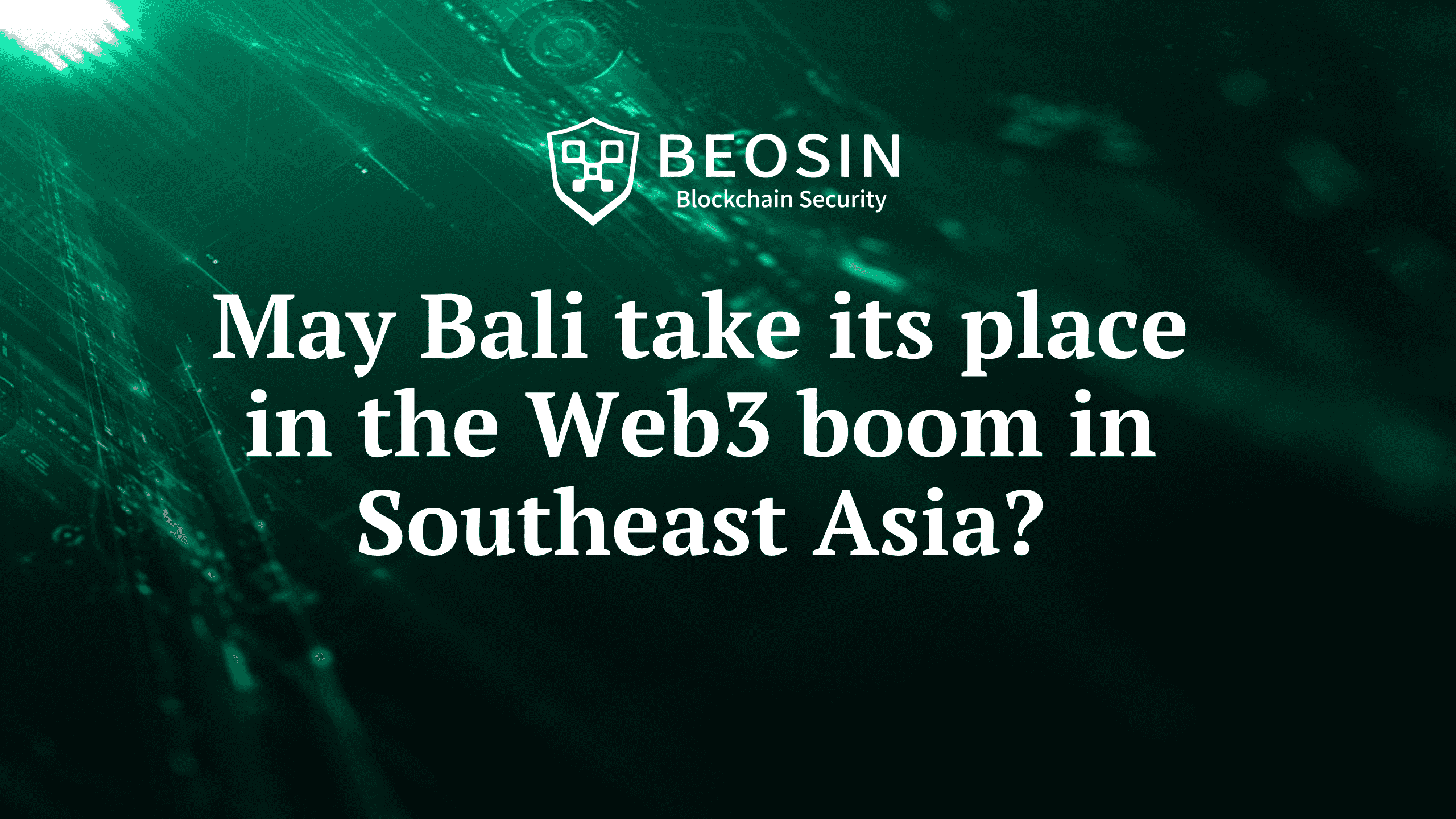 The new gold rush is sweeping across Indonesia, the world's fourth most populous country. Despite the ongoing sluggishness in the global cryptocurrency market, adventurous Indonesian entrepreneurs are making waves in the Web3 world.
According to a report by Forbes, digitalization has been identified as a crucial growth strategy for Indonesia, potentially contributing to a $150 billion increase in the economy by 2025. Despite the bearish sentiment in the Web3 sector, some emerging Indonesian businesses are still venturing into Web3, aiming to establish their presence in the digital economy.
Speaking of Indonesia, it's impossible not to mention a thriving Web3 hotspot for digital nomads – Bali. Bali plays a significant role in Indonesia's digital economic development, serving not only as an engine for the country's digital economy but also attracting a substantial influx of domestic and international talent and capital to the region, laying a strong foundation for the growth of the digital economy.
Bali, Web3 Playground for Digital Nomads
Thanks to its unique natural environment and pleasant climate, Bali has become a favored choice for many digital nomads and entrepreneurs.
As these digital nomad communities continue to grow, numerous Web3-related events and gatherings are taking place on the island. These communities provide a platform for communication and collaboration, enabling individuals interested in Web3 to connect, share knowledge, and exchange experiences.
On August 24th-25th, Coinfest Asia 2023 Summit will be held in Bali, a highly anticipated event attracting professionals and enthusiasts from the global cryptocurrency and blockchain industry. At the heart of this summit, Coinfest Asia 2023 will introduce a new concept called Web2.5, aiming to explore and promote the fusion between Web2 and Web3.
The Beosin team has also been invited to participate in this event. As a company specializing in blockchain security, we will engage with attendees on-site, sharing the latest blockchain security trends, best practices, and case studies to help participants better understand and address security challenges.
Furthermore, Beosin will collaborate with TON to co-host an eagerly anticipated TON Roadshow event on August 23rd. This event promises to deliver a wealth of insightful content and expertise from industry specialists to participants. Ryan, Beosin's Southeast Asia Business Development Manager, will deliver an engaging speech during the event.
Registration Link: TON Society Indonesia Event 🇮🇩 · Luma
On August 25th, Beosin will co-host the "Soully Breakfast with Your Web3 BFFs" breakfast event with Soully. This event will provide participants with an interactive platform for communication. At this crypto breakfast, you can indulge in island delicacies and immerse yourself in the pristine Web3 environment, kickstarting a new day in true Web3 style.
Registration Link: Soully Breakfast with Your Web3 BFF's · Luma
Changes in Cryptocurrency Regulation in Indonesia
According to a report by Blockworks, from 2020 to 2022, Indonesia's foreign tourism industry declined by over 75% compared to pre-pandemic levels, severely impacting many tourism-related businesses. In light of this situation, numerous enterprises, with the support of relevant authorities in Jakarta, utilized digital assets (particularly NFTs) to encourage investment and attract interest from foreign entities.
In 2018, Indonesia recognized cryptocurrencies as commodities, approved trading through centralized exchanges, and allowed individual investors to legally hold this asset class.
However, as per regulatory provisions in 2019 and 2020, only 229 of such assets were permitted for holding licenses and trading through entities compliant with Indonesia's futures trading regulator, Bappetbi.
An investigation by Indonesian news outlet Kompas revealed that in a popular tourist area, Seminyak, located on Bali Island, several prominent shopping centers including restaurants, meditation studios, and motorcycle rental companies, accepted cryptocurrency payments.
Nevertheless, there was a policy shift. In May 2023, the relevant government authorities on Bali issued a warning to tourists against using cryptocurrencies to pay for goods and services on this popular Indonesian vacation island.
Quoting Bali Governor Wayan Koster, local media reported that those who use cryptocurrencies for accommodation, dining, activities, or shopping would face severe consequences. Non-compliance could result in individual deportation, sanctions, criminal penalties, and potential closure of certain businesses.
This warning might stem from regulatory and security considerations. The anonymity and associated risks of cryptocurrency transactions could potentially lead to illicit activities such as money laundering and unclear fund sources. The government might aim to ensure transparency and compliance in economic transactions, safeguarding the interests of both tourists and local businesses.
Worth mentioning that Beosin has made significant contributions in terms of regulation and compliance in regions like Hong Kong, Singapore, and Japan. On August 17th, Beosin's senior security expert, Jasper Kanetake, was invited to the Monetary Authority of Singapore (MAS), where he conducted an in-depth technical sharing session with nearly 50 internal MAS personnel. During this session, he introduced Beosin's comprehensive security regulatory solutions. If Beosin were to collaborate with local regulatory authorities in Indonesia, the following aspects of assistance could be offered.
Firstly, Beosin could conduct blockchain security assessments for Web3 projects in Indonesia, including audits of smart contracts and detection of code vulnerabilities. This step would contribute to ensuring the security of blockchain applications. Beosin has already performed security audits for certain Indonesian Web3 projects, such as Qolaq, aiding the secure development of Indonesia's Web3 ecosystem.
Additionally, Beosin could provide compliance consulting services to local businesses and projects, assisting them in adhering to local regulations and regulatory requirements. This encompasses understanding and meeting regulatory demands like KYT (Know Your Transaction) and AML (Anti-Money Laundering) to ensure compliant operations.
Glimpsing into Indonesia's Digital Economic Development Through Bali's Web3 Wave
In Indonesia, there's been a gradual surge of interest in blockchain technology and cryptocurrencies. Several startups and projects have begun exploring the potential of Web3 and are venturing to apply it across diverse sectors, providing us with insights into Indonesia's digital economic growth.
1. Nanobyte
The Nanobyte team is dedicated to building Web3 financial applications. In July 2022, they launched Nanovest, an app that simplifies investment processes, enabling Indonesian users to invest in US stocks and digital assets. Currently, the Nanobyte team is developing additional products, including Nanobank (a blockchain and digital asset-friendly bank for Southeast Asia), Nanopay (a bridge between digital assets and traditional payment platforms), and Nanostable stablecoin.
2. TYMIO
TYMIO is a DeFi project that was introduced earlier this year, developed by a team based in Indonesia. TYMIO offers users time-limited limit order services with yield, allowing users to sell or purchase digital assets at specific prices. The underlying principle involves options strategies, specifically covered call or put options. TYMIO enables ordinary users to tap into the high yields generated by options markets. Presently, the trading volume on the TYMIO platform has exceeded $3.6 million.
3. Crypstak
Crypstak is a Web3-focused development team in Indonesia that provides comprehensive project design and development services for clients. Currently, Crypstak has extended blockchain technology support to Indonesia's media, recruitment, education, and other industries, using Web3 technology to provide tailored solutions. In December 2022, Crypstak participated in building the Web3nomads recruitment platform, serving as a gateway for digital nomads worldwide to find Web3-related jobs.
In Conclusion
To achieve long-term development in Indonesia's Web3 landscape, several challenges need to be addressed, including technological infrastructure, security, and regulatory frameworks. As a potential market and innovative ecosystem, Indonesia presents vast opportunities for the prospective growth of Web3. With the continuous maturation of technology and the market, we can anticipate positive developments and innovations in the Web3 domain within Indonesia.
As a globally leading blockchain security company, Beosin has established branches in over 10 countries and regions worldwide. Our services encompass comprehensive blockchain security products and solutions, including pre-launch code audits, real-time security risk monitoring, alerts and interventions, stolen asset recovery, and secure compliance such as KYT/AML. Committed to fostering the secure development of the Web3 ecosystem, Beosin has provided blockchain security services to over 3,000 global enterprises, including HashKey Group, Amber Group, BNB Chain, and has audited over 3,000 smart contracts and mainnets, including projects like PancakeSwap, Ronin Network, and OKCSwap. Feel free to reach out to us by using the message box on our official public platform.
Contact
If you need any blockchain security services, welcome to contact us:
Related Project
Related Project Secure Score
Guess you like
Learn More
Friend.tech exposes 100,000+ addresses related info, how to protect user privacy of social Dapps

August 24, 2023

Base sets off Onchain Summer. What opportunities and risks are there?

August 30, 2023

Beosin and OpenBlock Forge Strategic Partnership to Build a Secure and Trusted Blockchain Financial

August 31, 2023

Blockchain Security Monthly Recap of August: $17.43M lost in attacks

August 31, 2023